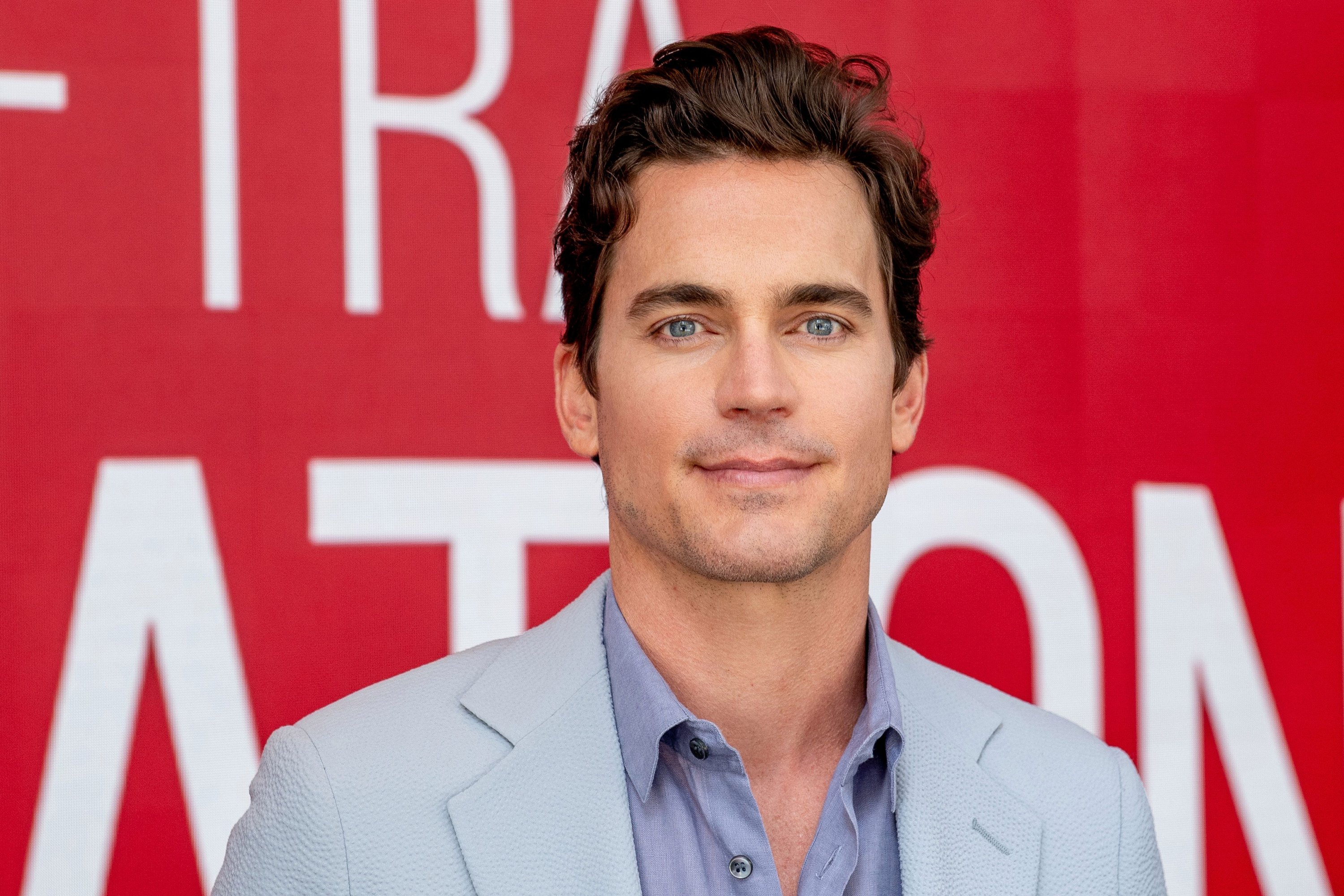 Since his acting debut in 2000, Matt Bomer has had a very successful and wildly varied career. Shooting to global recognition as con-artist turned FBI criminal informant Neal Caffrey in White Collar, he went on to star in Ryan Murphy's cult series American Horror Story and The Normal Heart (for which Bomer won a Golden Globe), Steven Soderbergh's Magic Mike, Amazon's historical drama The Last Tycoon, crime-mystery The Sinner, the popular sitcom Will & Grace, and is currently portraying as Larry Trainor/Negative Man in the DC Universe series Doom Patrol.
Now the voice of Barry Allen/The Flash in DC Universe's Justice Society: World War II, Matt Bomer speaks with STARBURST Magazine about his kids' influence in selecting his roles, his love for voice acting, and which other superhero he'd like to add to his acting repertoire.
STARBURST: Taking into consideration the many spoilers, how would you describe Justice Society: World War II?
Matt Bomer: Gosh, it's really hard to describe without spoilers! It's maybe easier to describe Barry's arc – not that I want to make everything about Barry, but I can do that without spoilers. He's someone whose mind is in a million places, who's trying to be a hundred things for a hundred different people, who's racing around and can't be present for the folks in his life. And it's only by being thrust into this extraordinary circumstance where he meets the Justice Society, and sees their relationships and what they're fighting for, and collaborates with them, that he's able to really appreciate and be present in his own life in a way that he wasn't before.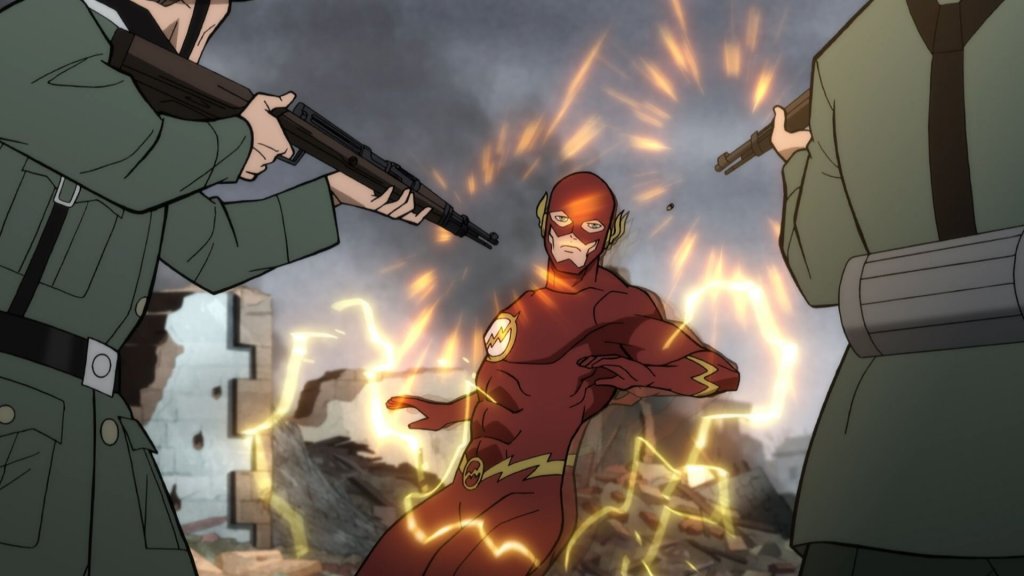 What was it that attracted you to this role specifically?
Matt Bomer: Well, you know, I always blame my children, but that's really just a cop out [laughs]. It's for me as well. I mean, these characters have been iconic for me as long as I can remember. The Flash in particular was a big hit in our home, especially with our oldest son, who was the Flash for one or two years for Halloween, and has always loved to run and be fast; he's into sports now. It's a character he's always loved. And one of our kids is also a huge DC fan. As soon as he's done with his homework tonight, we're going to watch the Snyder cut together [this interview took place the day of Zack Snyder's Justice League release]. So getting to have a great creative experience with characters that I have loved and getting to watch it for the first time with one of our sons who loves these characters as well… you don't always get to do that as an actor.
And it's a great role! I loved the arc the character went on and I loved his sense of humour, and his rhythms that were really specific to him and were different from what I've been able to do with other roles, like Superman (Bomer voiced the title role in Superman: Unbound) and Larry. It was challenging and intriguing, I love the story and I think there's a romantic aspect to it that I particularly loved and, yeah, it's kind of a no-brainer.
It's a good time for your son to be obsessed with The Flash right now, what with so many iterations of the character existing simultaneously, right now.
Matt Bomer: Yeah, it's pretty wild!
And you've been involved in the superhero genre for a while, having voiced Superman and working currently on Doom Patrol. What do you enjoy most about the genre, that keeps you coming back?
Matt Bomer: Typically, the characters are really well-rounded. And they're each really specific in how they came to have their powers, how they came to be where they are, what their relationship is to those powers, what they feel their particular responsibilities are to society – those are all wildly different. So, even though I guess they could all be classified as superheroes, they're extraordinarily different roles, and their circumstances are all wildly different. I don't view it as doing another comic book character. I really just view it as an actor, and just looking at the circumstances that a particular character is experiencing and dealing with themselves.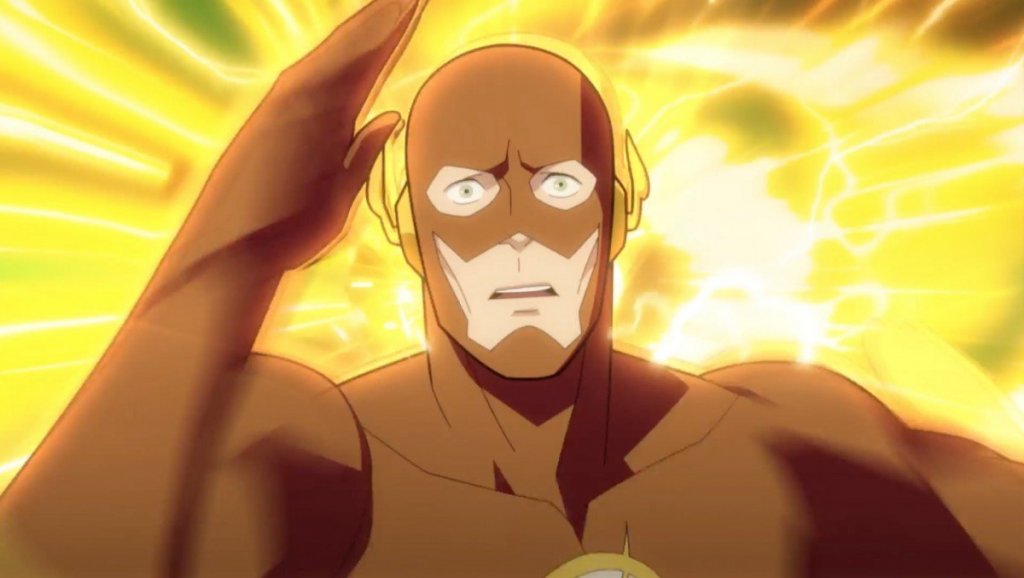 It's such a massive genre. You look at your role in Doom Patrol and then your role in Justice Society, and they have practically nothing in common.
Matt Bomer: I mean, they couldn't be more different. If this genre continues to afford roles that are so nuanced, and well-written, then you can count me in!
If you could pick any other superhero to play in the future, who would you go for?
Matt Bomer: Gosh, that's a tough one. You know, there's so many iconic ones that I could list that are off the cuff. One of the roles I really loved in this piece and that I didn't know at all, is Hourman. I thought he was such an interesting character, and I thought his powers and how fallible they are, and how human they are, made him really relatable. I don't know, it was a really interesting character to me.
Justice Society does bring in a number of characters that aren't all that well known, which is always exciting.
Matt Bomer: And I wasn't really familiar with the Justice Society in general, other than just peripherally. So getting to meet a lot of these characters was really fresh and new for me, and I thought they were given such great life by this cast of actors.
Absolutely. And you've obviously done voice acting before, but what do you most enjoy about it versus live action?
Matt Bomer: You know, in many ways, they're not that different. You're approaching the work and the text in the same way, but there is a lack of vanity in them, in that you don't go through hair and makeup, and you're exploring and finding a lot of that character in the booth with these incredible creatives – Butch Lukic and Wes Gleason were really instrumental in getting everyone on the same page.
And you also have to let go of a certain sense of self-consciousness and vanity in general, because oh my God [laughs], I don't know that I've ever left one of these recording sessions – particularly after we record fight sequences and things – where I haven't been sweaty and red-faced, panting for breath! Everybody thinks it's really easy work, but it is work.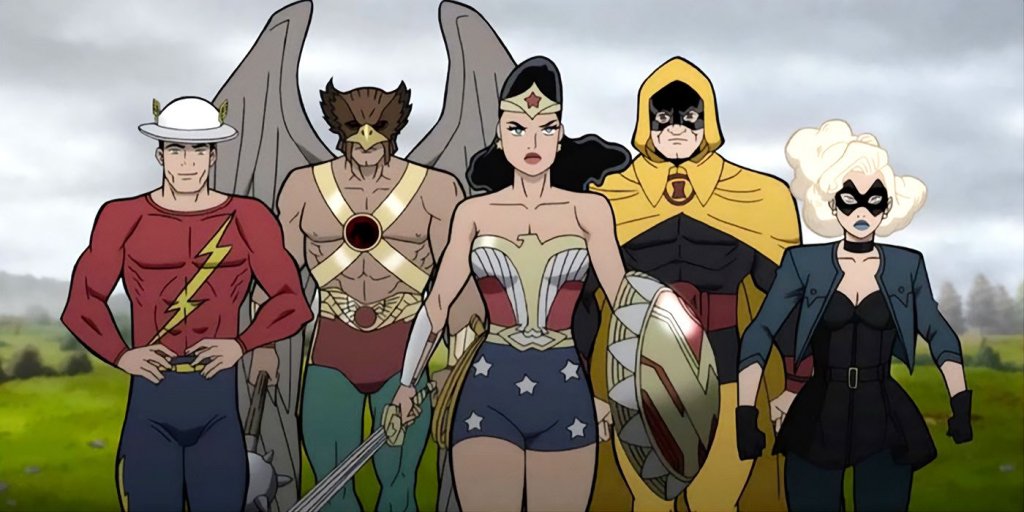 You know, I love that I don't have to think about how I look or how I'm perceived, and can really just focus on finding the rhythms and cadences of this particular character. I just love voice acting. And obviously, I've gotten to do it for some time now, and I've loved that creative process. You can't rely on a lot of physical or behavioural cues that you get used to when you're on set and in person. Instead, you really have to find different registers and nuances of speech pattern, and rhythms that are unique to whoever you're playing. I think that's a fun challenge as an actor.
And what are you most excited for fans to see with Justice Society?
Matt Bomer: A lot of things, honestly. I think the animation style is gorgeous. I already had high expectations and they were still vastly exceeded when I saw it, starting with the credit sequence which has this amazing noir feel. And there's this great patina to the world that Barry finds himself in when he encounters the Justice League, which I love, versus the world we initially find him in.
I think there's that aspect of things, and there's also the action sequences – which I've always loved in these films – that are incredible. I also found a lot of moments that were really moving, particularly with the romantic aspect between Wonder Woman and Steve, moments which I think long-time fans of these characters are going to love.
Justice Society: World War II is available on Digital from April 27th. You can also read our interviews with Wonder Woman actress Stana Katic, Hawkman actor Omid Abtahi, and Hourman actor Matt Mercer.