Features | Written by Andrew Dex 05/10/2020
Mark Dacascos | THE DRIVER
After fighting John Wick as Zero in the depths of Manhattan, actor MARK DACASCOS is now up against a supernatural threat with his new film, THE DRIVER. Directed by Wych Kaos, it tells the story of a former hitman who now has to survive a zombie apocalypse! Acting alongside his real-life wife Julie Condra and daughter Noelani Dacascos, this zombie flick aims for an emotional setting by putting the spotlight firmly on the family relationship. We caught up with Mark to discuss his new movie and more…
How did you get involved with The Driver?
Back in 2018, I had been friends with Wych Kaos, he is the director, writer, producer of The Driver. We did a movie many years before, in Thailand called The Lost Medallion: The Adventures of Billy Stone, we stayed in touch and we had a good rapport. He sent me the script while I was on the set of a Hallmark movie, The Perfect Bride. I read it during my break, and I loved it. I saw that there was a wonderful part for the daughter, and a part for the wife. I thought "I have a daughter, she's an actress. I have a wife, she's an actress." So I thought I may as well submit them for those parts. I talked to Wych about it, he agreed that it could be interesting, and a couple of days later he said yes. Then he started working on trying to get the financing together. Cut to a couple of months later, I was invited by Chad Stahelski to join the John Wick franchise as Zero in John Wick: Chapter 3 - Parabellum. So once I got that, and it was announced, a couple of days later I heard that it was a lot easier to get our financing. So as soon as I wrapped on John Wick in July, a couple of months later, my wife Julie Condra, our daughter Noelani Dacascos and myself went off to Thailand to start shooting The Driver.
You're once again working with director/writer Wych Kaos, can you elaborate on what it is you like so much about working with him?
I love his sensibility. He's romantic, he likes action, quirky, interesting characters. I like the way he shoots. On a small budget, that we had for The Driver, we had to shoot fast anyway. I have a feeling, and hopefully Wych and I will find this out together, but on a bigger budget he'd still shoot pretty quick, and I like that. It keeps you in the story, the juices flowing, and it keeps you on edge. He's really good like that. He brings depth, and I like his style of filmmaking, in that it's still some-what full. What I love about Wych, is that you can take each character and go deeper with it if you want. He brings real relationships to this other world.
What it was like to work alongside your real-life wife (Julie Condra) and daughter (Noelani Dacascos) on screen?
So with Julie, we hadn't worked together since Cyring Freeman back in 1994. It had been a long time. Neither of us had ever worked with our daughter Noelani, and of course we had never all worked together. The great thing about that was getting on set, to prepare for the scenes, as long as I was grounded, present - I won't talk about what their process was because we're all different - I could look in their eyes and get there in a flash. I had known my daughter since her first day, and she's playing my daughter in the movie. She was the appropriate age for the character, everything was there. So all I had to do was look at her, and bam I could click in. It was the same with my wife. I want to believe that that chemistry transcends, and that the audience can also feel that. It's about as real as you can get.
You obviously spent a lot of time filming with your daughter, so looking back on the movie, which scene did you find the most rewarding to work on with her, and why?
I won't give any spoilers, but from the big compound scene we're on edge the whole time. Of course, the final scene with us together was challenging, because you never want to have to say those words. However, it was also really wonderful, we got to connect on a very real level, because of who we are in our relationship. And then to also play with all of those wonderful feelings, knowing that after Wych yells cut, that we'd still be around to enjoy each other. It gave us a certain freedom to walk alongside death, in a very tangible way, without having to go there yet. It feels like with nearly every scene in the movie with her, because of the situation, it was deep.
Also, for you personally, what did you enjoy the most about playing a father figure in a zombie apocalypse?
Playing with my actual wife and daughter was just wonderful, because we got to not just experience our lives on the camera, but also off set. We got to go there, it's really a fight or flight movie, we do both in it. For my daughter it's a coming of age movie. She got to drive a car for the first time in her life, Wych taught her how to drive a BMW on the roads of Thailand, in the jungle. She had a blast doing that. Then on Halloween, her friends back in California were dressing up, and she was shooting zombies. It was really fun. What I just loved about it, was that we hit so many emotions, and found so many colours, because of our real relationships. We could go there and play with it.
Leading on from that, in the film, it seems like the bond between the father and daughter became closer by the end. So would you agree with that, and for you, how else do you think their relationship changed over the course of the film?
Yes, in the hours that the story takes place we go from zero to one hundred, of beginning and end. We have to put all of these things that I would normally have used, talked about, or tell her, show her through feelings, I've got to do that in a very short amount of time. So yes, the characters certainly grow together. As a real father and daughter, I feel like that brought us closer together playing that. We had to trust each other doing the scenes, and in the scenes our characters are 100% committed to each other. It's weird, but it's all connected.
You don't have a lot of fight scenes in this one, however, as a martial arts pro, we must ask you which action scene did you enjoy putting together the most in The Driver?
I had a really fun time working with Brahim and his fighters in the compound, before we had to leave. With any smaller budgeted film, we did not have a lot of time to rehearse or film, but I think that actually added to the energy, because we knew we had to get it done. It had that chaotic vibe as it needed to have, because we were being invaded. That was really fun. To go from that, to the emotions of before, and then right after the fight, knowing what I had to go do, wondering what the outcome was for my family. All these things together, were really fun. It wasn't just fighting an opponent, or a bad guy, it was fight to survive, and wondering if my family survived? There's a lot of things going on that might of not been physicalised, but they were there emotionally.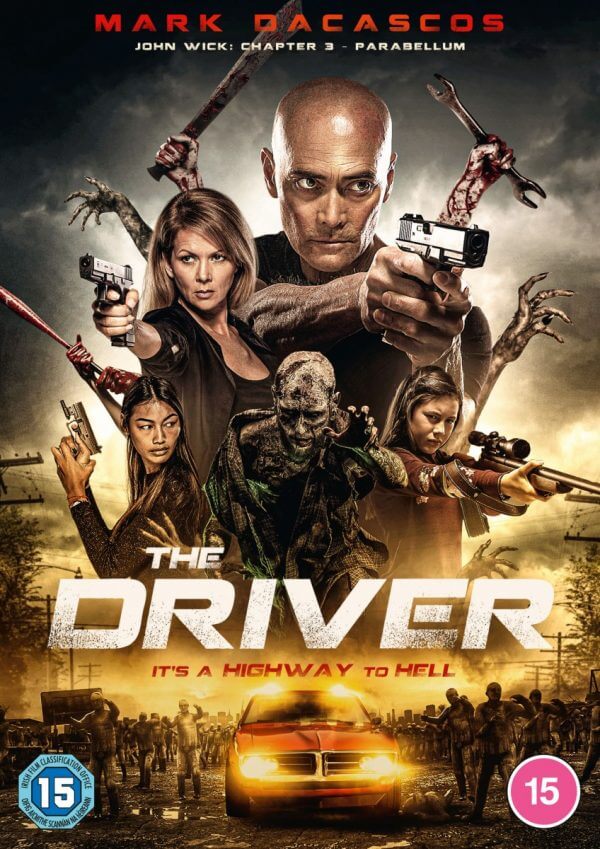 We hear that The Driver is part of a trilogy, with Dead Earth already released. Can you explain how The Driver fits into this trilogy overall, and maybe what else Wych has planned for it?
Yeah, it's a trilogy, and I hope that Wych gets to do the third one. The script is great, I read all three of them, they're all really fun, and you see how they progress. Whether he does it or not, I don't know, but I hope so. He has Kane Kosugi slated for number three. They wanted to do a sequel or number four to The Driver, where Noelani is fifteen/sixteen and just a full-on fighter girl. I'm hoping, because I think that would be really fun for them, and the audience.
We can't let you go without asking just one question about John Wick: Chapter 3 - Parabellum. What was it like to film that huge final glass fight scene with Keanu Reeves, and what were the creative team behind this film like to work with?
I loved being a part of that movie, for so many different reasons, but most of all, because the leaders of that show, from producers, of course to Chad Stahelski our director and Keanu Reeves, they were just ace human beings. We had a big budget, if Chad wanted to shoot in Grand Central Terminal, he'd do it. If he wanted to film in Times Square, he'd rent out Times Square. He had the studio to back him up. The humanity, humility, the collaborative spirits, and the professionalism was off the charts, as you'd hope it would be. Also, yes, Keanu is as cool, kind, collaborative and humble as we all hear. At least he was for me during the three months that I was working with him. We're there shooting the finale fight in that glass building, and of course he is working longer hours than all of the other actors, he is there with full heart and passion. When we were doing the fight scene, and he grabs me and he goes for the throat, I had bruises on my forearm for two or three days after. I was hoping they would last longer, because I like to show everybody, like "Hey! Keanu gave me this bruise". He is strong when he grabs. Chad and 87eleven Action Design trained him well, and obviously he put in the time, because when he grabbed me, I thought "Okay, I'm going flying!". Fortunately for me, I'm really happy to say that Keanu and I did ninety percent of our own fight, but when it came to the heavy hits or throws - thank goodness for us - our wonderful talented stunt men took them! Keanu threw my stunt man around a lot. Keanu says that he is only a movie fighter, but, he's got skills, and he's really strong and athletic. So yeah, that was really fun, it also made it really easy to get into the character. In real life, obviously I am a Keanu Reeves fan, but, I'm also a John Wick fan. So, when I stepped into Zero's skin, it was almost seamless. When I looked over, I had to really focus, because I'm looking at John Wick and I'm thinking "This is so cool, I'm fighting John Wick!" but that's what my character would think anyway, so it's perfect!
Lionsgate UK unleash THE DRIVER on Digital Download from October 12th and DVD from October 19th