Features | Written by Andrew Pollard 10/12/2018
Lowell Dean | SUPERGRID
Over the past several years, Lowell Dean has wowed many genre fans with the exploits of alcoholic werewolf cop Lou Garou in his WolfCop movies. With the talented Canadian's latest movie, SuperGrid, soon to be released, we caught up with Lowell to chat about this future-set Western, his Atomic Victory Squad comic book, upcoming projects, and, yes, that hard-drinking furball.
STARBURST: Firstly, how important was the Saskatchewan location in getting SuperGrid made?
Lowell Dean: I don't think it was super vital. This movie is mostly just made because the producer Hugh Patterson really wanted to get it made and he's from Saskatchewan. I think he's more loyal than me right now, but he just really wanted to get it made. I think because he's from Saskatchewan, a lot of his favours and friends are from Saskatchewan. So it kind of became a no-brainer that that was going to be the place where we were going to do it. Financially, it might have been smarter to do it elsewhere. I think the same about the WolfCop films. I think so much of what's engrained in the concept and the heart of it, because we're all from there, is from there. That plus all the favours made it a no-brainer. The DoP, Michael Jari Davidson did a great job. It was fun to show Saskatchewan. It's a province that doesn't get a lot of love visually. Even though it's bleak, it's still pretty beautiful.
The scenery throughout the movie looks absolutely stunning.
We picked a lot of great industrial car graveyards, closed down warehouses and junkyards to try and make it feel post-apocalyptic. Our first problem when we started editing, though, was that it looked too beautiful. So we had to grey up the skies, mute the lush and green grass.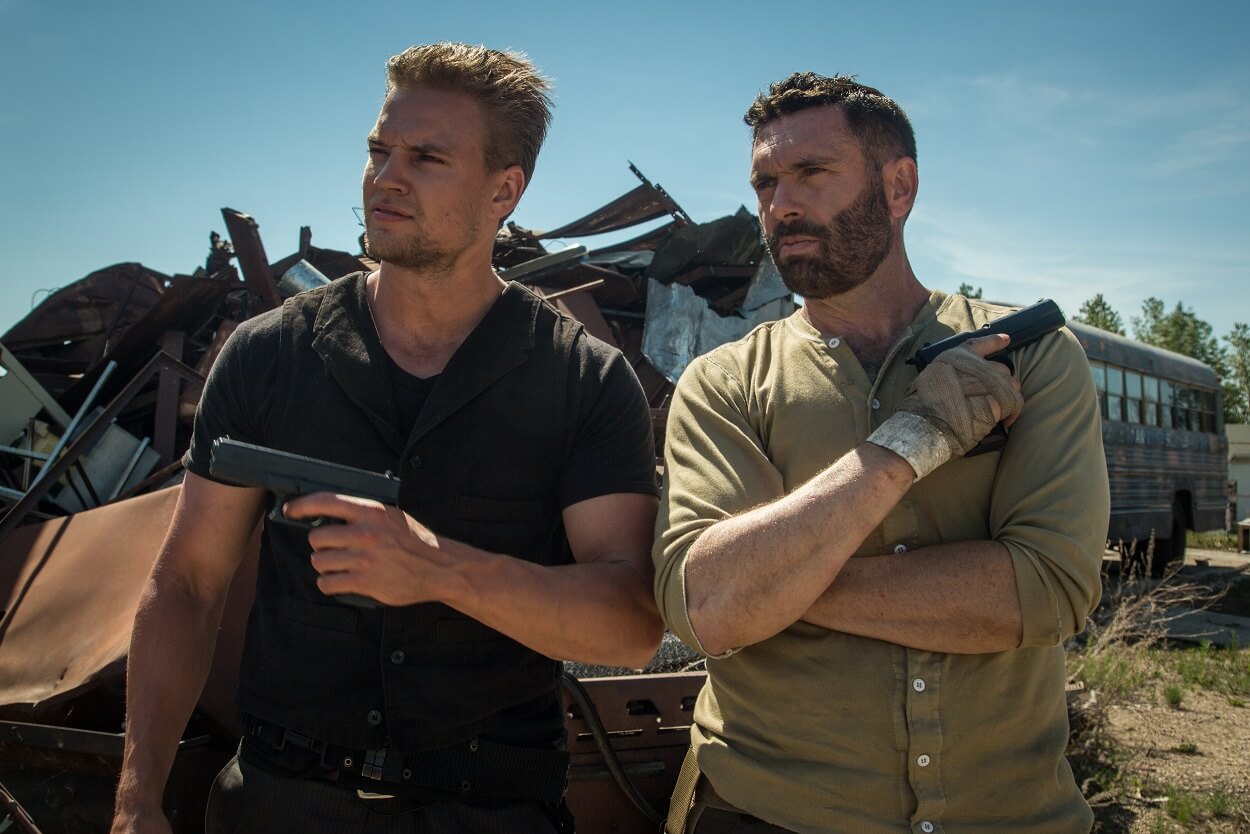 So the idea for SuperGrid was one of Hugh's that he had before you became involved in the project?
This was the easiest film I've ever had to get made, actually. I didn't do any of the work; I was arguably a "director for hire" on this one. Hugh and Leo [Fafard] – who plays WolfCop – had the idea, and they brought on a writer, Todd McAuley. Todd and Hugh developed it for a few years. I always knew about it. They were working on this when we were even doing the first WolfCop. WolfCop was my baby and I brought Hugh along to produce it, and he always would tell me about SuperGrid, this post-apocalyptic movie. I was always, "Good luck with that!" After we survived two WolfCop movies together, Hugh was very kind to me and said he was impressed with how I handled the movies. When he had his own [idea], he told me that there was no one else he wanted to direct it. I was nervous and very honest, and I think I even turned him down a few times. I was scared to even make it. The first draft was 120 pages. It was a really ambitious film and much bigger than the film you see now. We always knew the budget was going to be around $1 million Canadian, shooting in Saskatchewan. For that kind of money, you should be doing a drama. We did the first WolfCop for that much, but even that movie, if you compare visually what we attempt in SuperGrid versus WolfCop, WolfCop is almost a little drama. There's a couple of transformation scenes, there's one and a half fight scenes. For SuperGrid, there was multiple chase scenes, explosions, shootouts, knife fights, and almost a full-on horror scene. I said to Hugh, "This is impossible." He said, "Okay, well what's the least amount of impossible we can make it?" So he brought me on and he brought on another writer, Justin Ludwig, and we just focussed on shaping it, tightening it, and adding a few more elements I wanted to see in there. By the end of it, I think our shooting script was 84 pages – like dangerously short. Even then, people were worried whether we had a full movie here. With the three and a half action scenes we have, we barely made it through our crazy seventeen-day shoot.
You and these short shoots!
It's got to change. After WolfCop 2 and this movie back-to-back, we've talked about it before, I can't do another seventeen-day shoot unless the script is different. I don't want to be known for the suicide mission film shoots. I'm a firm believer in the pyramid of quality, time, and money. You have to find that balance if you want to make something great. I'm very proud of SuperGrid, but I also think it would've benefited immensely from five more days or maybe shrinking some of the action. Again, who wants to do that? You don't want to cut it up.
Despite the intense shooting schedules, your sets always seem to be a whole lot of fun. How vital is it to create that vibe?
I always try to keep it fun. I've been on enough sets where it's not fun. If you're working on something really hard, there's got to be some reward. If you're not having fun and making light of it, why are you there?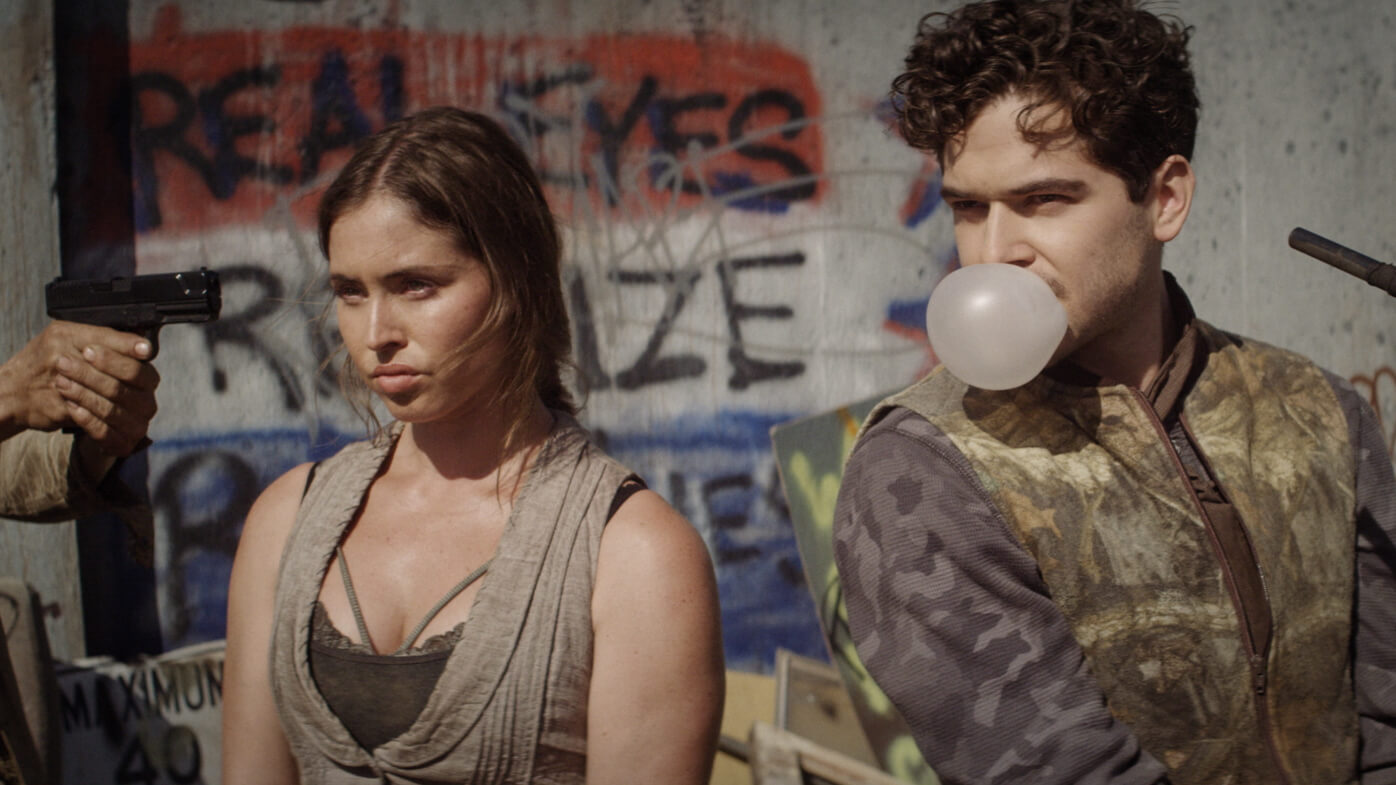 In reality, was this a tougher shoot than the gruelling schedule you have for Another WolfCop?
I would say it was very close. I think it was tough in different ways. Another WolfCop, there was the pressure of making a sequel. I knew that enough people liked the first one, so I was very worried about letting people down. We had a bit more money, but we were really ambitious with the sequel. So much so, I was cutting stuff every day. SuperGrid benefited from Another WolfCop's experience, because Another WolfCop was so out of control that I was learning lessons every day on how to manage a set, how to take on too much, and how to figure out a way that you might pull it off. The benefit with SuperGrid is that it was in the summer – which was nice, because that always helps – but we had lost so much more of our crew. We're haemorrhaging through crew in Saskatchewan because we lost our tax credit. Every year that goes by that we don't make a movie, all the skilled crew people have to quit film or leave the province. The difference between WolfCop and WolfCop 2 was we lost a lot of crew, but not enough to ruin the film. By the time we hit SuperGrid, half the people were new, they were very green; we had to pull back a lot of our favourites from other provinces but not everyone could make it. It was tough. Because we were taking on something really hard, we had a lot of people who hadn't done it before. And we were in the middle of nowhere, too. Each had their challenges, but I would say that Another WolfCop was a little tougher due to the added pressure. With SuperGrid, I didn't feel that people were writing to me every day online saying, "SuperGrid better be good!"
In addition to Leo Fafard being a key part of SuperGrid, other WolfCop alumni include Jonathan Cherry, Amy Matysio, and Emersen Ziffle. Leo was already involved, but were the other names already involved by the time you joined the project?
Because Hugh had done the WolfCop movies with me, I think he had promised them all some kind of involvement. When I came in, he handed it to me and said, "Well, good luck." The only firm one was Leo was going to be the lead. I was like, "Oh great, Leo again…" The best part is when you work with someone multiple times, you do that because you like them and know they're talented. I took SuperGrid as an opportunity to show a different side to pretty much everybody. Leo, my challenge there was, "We know you've got a great look. We know you're really good with the werewolf make-up and you can put up with a lot of bullshit, but let's really push you into your best performance yet." Leo and I really worked hard together. He took it really seriously, and I think he's the heart of the film. I think Leo arguably steals this film. His character is so well rounded; you feel his pain, and there are moments where I was almost tearing up on set when he was about to do something noble or heroic or bend over to risk his life for something. I was really drawn to Leo's performance. We worked really hard on it together, and I think he killed it.
With Jonathan and Amy, my one big thing was that I don't want to remake WolfCop in every sense. Even if I'm working with familiar friends, I want everything to be a little different; I want to show that we're not a one-trick pony. I was really concerned with making a movie with heart, and a movie about hope in dark times. To me, that's what this movie is: it's about hope in dark times and the underdog doing the right thing. With Amy, she said, "I want to be in this movie," and I always wanted her in this movie. I didn't want her playing North, because that was the sharp-shooting assassin who has her shit together and who may or may not be involved with Leo. That's WolfCop! So I didn't want her playing the same exact girl with the gun saving Leo's ass. I think it was her idea to say, "I should be Spanner, the mechanic." That was written for a man, so we flipped that. And for Jonathan Cherry, there was talk of him being the brother. For me it was, "No, I don't want him being the wisecracking guy with Leo getting angry at him." Again, that's WolfCop. The role of Lazlo, the villain, wasn't in early drafts. That was something that was really written to bring in Cherry and to have him be the corporate middle man. With Emersen, we knew there wasn't enough make-up effects. I don't even think the one character that has some make-up effects, One-Eyed Jack, was even in the first draft. He's an artist and we trust him, so it was just a case of diving in with both feet and taking on the challenge. I can say from experience, I hate being pigeonholed. People will say, "Well, it's not a horror-comedy. Are you sure you can do it?" I don't like that done to me, so I don't like doing that to people I work with.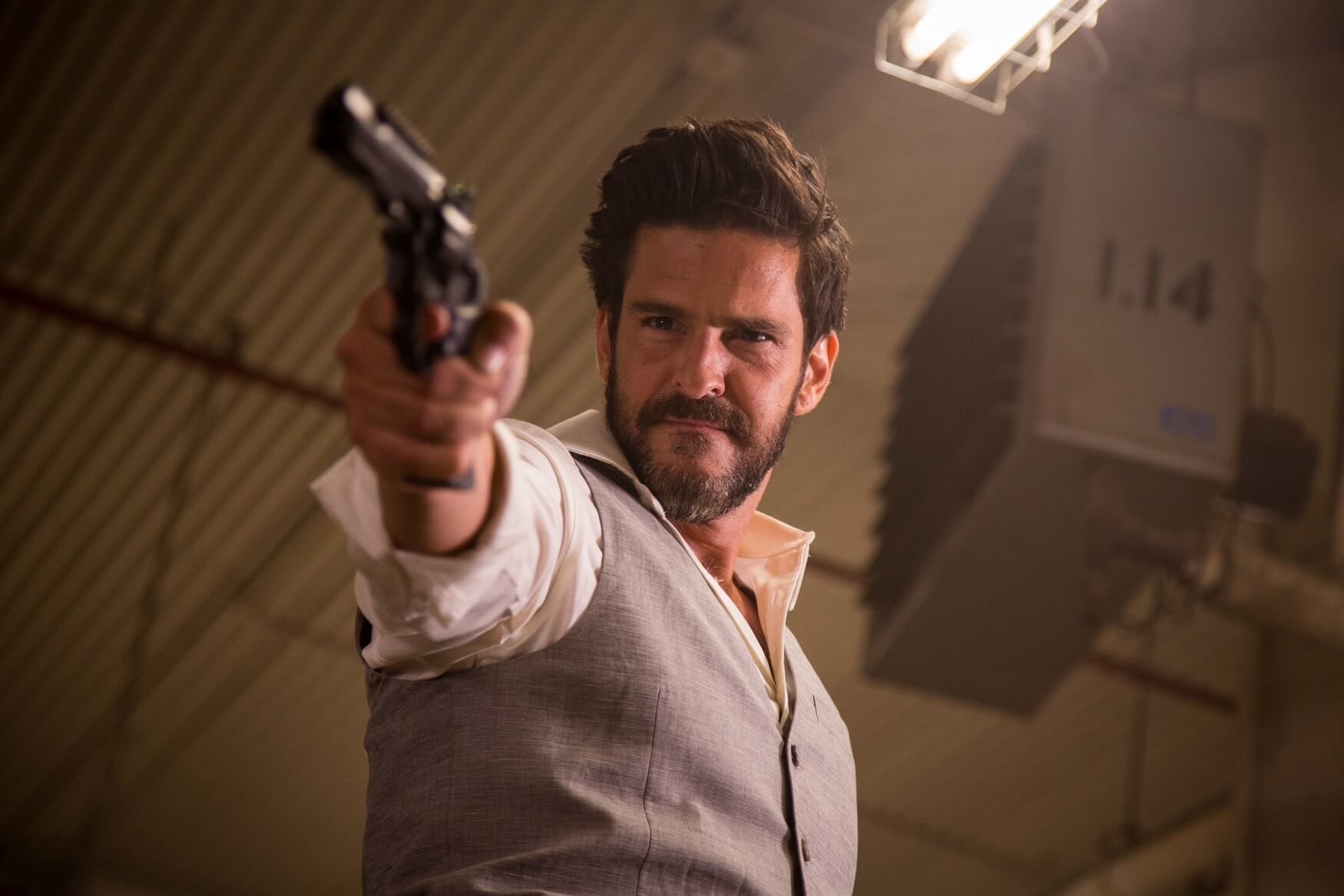 Whereas in WolfCop it's hard not to have the attention on the titular werewolf cop, how was it here to try and give adequate screen time and character development to such a strong ensemble of so many characters?
That came down to the script. Honestly, we were very worried that there were too many characters. For me, it is about the brothers; everyone else is brought in to help or hinder them. There's a lot of characters, maybe too many characters.
Before getting to work on SuperGrid, were there any particular movies that you went back and watched for inspiration?
Yeah, the big one for me, which maybe isn't entirely obvious, is Escape from New York. If you look closely, you'll see a lot of obvious things. Not that we ripped it off, but there's tonal influences. The opening, we had the cheesy computer graphics to tell you the time and place and what's happening. I loved how throughout Escape from New York it's obviously a suicide mission, a character going in to get something. I loved the little touches that Carpenter has, like, "I thought you'd be taller." For us it was, "God, you guys are ugly" or "Your car's a piece of shit." Every time they're pulled over, someone comments on their look or the car's look. And we shot it anamorphic, we used lenses from the '70s. In prep, Michael Jari Davidson really wanted to give it a look that felt a little off, to give it that post-apocalyptic feel. If you're shooting on a RED camera, like most people are, how do you make it feel different? We ultimately landed on lenses. Obviously there's Mad Max; the old Mad Max not the new one. I really felt like Mad Max was baked into the idea, into the storyline, into people's expectations. Whenever that kind of happens to me, I like to go the other way. So I really looked at Escape from New York as for me it's a future Western. I thought it was subtle, but then I watched the movie after and was just, "No, this is pretty overtly a Western. There's people in cowboy hats, Jay Reso in a cowboy hat."
Speaking of Jay Reso, at times he steals the movie with his mannerisms, his delivery, and his facial expressions. How did a former WWE World Champion end up in your future Western?
I'm pretty sure that was the distributor, Raven Banner. They love having wrestlers in films because obviously there's a big fanbase. We always knew that the role of Kurtis was going to be a good cameo-type role. We knew it was going to be the kind of role that wasn't a lot of day commitment but still carried a lot of weight. They always try and do some sort of stunt casting for those roles. We didn't have anybody on board, and Raven Banner really wanted it to be a wrestler. That was probably the one role that I didn't cast. To be frank, I was a little nervous because I didn't know Jay Reso, I didn't know his acting experience. I had a conversation with him, he seemed like a pretty great guy. Just going off the recommendation of the distributors and my producers and a conversation with him, I was just, "Okay, let's do it." I'll be honest, I was very nervous. Even though I say stunt casting, this character is a make or break character for the movie; he's the tide-turning character, he has to wear a lot of different hats. He did a great job. On his first day, he has 3-5 pages of dialogue that's just him talking. I knew I'd know in one take if we were in trouble or not, and he killed it. Not only did he know all his lines, he had the greatest delivery and he could take it up and take it down. It was just really fun to watch him offer up different styles and do some improv. He really won me over and I was just blown away. I can't recommend him enough, and I'd work with him again in a heartbeat. He just got it. Movies like this, and a lot of the movies I like to do, are sometimes a bit of a specific tone; it's not straight drama, it's not straight comedy, it's not straight horror. I like playing with different shades of genres. He was able to give that slightly heightened reality. This isn't done as straight drama but hopefully it's not too high camp or cheesy.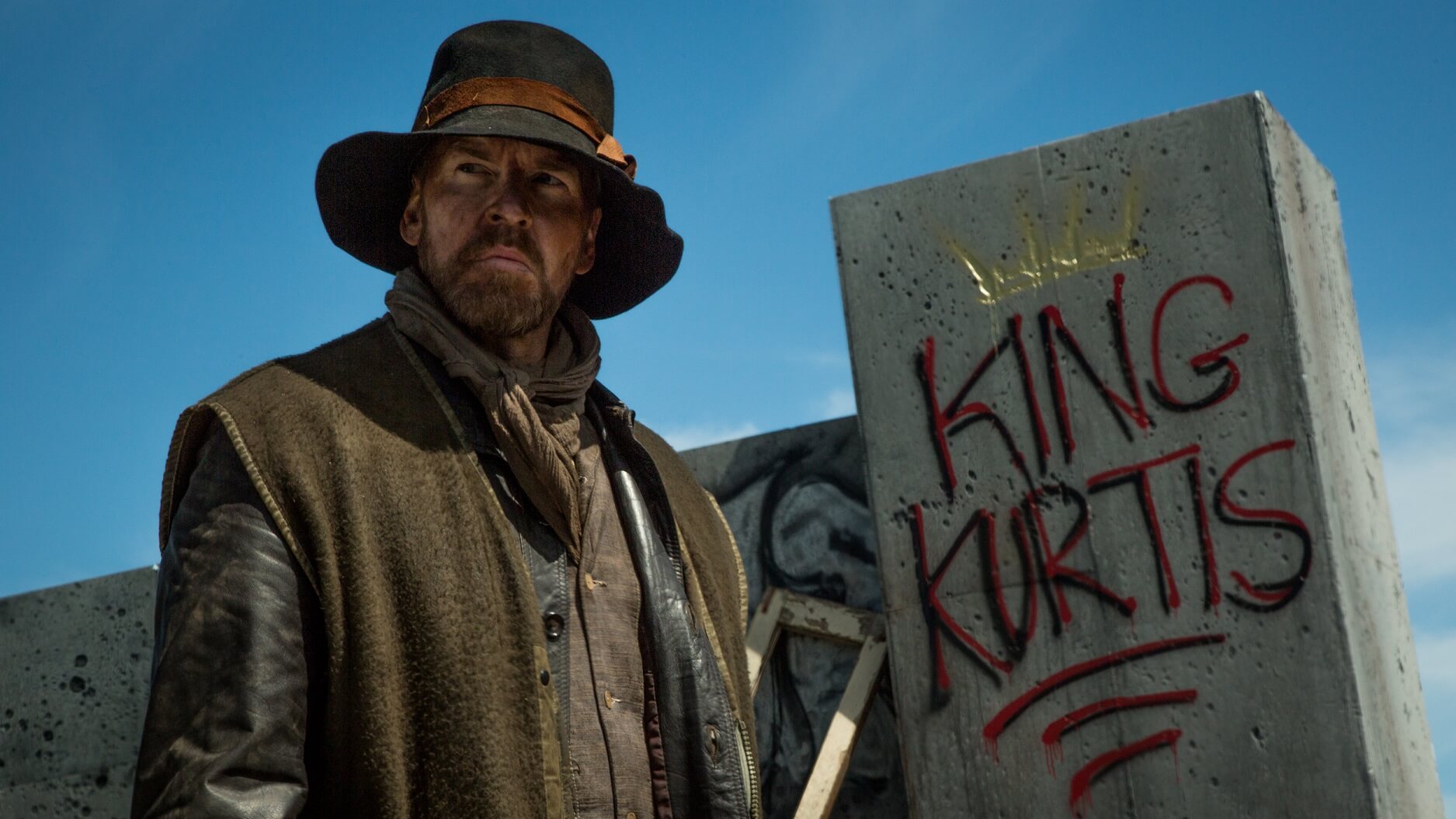 While the WolfCop movies tend to have a more tongue-in-cheek approach to their action or violence, how was it to frame things in a more serious way in SuperGrid?
The second WolfCop is extremely goofy. I think the trick was bridging the gap. There are moments that are dark and serious, but I think there are also moments that are a lot of fun. I always lean on the Indiana Jones tone of action. There are these moments that are so tense that you're genuinely worried, but then someone will get killed in the most ridiculous way and they'll be a Wilhelm scream. It's keeping that rhythm and that pace. Keeping it fun but not so silly that you can't walk into a serious room for a minute. I jokingly told people when we were making the movie, "It's Children of Men meets Dukes of Hazzard." That was what it was for me. I want this world to be serious and bleak, and I want us to feel, but these two brothers are cocky, ridiculous guys who are just, "Fuck it, let's go out in this dangerous world. It is what it is. If people come after us, let's pull out the guns and go." It's that weird contradictory tone thing that I love.
The dialogue also has a great balance to it, with some brilliant one-liners dotted throughout. The script was loosely in place when you came on board, but did you have much of a say in the dialogue?
I'm big on improv. I'd say my biggest contribution and/or sin was adding a lot of humour to the film. It was very dour, I felt. It's a serious topic in a serious world, but going back to that Indy tone, I really wanted it to have a bit of fun. Probably a lot of the one-liners or jokes were improvised – a lot of the stuff coming from Cherry, a lot of the stuff coming from Daniel Maslany's Owl. It's picking the characters who can be a little more sarcastic, then making sure that if there is a little bit of dead space or an opportunity for a bit of levity that they could come in for a joke.
With the improv, were there any scenes that you couldn't use because it just cracked everybody up on set?
No, I don't think we ever went that far in this one. It wasn't like WolfCop where we were attempting to make each other crack up. I was probably a little more controlled in the respect that I would say to people like Amy or Cherry or Daniel, "Okay, this isn't a funny scene but if you have some punctuation that you want to throw on the end of this… where I'd usually cut I'm not going to cut, so you could maybe look at the wall and say something ridiculous."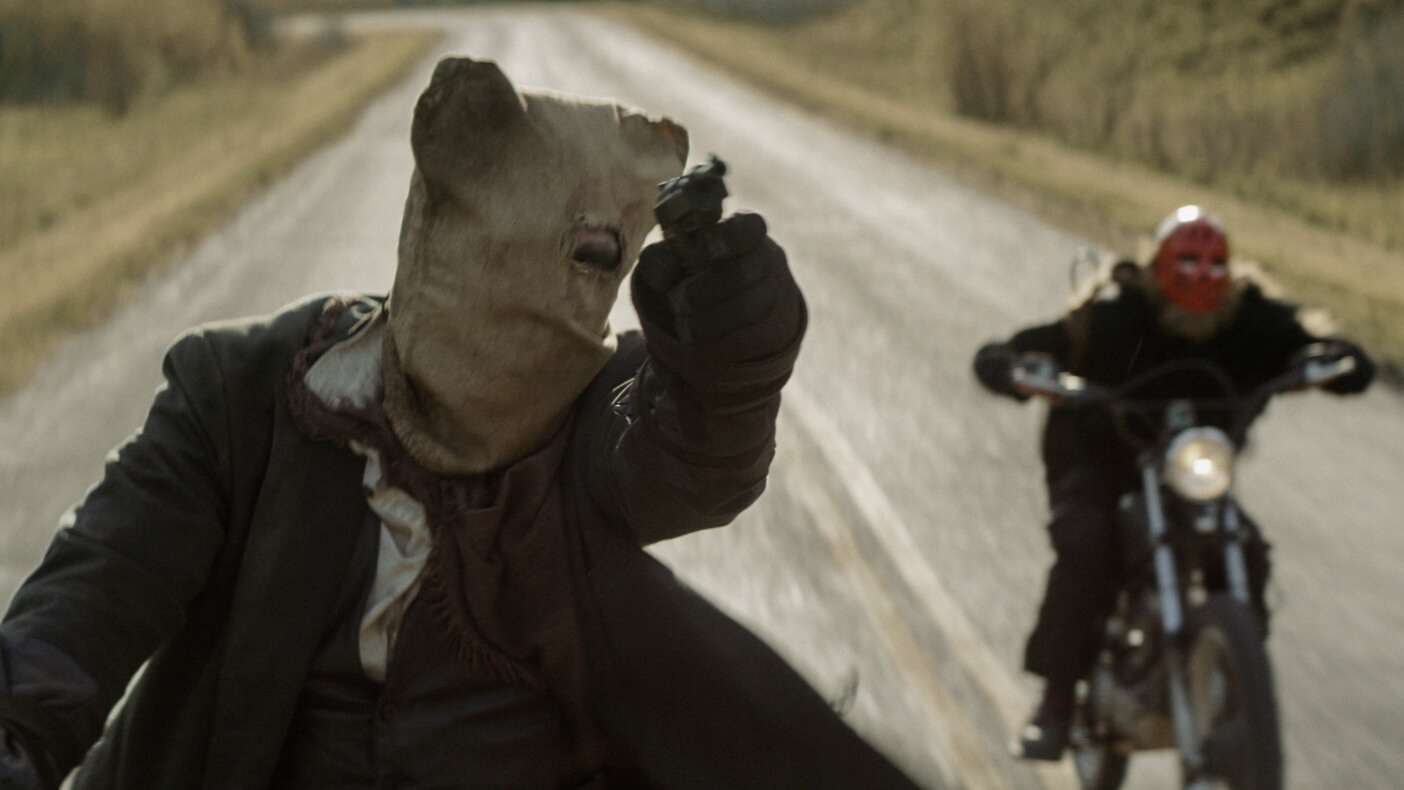 You mentioned One-Eyed Jack before. The Jacks themselves are a creepy design, but there's a particular scene with One-Eyed Jack that's completely gruesome. How much direct involvement did you have in the design of these characters?
I'm sure that was mostly Emersen and his team. To me, the Jacks are set up as the big threat but then there's the realisation that they're just as sick as anybody. So you've got to make sure this is so upsetting when you see it that you realise, "Oh my god, these people out here are really suffering." They're not just having a little cough like some people are; they are barely alive. We thought of an extreme version of leprosy, like the look of an extreme Freddy Krueger. The only thing I said was, "When the mask comes off, there definitely should be an audible gasp."
One of the key components of the movie is the Campbell brothers' car, the Shitbox. After the car broke down on the first day of shooting, did you think the vehicle was doomed to be the 'Bruce' of your production?
Yeah, of course. Having the budget we had and being in prep, we just kept talking about it. I was begging to have two copies of that. We were using a K5 Blazer. It was a really cheap vehicle. I said that we had to have at least a second one, just for the interior or even one that can't move. I really wanted one for back-up in case anything went wrong. On a small show like this, it's not that they were ignoring the request. It was more that everyone was busy with other obligations. By the time we were a week out and I was, "Where are we with the second Shitbox?" The response was, "Yeah, it's not going to happen, we're never going to have one in a week." By the end of Day 1 I was definitely dishing out the I told you so's. It's like having your main actor maybe showing up on some days. You have to rely on them. The vehicle is a main character. Speaking strictly as a director in terms of logistics, what do I shoot? I'm going to run out of things to shoot real quick. Luckily it was a small thing and it didn't really screw us over, but there was definitely an hour there where I was, "What are we going to do? Are we going to find a completely new car? Is it going to look good if we're going to have to build it in 24 hours?" They'd spent weeks putting so much love and care into the original.
For a $1 million independent movie, there's over 200 VFX shots featured in SuperGrid – which is pretty much unheard of.
I was nervous because I'm a practical effects guy. I was very afraid to do this, but for me it's always based around who I work with. Trevor Corrigan is actually an ex-Regina guy who does effects in Toronto. He went to film school with Hugh, actually. When it came time to do the end credits for WolfCop 2, we wanted to do some really cool end credits. And Trevor is actually the one who did the animated end credits for WolfCop 2, which I love. After he did that, just working with him and seeing what he was capable of, he was our first call when we knew we were doing SuperGrid. It was, "Hey, you work so well in this digital blending with reality space. This isn't going to be easy, you're going to be doing way to much for what we can afford, but do you want to be the designer who creates the look of this world digitally?" He was very excited to do it, so it was a really fun marriage. It was definitely a two-way street; we couldn't afford to have him on set, but he was engaged and he would see pictures. He would see our design stuff early on and fix our mistakes later. He would amp up the movie and fix our mistakes.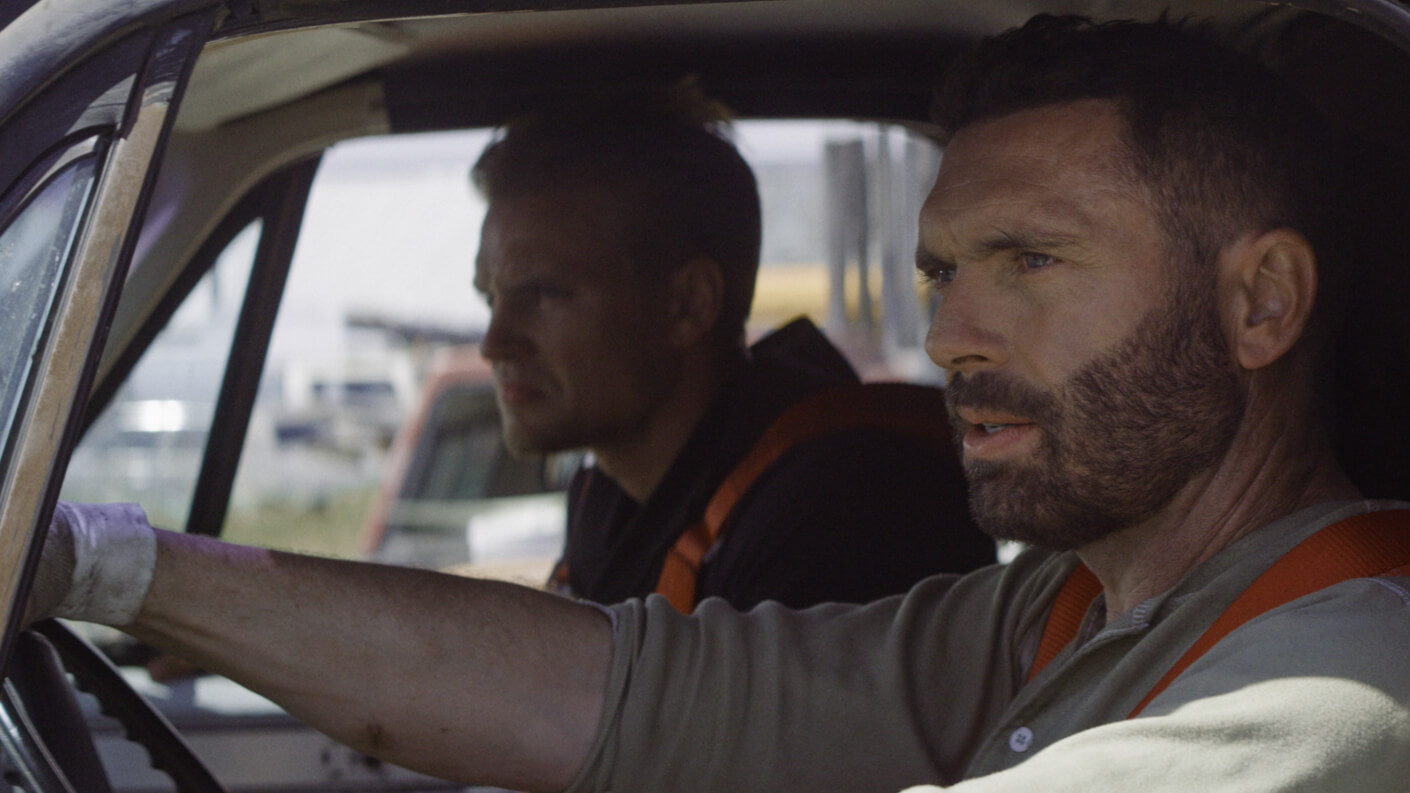 Given how there's so many characters involved and the story itself is a slow unravel, it's a testament to the editing work just how well the picture flows. How hard was it to keep the pace strong while similarly allowing the story to breathe?
Very. Almost to the point where I'm sure some people would say it's too short, that there maybe could be another ten minutes on the last act. We used literally all we had. I talked of the script being really short, but in our first edit there was a lot more business that happens before they even get out on the Grid. Hindsight is 20/20, but I almost wish I would have baked in a lot more of that character development or maybe shuffled it to the big showdown at the end. When we saw the first cut of the film, the brothers don't actually go out to the Grid until half an hour in to the film. I was all, "Oh my god, we're screwed. This is so boring. The whole point of this movie is two brothers forced together to go and do a thing. You're giving me half an hour before we even start that journey?" Our biggest problem and challenge in editing and post-production was taking that first half an hour. I literally wrote on a blackboard, "We have to cut this in two!" I scrutinised every line of dialogue, every single shot, and I was beating it until we only had 15 minutes before we hit the Grid. For me, I look at it and I'm just so paranoid about that.
With this essentially being Hugh and Leo's baby, how did they feel about seeing certain parts of the story cut out?
I honestly don't know. I want to believe that they both really trust me. There were other big decisions and changes that we made throughout the film, and I'm sure there's a few that Leo was, "I don't like what you're doing here." But I felt loved and trusted, and I never once felt like if I wanted to do something creative I was ever fought. Hugh knows I think things out; I'm not just someone who on a whim is, "Let's change everything!" Hugh has always been very supportive of me. When I said we needed to lose 15 minutes from the first half, he was, "Okay, go for it."
What particular moments were ultimately taken out?
It was more of Deke being sad, a little bit more antagonising of him, a little more fighting between the brothers. We took the best version of everything, I think. If there was a note that was played twice, we definitely thought long and hard about which one got the point across the best.
Since the movie received its world premiere, what's the early response been so far?
Pretty good. It's weird for me. This film definitely feels like an under-the-radar film, and I think that's going to be the biggest challenge for SuperGrid. I think that's also weirdly what I like the most about it. It's not the same, it's a little different, it's a little quieter. The adjustment for me is just accepting that it's not going to be big and flashy, and it is a little more subtle. Hopefully it will find its audience and be a bit of a cult thing. WolfCop is so in your face that it's hard not to look at. With SuperGrid, my intent going in was making a hopeful story about two brothers. It's not as sexy or as crazy as a werewolf cop.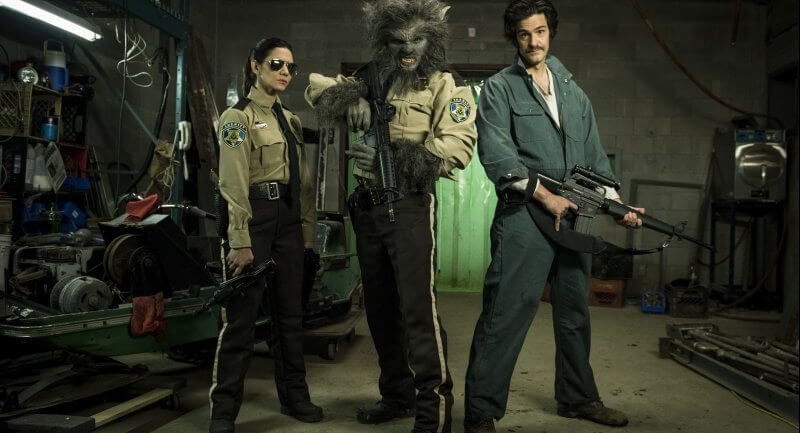 Given just how memorable of a character WolfCop is, how is it for you to have people constantly tie you to that character regardless of what other projects you're working on?
I have no shame in that. WolfCop, weirdly to me, is more personal than SuperGrid. It's my baby, I'd baked it in my brain for years. SuperGrid is a different kind of gift for me. It was a chance to make something with my friends, people I know and trusted, but it also flexes a different muscle. It's more, "Okay, it's not jokey, it's not gimmicky. Let's try and be a little more earnest. Let's take a swing." I see SuperGrid as a gift that Hugh gave me, and I hope that people find it and dig it. Like I said, I have been learning that it's going to be a different film and it's going to get accepted in a different way. It's not the crazy genre film. It's going to hopefully find a certain different audience.
Away from SuperGrid, you've recently smashed the target of your Kickstarter campaign for the Atomic Victory Squad comic book. Where do things stand with that right now?
Thank you, it's going good. Right now, we're just trying to figure out fulfilling the perks. The comic is, believe it or not, almost done already. I've seen every page of it. The artist has done the inking and now he's done the final colour pass. We still have lettering to do and try to figure out printing, how many copies we're going to make, where we're going to release it. We're leaning towards an independent distribution just because it's our first go at it. It's fun. The hard work for the artist is almost over, and for me and Emersen it's about to begin. It's, "Oh god, we better make all these things and mail all these things." Emersen's already making things in Vancouver. Atomic Victory Squad has been a pure passion project. For better or worse, I've got no one to blame but myself. I've loved every minute of it.
These are characters that you've had in your head since childhood. The art that's come back so far, is it always how you envisioned these characters to be?
It is. That's the cool thing. That's why I went with that artist, Javier Caba. It's almost like picking the actor in a film. You have to take a risk, for sure, but you have to find someone who looks like they are playing the same instrument or in the same musical world. For me, I didn't want someone who looked like they were doing a serious comic, but I also didn't want to be like Simpsons cartoony. It's a very Venture Bros. feel. When I saw Javier's art in a few other comics, it was, "You are perfect for this!" Luckily he was interested. He's from Spain. I never would've guessed I'd be working with an artist from Spain, but 21st century, 2018 technology is amazing. Every few days he sends me an email saying, "What do you think of page 8?" And I love it every time.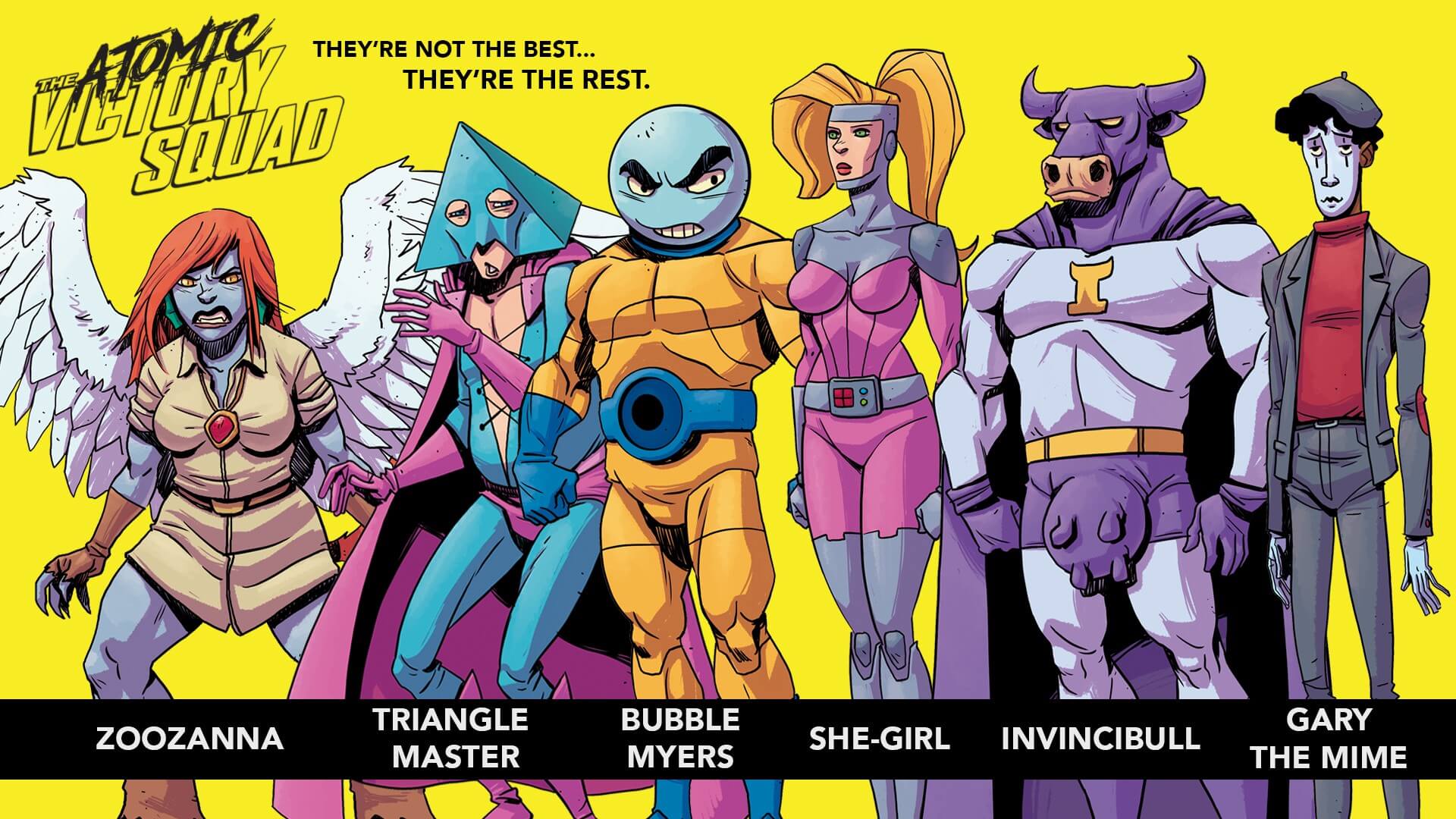 What's in the pipeline once Atomic Victory Squad is done?
I've got multiple things. I've written some TV pilots. This is the first year in a while I haven't made a film, so I'm getting antsy to shoot something. In the last year, I've just had my head down developing stuff. I've got a handful of TV pilots that I'm just about ready to start pushing out into the world and trying to get people to take a look at. There's some genre stuff, some familiar feeling stuff, and some weird stuff. I'm completely new to the TV game. I have a lot of friends who are in that space. It doesn't sound like it's that crazy of a leap from indie film, so I'm excited to get into that world as a creator. I was just reading online Guillermo del Toro talking about all the unproduced screenplays he's got. That breaks my heart. I myself, I still have two or three feature films that I've put years of development in to that I really want to make. I haven't given up on them yet. One's a zombie script that is a pretty original take on zombies. I've been dying to make it for ten years. After SuperGrid, Hugh was, "Well, what do you want to do next?" I gave him the elevator pitch and he was just, "Why haven't you made that yet?" I think he's pretty eager to make that his next film, but we'll see. I hope I can make it, because as much as I'm sick of the zombie genre, I don't even know if I'd call this a zombie film. It's going to be such a unique take on it.
So that's looking like it could be your next feature?
I hope so. We'll see. I think the thing is with film, you always have to have four or five irons in the fire. I actually have a drama-thriller, too. It's written by Justin Ludwig, who's one of the writers of SuperGrid. I'm really hoping to make that next year, and another film. So I've got three films I'm looking to make. I'm hoping if I push three films, one will hopefully happen next year. It's the gambling that you have to do.
The last couple of times we've spoken you've made mention about how you've still got so many ideas for WolfCop. Are there still plans for a third movie for Lou Garou?
I think the idea of a third film is still very much up in the air; we are still decompressing from the second one. I, of course, love WolfCop and I'm just dying to make more WolfCop. It's just going to be pulling everyone together and making it worthwhile for everybody. I'll never not love WolfCop and I'm as eager as everyone to bring him back. Yeah, there's lots of ideas for a third or fourth film, a TV series, I want to do it all.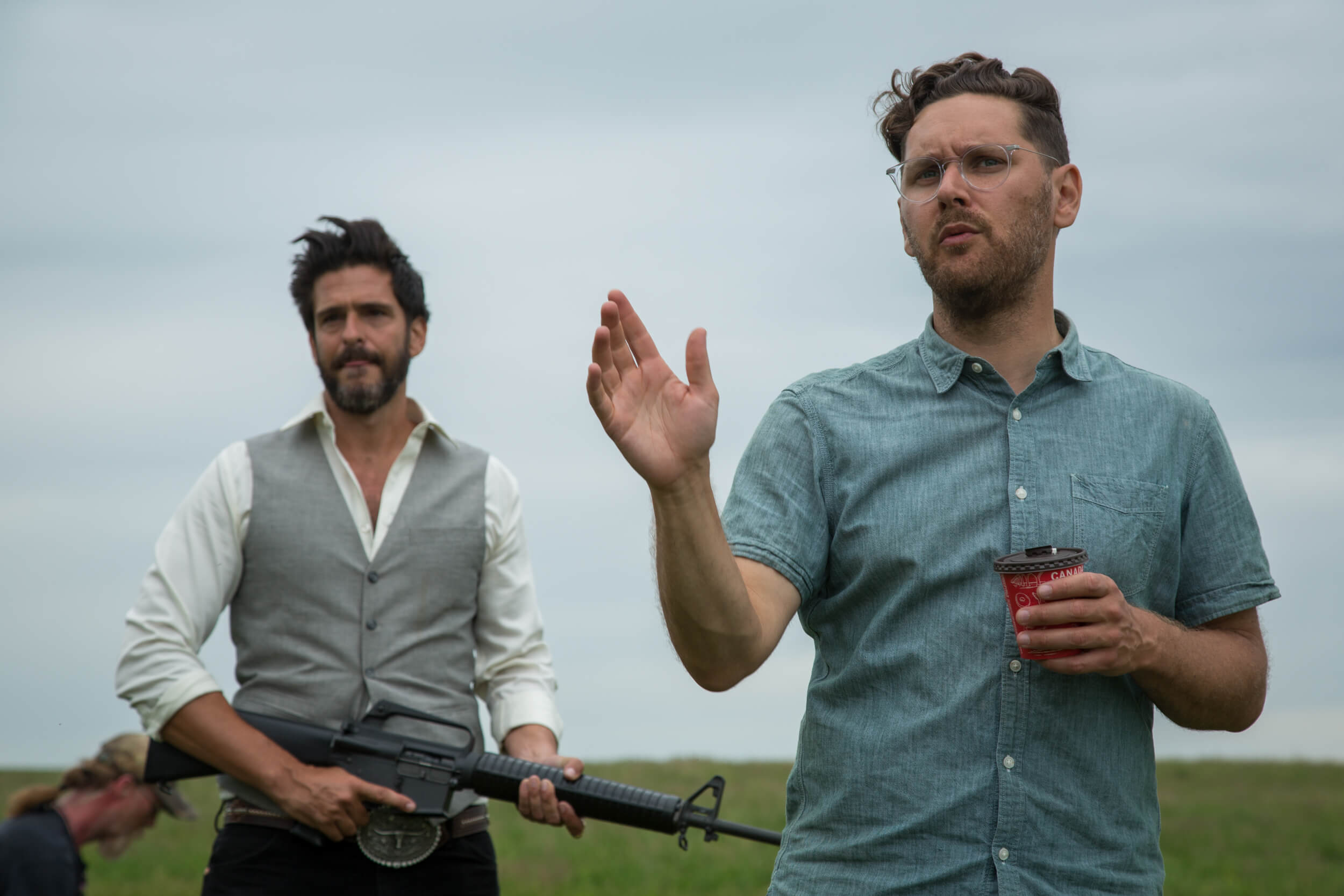 To bring things back to SuperGrid, as a filmmaker what did you learn from the production?
I think I learned I want to do something with a bit of weight. I want to make something a little more personal. I like making a film with something to say. I'm not saying the WolfCop films didn't have something to say, but it's very gratifying to think that you're saying something about the world or about what it's like to be a human at this time. I made a lot of mistakes on SuperGrid. I hope I get to make a film soon enough so that I remember them and don't repeat them. You have to think that way as a filmmaker; take stock and do post-mortems. What am I doing right? Am I wasting time here? Am I giving the actors enough time? Am I giving the crew enough time? Are we getting what's needed across? Are these the best angles? The whole point of making movies is to say something and get better, and that's the joy of it for me.
When is the film going to be widely available?
We're doing a theatrical run in Canada, maybe in the United States. It's out on VOD December 18th in Canada and the US, and I'm pretty sure it's been picked up for other territories. I know that it's going to have a Blu-ray release in February or March of next year, and we've got half an hour of extras and Hugh and Emersen and I did a commentary. There's definitely going to be some fun stuff coming up.
How much fun was it to do a chat track for this film?
It's fun. I did it on WolfCop and 13 Eerie. I like it when I'm doing it with friends, because then it's more like a conversation. When you take it too seriously it's kind of just fact-checking; it's a bunch of statistics and you just want to mention everyone's name and talk about what they did. The SuperGrid one was really loose and playful. The best thing we did in it is that we were very honest. We just talked about how hard it was to make the movie. Me as an aspiring filmmaker, which I think I still am, I just love listening to commentaries where there's no bullshit; the directors or producers or actors or production designers or whomever just talk about what they wanted to accomplish, what their influences were, what their challenges were, and an honest assessment of that. I just love that stuff.
For more on SuperGrid and Lowell's upcoming projects, be sure to follow @SuperGridMovie and @lolofilm on Twitter. And in the meantime, click here to check out our review of SuperGrid.