Features | Written by Andrew Pollard 27/04/2019
Lowell Dean | ATOMIC VICTORY SQUAD #2 & #3
Having impressed many film fans with the likes of WolfCop and SuperGrid, Lowell Dean has recently turned his hand to the world of comics by bringing his childhood creation of the Atomic Victory Squad to life in the first part of a planned five-issue series. With the Indiegogo campaign now live for the next two issues of AVS, we caught up with Lowell to get the scoop on the fascinating Atomic Victory Squad and what lies ahead for this ragtag team.
STARBURST: With the first issue of Atomic Victory Squad now out in the world, how has the response been to the book?
Lowell Dean: It's been good but very modest. Everyone's been very positive. We're growing very slowly, I'll say, and that's by design; I hadn't made a comic book before, so I didn't want to get too aggressive or make 10,000 copies. We're trying to grow it grassroots and organic in a special way. We're actually taking it to our first fan expo, by the way. We're going to a fan expo in Calgary, then there's one in Saskatchewan the following week. Even though we've done the first issue, I kind of feel like we're just getting started now. Everything was hypothetical before, like, "Hey, trust us, this thing might be cool!" It's the first time, these last few months, where we can say, "Here, look at it." Now I just want to get right in to it.
Given that you've had these characters in your mind since childhood, how is it to finally see them in a physical comic book?
It's definitely mind-blowing. I'd say it's an addiction. I'm always someone who thinks ahead, I'm not someone who savours the moment, but the second I held the first issue and flipped through it, I had a second of excitement and joy. Then all I could think was, "Oh no, I need way more of this."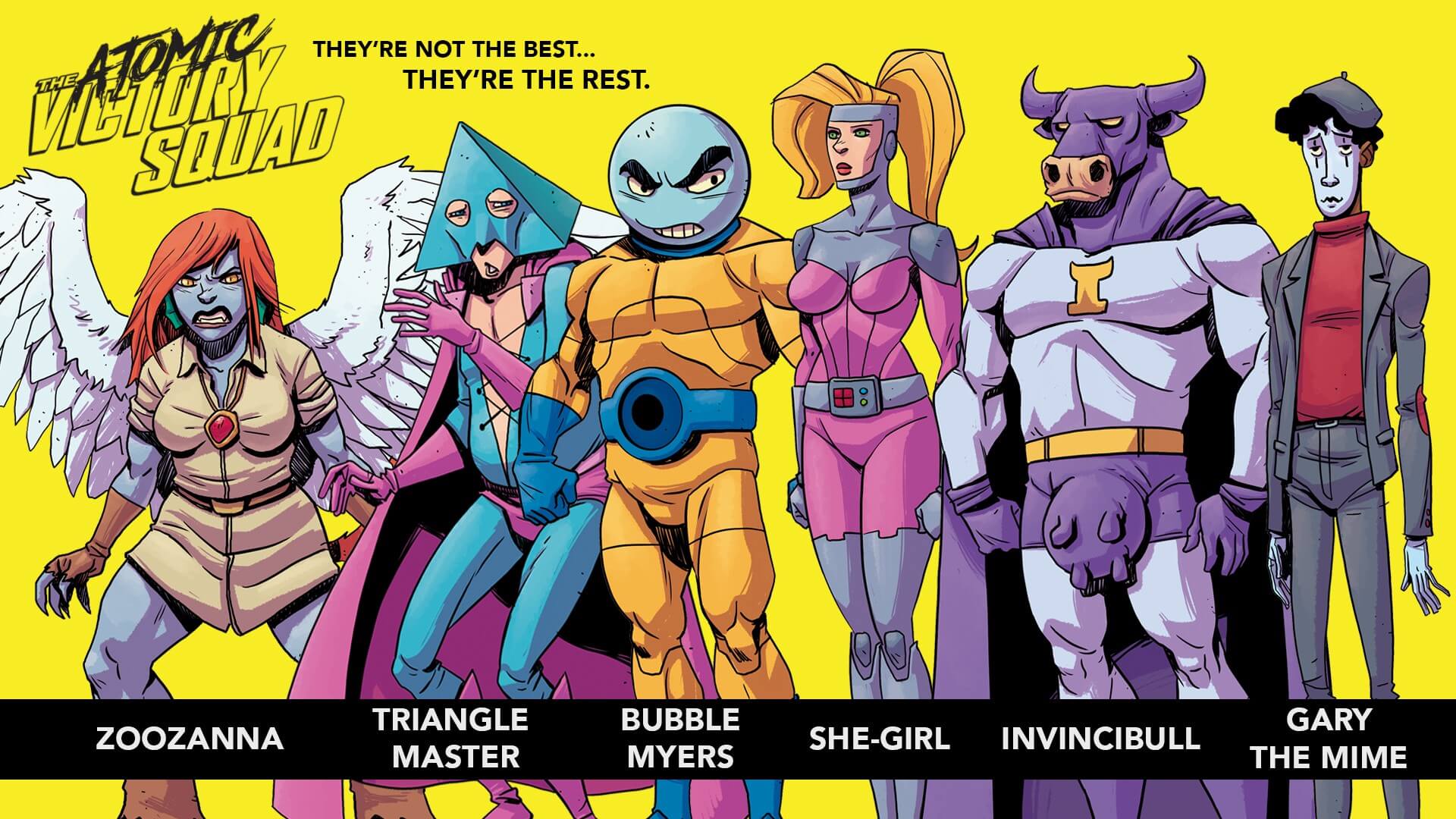 You've already done some comic book shop signings over in Canada. How was it so see your characters sharing wall and rack space with some of the greatest heroes and villains in comics history?
It's really cool. I feel like you almost have to flex your salesman muscles as much as anything. Luckily, when you're in a comic shop or at a fan expo, it's not like you're out on the street busking and saying, "Hey, look at this comic" to a bunch of people who may not care about it. At least you know that when they walk through the door there's a part of them that likes comics. It was just having a conversation and finding the right 'in', and it was cool to meet some people who came in there just to get our comic. And the people who didn't, it was, "Hey, do you want to see something really weird?" Or you'd see what they're buying and go, "So, you like Batman. Well, what if Batman was a cow?"
Both must be rewarding, but is it more rewarding to know that someone has gone to a comic store solely for your book or is it more rewarding that someone who has no idea about your book is impressed and intrigued enough to give it a shot?
That's tough. I feel like the latter is more gratifying because you feel like you've turned someone around to something, but it's still very flattering when someone walks in and they walk right up to you and go, "I'm here for your comic."
From speaking to you several times over the past few years, you always seem like quite a calm guy, but was there any point during the making of AVS where the panic hit that you're really bringing these childhood characters to life?
Oh, every day. I'm feeling it right now. We literally just launched our new Indiegogo and I'm already like, "Oh my god, what if everyone hates this! What if no one backs this! Are we going to be able to finish it?!" There's a part of me that kind of likes going in to the danger zone of stress and taking on something new. To be blunt, if we hadn't had done it then there wouldn't have been the first issue; no one is knocking down our door saying, "Hey guys, make a comic!" Basically, you have to be consumed by something and jump off the deep end. We're doing it again right now and it doesn't get any easier – I'm still very nervous.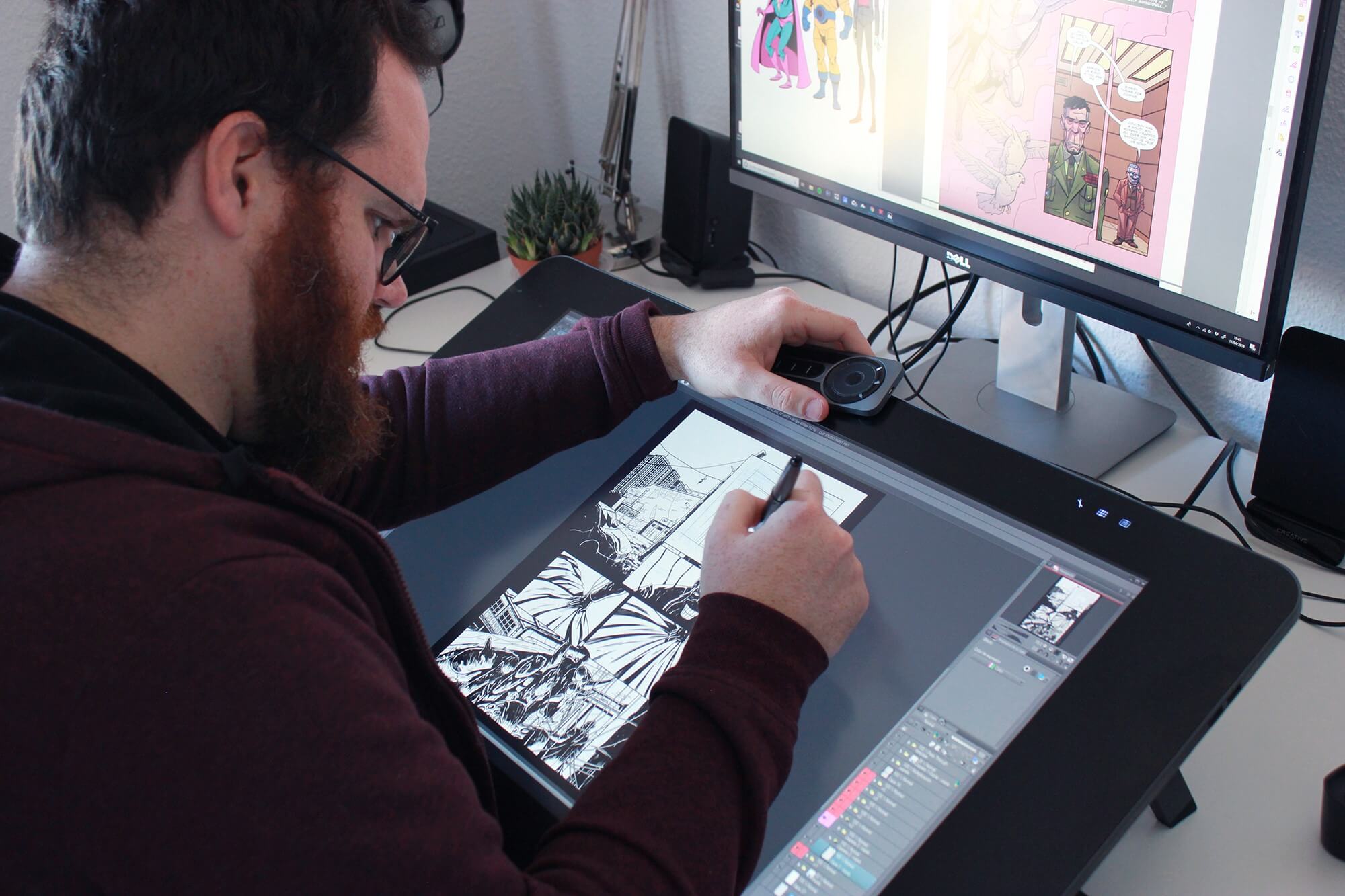 As a first impression, the art alone makes you want to dive straight in and check out the Atomic Victory Squad. How much creative freedom did artist Javier Martin Caba have, and how much does his art look like how you always imagined these heroes?
It's really weird. With Javier, I feel like I haven't said very much. But, that said, I feel like it looks exactly like it did in my brain. That just goes to show that he was the man for the job. Having never done a comic before, I haven't read a bunch of comic scripts so I don't know how detailed they are. I kind of describe it like a storyboard: I say who's in a shot, how wide the shot is, what side of the frame I want them on. I might even give reference images that might not be in everyone's brain. For example, when Invincibull's being milked in the first issue, I think I described that panel as "Jesus on the cross, meets Weapon X, meets a cow." It's just cool to see how he brings it to life, and he honestly is so talented, so brilliant. I've said this to him directly, the best day of my week is the day where he says, "Hey, here's a couple of new pages."
With you guys having never even met in person yet, that just goes to highlight how great modern technology can be with such projects nowadays.
No, he lives in Spain. Our team is actually spread out all over. We've got a guy called Maurice Roy who does some of the graphic design and the layout, and he's in Montreal. Emersen [Ziffle] right now is in British Columbia. Obviously, Javier is in Spain. Micah Myers, who's our letterer, is in the United States. A project like this makes me really appreciate technology and the fact that we can all come together. It could be really cool if we make all these books and we've never met. In a way, that's kind of beautiful.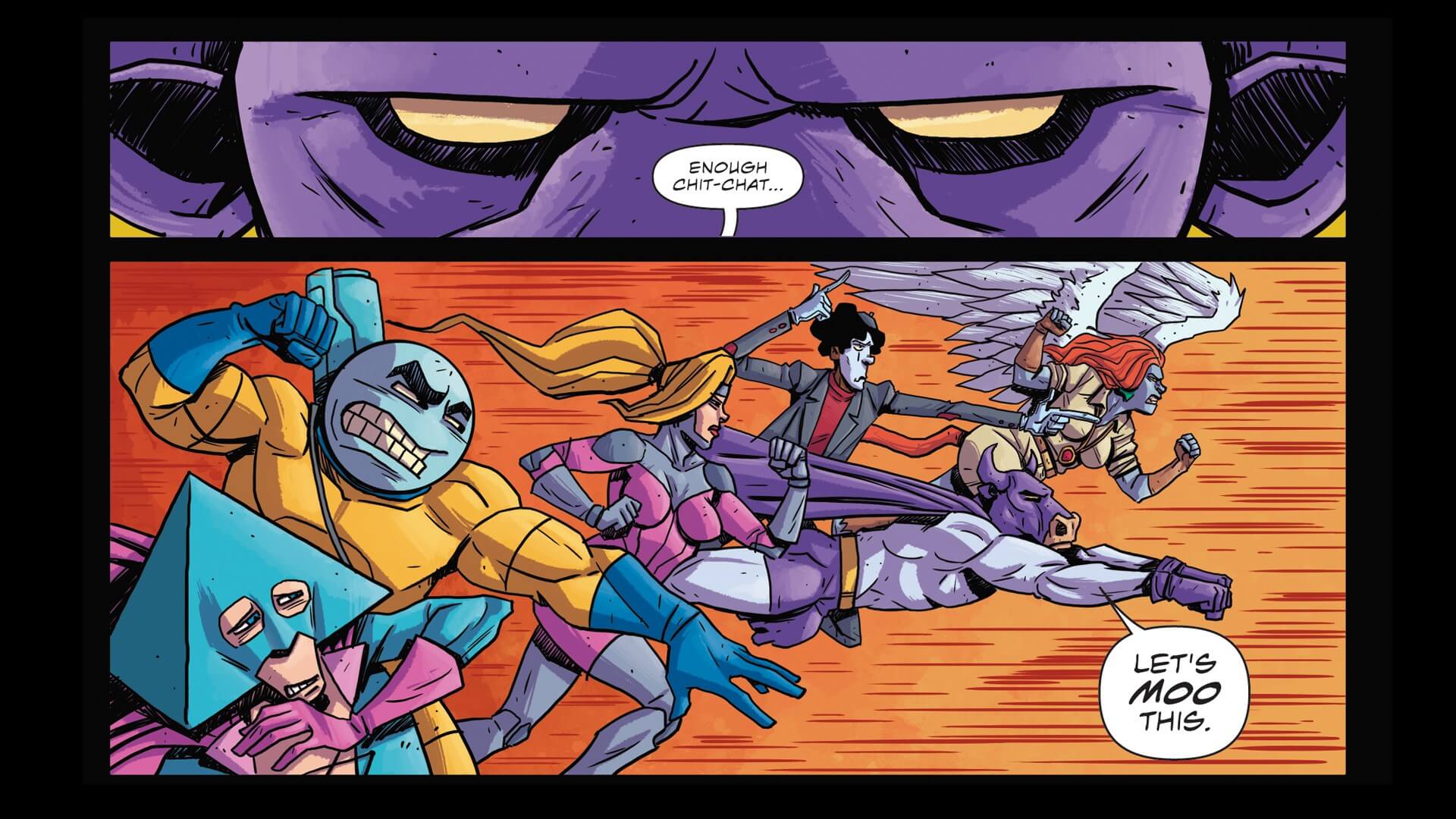 While you created these heroes during your childhood, how did you go about creating villains such as Ridando for the book?
No, the villains were also from childhood. The fun thing is adapting them and saying, "Okay, you were this when I was 10. How am I going to make you relevant now?" That's what I'm most excited about in the next few issues. We've had that alien Ridando who came to Earth to kill people, but there's some really cool little showdowns coming in the next four issues. You're going to have a villain who's very familiar to fans of the The Joker. Then there's a mastermind character who's pulling all the puppet strings. There's this very evil woman who's really good at just getting inside people's heads. The hardest part has been editing down what I want to do and accomplish, and how many villains can you introduce in five issues? I guess we'll see.
As a major fan of DC Comics' King Shark, one villain that instantly grabbed my attention during the first issue's closing prison break was the humanoid shark. What can you tell us about him?
Good! He is definitely in the next issue. Issue 2, we pick up right away with the prison break. It's kind of my fun cheat to showcase a lot of different villains from my childhood that I was like, "Okay, this isn't really about you guys, it's just about the team, but I can throw in a lot of cool weird guys."
You being a filmmaker first and foremost, how has it been to adapt your skillset from making movies to making a comic book for the first time?
It's actually quite different. It's a different discipline, it's a different medium, and I went in, maybe a little arrogantly, being all, "Oh, it's the same thing, it's just like my storyboards." As pages came in and we started dealing with lettering and how to compose a frame, sometimes to Javier I was, "This frame, you've made the character too small, there's too much dead space." And he'd be, "Well, where are you gonna put the words?" "Oh yeah… this isn't a movie." So I feel like I've been humbled making the first issue, and it's changed the way I think. Even though we were doing issue 1, I'd already written issues 2 and 3. The second the first one was done, I said, "Don't start on anything! I need some time." I had to go through and really realise how different it is. Maybe I'm thinking in terms of a movie: shot, reverse shot, wide shot. I was, "You know what, this story doesn't need a panel. This exchange needs a wide shot, then a close-up of this character being sad because of what was said in the wide shot." You have to retrain your brain.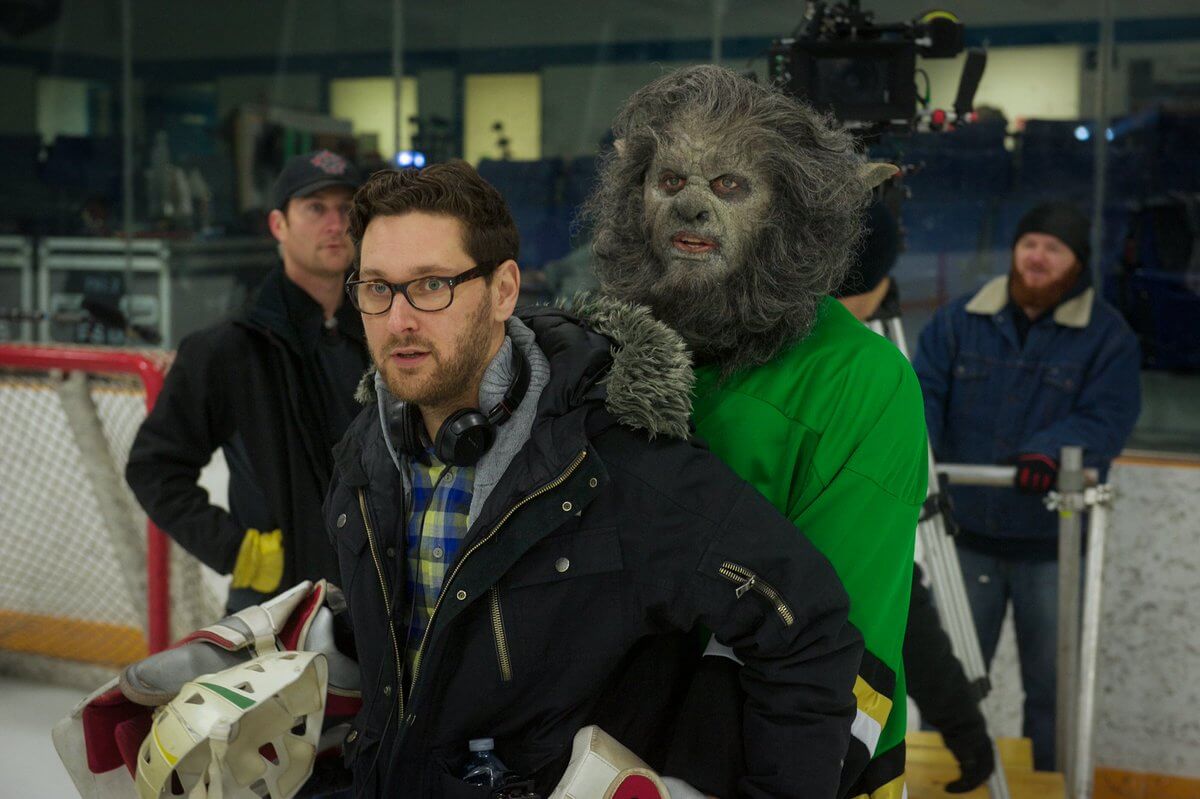 Obviously these characters are all your babies, but is there a particular favourite? And with each character having their own issues and problems, are there any personal experiences you pulled from for those?
Oh, 100%. Each of these characters represents something different. Something good and something bad. When I'm writing and when I'm looking at the characters and who would be in each scene and who should do what, I think about what's the point of the scene. I think Invincibull is my go-to easy favourite because he is the moral right. He is my Superman, he is my Batman – all rolled into one. Someone like him, what's fascinating to me is that he hates humanity but he also secretly, deep down just wishes they would understand him. I think each of these five, they're something that's in me. They're my insecurities, they're my hopes. Triangle Master, everyone thinks he's crazy. I've had many times where people have been, "Why are you so weird?" So he represents that. Gary the Mime represents unbridled imagination at all costs; not even speaking because he's just so in his own head. I relate to that, too. And She-Girl, she's being misjudged for her appearance. I think anyone can relate to that. Zoozanna is just conflict and split personalities and wanting to be one thing but people tell you you're something else. I could go on, but each of these characters are like children and it would be hard to pick a favourite. I think the most visually interesting, fun and weird is Invincibull, but on any given day I could write 10 books on these five or six characters.
And the Indiegogo campaign that you've just launched, it's for both issues 2 and 3?
Yeah, we're launching 2 and 3 at the same time.
What perks can people look out for with the campaign?
It's very similar to the first one. I'd say similar but better. I think we've gotten a little more efficient so we've lowered our costs a little bit, what it takes to get each item. On top of that, based on how people reacted for the first one, it seemed like a lot of people were interested in appearing in the comic. So we've definitely upped the ante on that one. Because there's two issues, there's a lot of cool opportunities for people to just be in a crowd shot or be a dangerous inmate or maybe be a character that is recurring. There's a journalist and reporter who is in multiple panels over the issues. For me, that's going to be the fun part. And that was probably one of the more fun parts of issue 1. At first I thought it might be a bit of a burden – having to work people in – then it became really fun, almost like casting a movie. It was funny. Only after we did the first issue, Javier was like, "Why are we not putting ourselves in this?" "Good point!" Maybe down the road I'll try and put myself in the background or something. Right now, for me, it's more fun that if someone is going to support us at that level, it's trying to find a cool place to throw them into the comic.
The current plan is for this particular AVS story to go through five issues. Once that's done and dusted, are you already plotting what could be next for the Atomic Victory Squad?
Right now, because I'm in the middle of the Indiegogo for issues 2 and 3, I have a little panic attack when you ask what is after. For now, we've just got to focus on getting these five done. I think that's a natural story completion point for me. My goal, I've said, is an animated series at one point. I feel like once I have a 120-page graphic novel and all these original pieces of art and trading cards and posters, I feel I'll be in a better position to walk in a room and show people this should be a show. In terms of whether I'll continue the comic after the five, at that point it's more a case of a stop and post-mortem sort of thing where we say, "Does the world want more of these characters? If so, should we be going to a publisher or distributor beyond ourselves? How do we merchandise or offshoot these things? Do we do standalone stories of these characters?" I think I'm going to let the world tell me if I should do more. I'm going to stubbornly get the first five out any way I can, but after that we'll see what people want.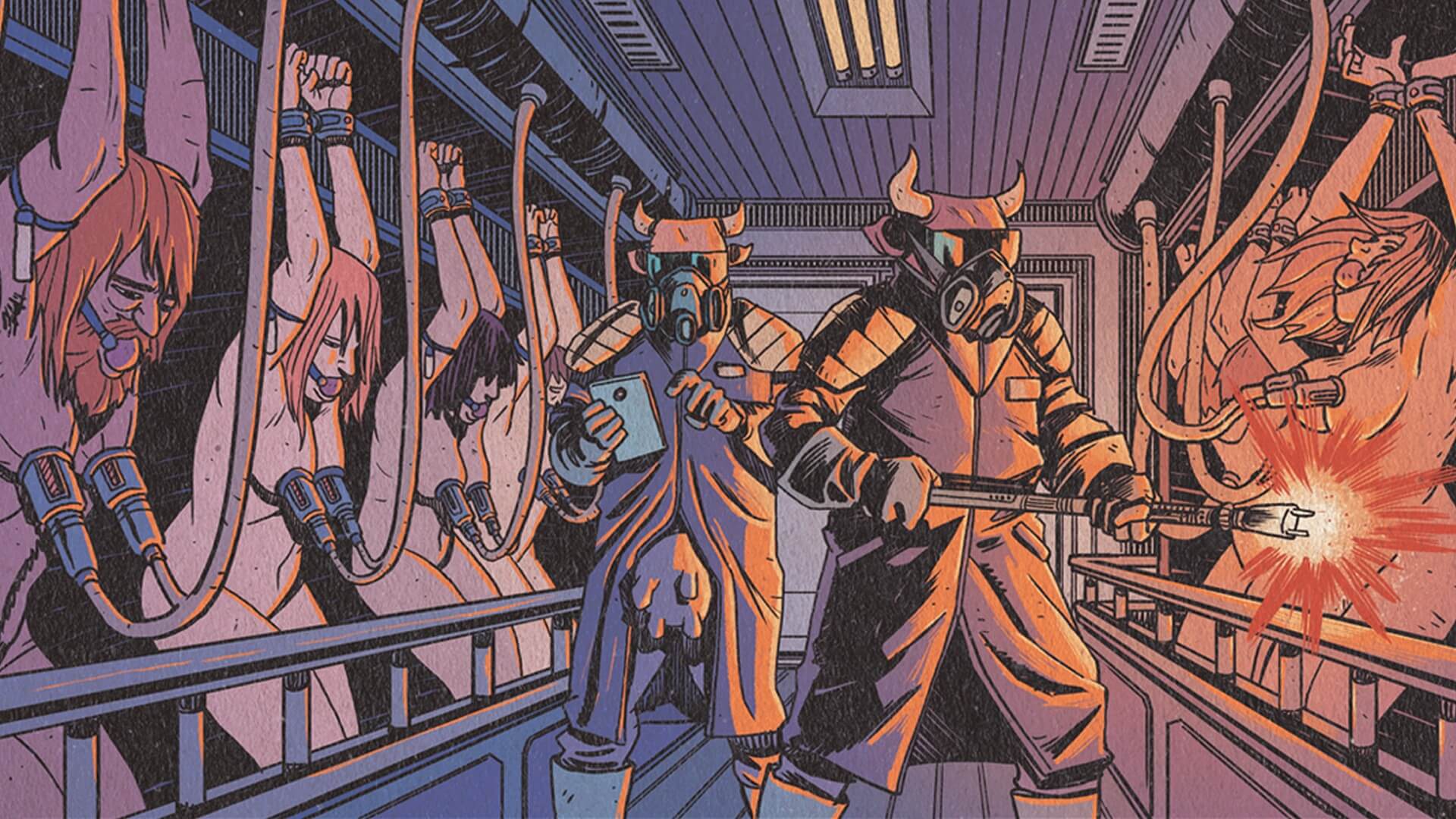 In terms of getting a comic book adapted for TV – be it in live-action or animated – it seems as if there's never been a better time.
Here's hoping. Honestly, part of the reason I dove into this now – these characters that have been around forever – is because it feels like we're in a cool time in the world where the lines are blurring between genre and style. Shows like BoJack Horseman, Rick and Morty, it's all, "You're not just silly, you're maybe not at all for kids, you're all for adults, you're walking all of these different emotional lines." And that really gets me excited.
The creation of the Atomic Victory Squad is a result of the demise of the original Victory Squad. Was it always the plan to kill off a group of heroes in order to introduce this new ragtag team?
They were actually always going to die. Even when I was a kid, that was how the Atomic Victory Squad was going to begin. I have drawings, and my parents were very worried. The only colour was red; it was just a mass of blood. Truthfully, some of the original Victory Squad I kind of mixed and matched who I let live as some of them were on the Atomic Victory Squad. When I was putting together this version of the team, it was more a case of who represents what to me. The ones I didn't know where to put them, I was like, "I'm just going to kill you."
So you had the death of the original Victory Squad planned even as a kid?
It just kind of felt natural at a young age. In a world like Marvel or DC, the only reason they'd let a cow fight crime is if Batman or Superman were dead. It's like, "Now we're really desperate, everybody's gone."
The tone of the dialogue is so well handled throughout Atomic Victory Squad #1, with lots of great one liners, some cheesy '80s action movie-esque exchanges, and lots of serious undertones to events. How was that to balance?
I think I'm always second guessing myself. Javier's visuals really tell the story and put you in a certain kind of world – which is really fun and unique. For me, I think the script, the first draft is a little less funny than the final version. Once Micah has done the lettering pass, I kind of then look at it. It's almost like watching a rough cut of a movie. Then I say, "Where am I missing a joke? There's a bit of a dead space next to that character, where I don't need to add another line but this joke popped in my head so I'm going to do it." I'm sure that annoyed Micah a little bit because he'd do the comic and then I'd be like, "Hey, I want to add a joke on pages 2, 8, 12 and 19."
If all goes well with the crowdfunding campaign, when can people roughly expect to see these next two issues?
We are aggressively working on them right now. Javier, the bulk of the work is on his shoulders. He has got a window right now to do some art, so he's working away on it as we speak. Our goal is to have it done for the Fall, but at this pace, if we get the backing and support, and if his schedule remains clear and he doesn't have to jump on to another book, I can see us delivering in the Summer if we're lucky.
Considering you created so much of this world during your childhood, how has the reaction been from your family at seeing AVS brought to life?
I think they're used to it by now. I don't think anything shocks or surprises them; they're kind of just, "Oh, that's cool." I have a very supportive family and they just encourage whatever madness I want to undertake. They just want me to keep going and do what makes me happy. I'm sure they found some familiarity with it. My sister, for sure, said, "Why am I not in your credits?! I was your slave labourer, doing your colouring when you were making this when you were 10." I would say, "Hey, want to hang out? Colour these ten pages while I draw." I've kind of always been barking orders.
With SuperGrid having been released since we last spoke – including screening at the recent Starburst International Film Festival – how has the reaction been for that movie?
It's been much smaller, I'd say, in scope than the WolfCop films. But again, it's a more modest, subdued, serious film. The reaction has been positive. It's not been mind-blowingly big, but everyone's been very kind. We've had some good screenings locally and at some festivals.
For a start, the title is a little more low-key than WolfCop or Another WolfCop…
That's the thing. We're competing already with the world of Mad Max movies, and the name isn't flashy and there's no big stars. It's definitely an under-the-radar type of film. My hope is that it just sticks around and maybe gets in some people's consciousness and they spread it like a disease.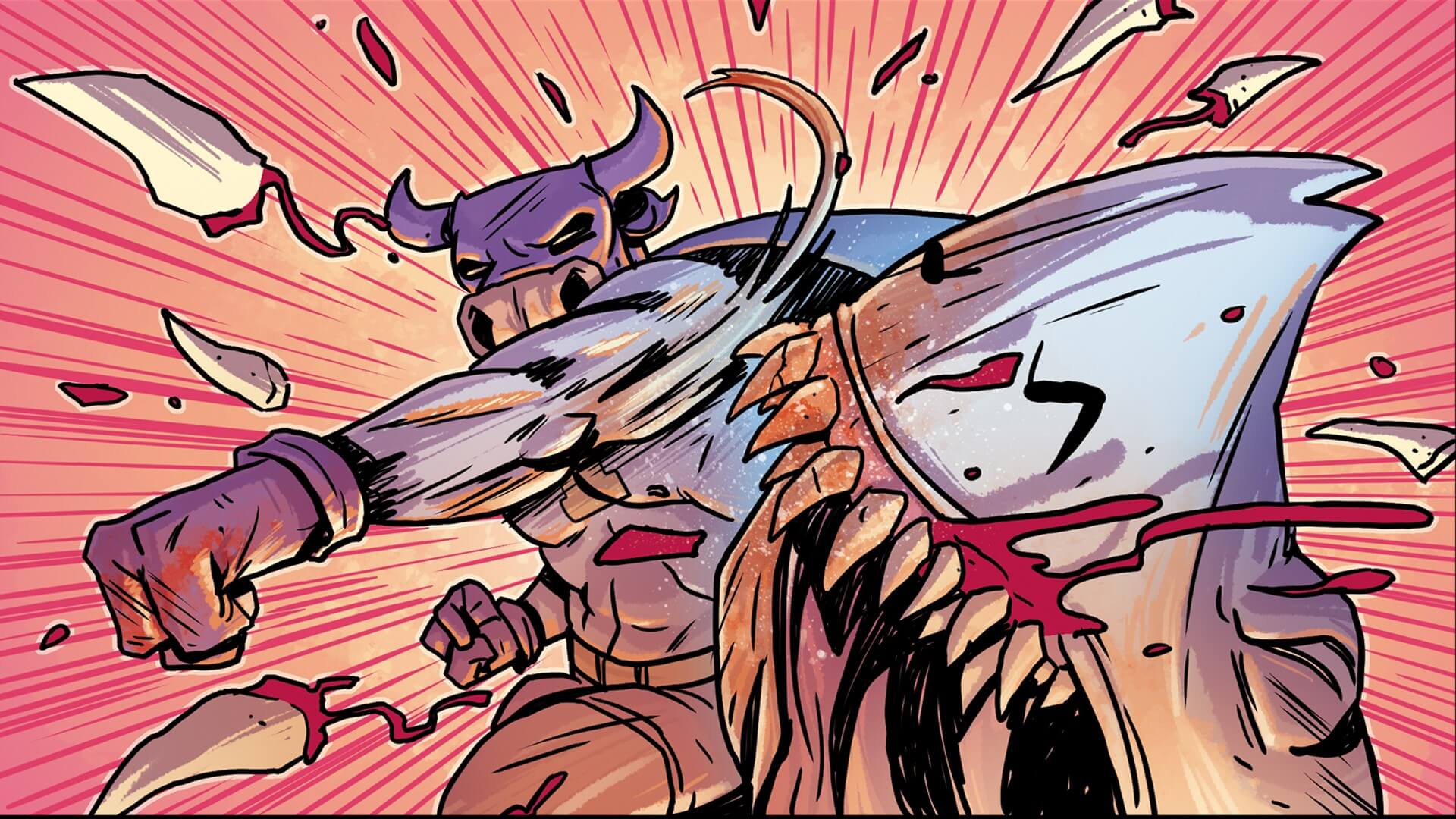 You always seem to be spinning plenty of plates, so what can you tell us about any other upcoming projects right now?
It's still spinning plates. Projects are definitely in the air, and I feel like we're getting to the season where we'll find out announcements in terms of government funding that could really make things happen. If all goes well, I'll know what my next movie is going to be by the summer. I've been pretty lucky; usually every second year I'm making a film. I've got one teed up that's reasonable to do on a low budget, but I think will hopefully be my best film by far. I'm dying to make it. It's another 'from the vault' type of thing. I wrote the script almost 10 years ago, and we're now getting to a point where I feel like it's evolved to something much stronger over time.
Be sure to head over to Indiegogo for further information on how to support the next two issues of Atomic Victory Squad, and you can find the project on Twitter at @AVS_comic.