Features | Written by Andrew Pollard 29/06/2018
Lowell Dean | ANOTHER WOLFCOP
Back in late-2014, we were lucky enough to grab some time with Canadian writer/director Lowell Dean to discuss a bonkers-but-brilliant movie by the name of WolfCop. Focussing on alcoholic werewolf lawman Lou Garou, the film proved to be a huge favourite of many a genre fan – and the promise of a second WolfCop picture had fans chomping at the bit. Now, with Another WolfCop finally here, we were lucky enough to catch up with Lowell to discuss this furry follow-up.
STARBURST: The first WolfCop was pretty 'out there', so how did you go about trying to top the insanity of that first movie?
Lowell Dean: I actually thought it would be really easy to top the first film. The first film was made with very little money, very little time, just some ideas and some friends. We were really under the radar. I guess ignorance is bliss, because I thought it would be so easy to make a sequel – that we'd just need to up the ante a bit. But it proved to be very challenging. We had the same amount of time, we had way more ambition. A lot of the core team – myself, the producers, the actors, Emersen [Ziffle – make-up supervisor], the FX artists – were trying to be better, to do better for ourselves and for what we saw audiences responded to in the first film. It was an insane amount of pressure, too much pressure for something called Another WolfCop, I'd say. We just wanted to make it great, and maybe a little crazier. The word I put on my binder was "crazy". I said that every scene had to be really crude, really weird, really sexy, or really insane – preferably all of the above!
For the first movie, you went through CineCoup – which you previously described as America's Got Talent for filmmakers. Was it a little easier to get the financing this time out?
Again, it was easier in the fact that I didn't have to sing and dance for a year. That was great. But the downside was that we wanted to be bigger. We dug our feet in the sand and said, "We can't do this for the same budget!" We would've killed ourselves. We all agreed that we needed a budget of around $2 million – which was easier said than done for a little independent Canadian film. So, it took the producers a lot longer than I expected to raise the financing and pull it all together. It was funny, because if you look at the end of the first film it says "WolfCop 2, coming 2015!" We all agreed we'd make the first a year later, but that ended up taking a couple of years. I wanna get that on a t-shirt – "WolfCop 2, coming 2015!" We missed the boat on that one.
Another WolfCop ends with the promise of a third movie, but there's no time scale mentioned this time out.
I think the producer didn't want to put a date [laughs]. I just wanted to be as vague as possible this time. Like, "WolfCop will be back".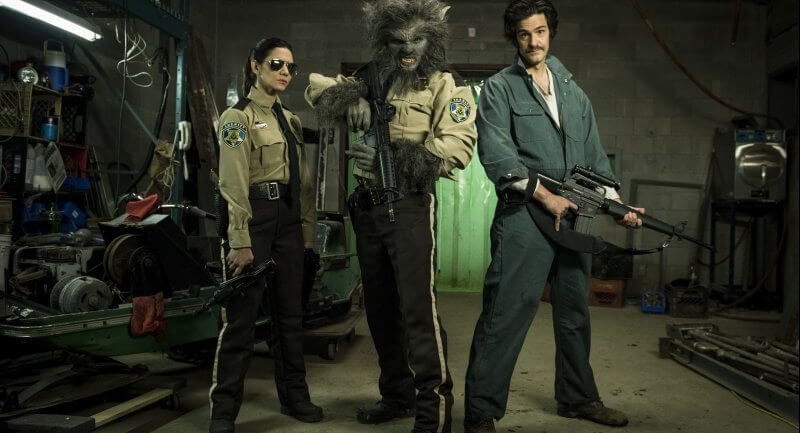 Was there anything you wanted to do this time out that you realised was too crazy or you were forced to scrap?
A lot! Honestly, we storyboarded and planned out all the action. The end sequence at the hockey rink was going to be twice as big as it ended up being. We lost some financing and we lost some days towards the end of prep, so when it came time to shoot we all had this plan for something that was bigger. What kind of became heartbreaking was those hockey rink days where I had to pick and choose. As our clock was running out, I had to be like, "Okay, well let's cut this fight scene down. Let's do the first half of this one, then cut to this." It was really stressful trying to cut and paste. One of the biggest things we ended up cutting, I cut because we all agreed that if we went in to this bigger idea or sequence or show that – we can't do it unless we can do it right. So, we just put it on the shelf, I cut it out of the script, but it will happen. If we end up doing a third WolfCop, it will move over to there.
Given the success of the first movie, we're guessing it was an easy sell to get all of the key cast and crew to return?
I think everybody wanted to come back. I think the core cast and crew of the first film, I think we all had a blast. It was a really fun experience, especially with the cast. We started to just figure it out. That's the problem on a seventeen-day shoot. It's not like a TV series, we just find our characters and our fun and our rhythm with each by the end of the seventeen days. This was very exciting to bring back Jonathan Cherry [Lou's best pal Willie] and Amy Matysio [Lou's cop buddy Tina] and Leo Fafard [Lou Garou/WolfCop] and say, "Now we know what you three are like with one another, let's go farther. Let's see how you connect."
For the bad guy of the piece, you brought in Yannick Bisson as the extremely slimy Swallows. Was it always the plan to go with that sort of villain for the sequel?
No. Actually, in my first draft the villain was really different. It was more of an under-the-radar villain who was coming in to town. Through rewrites and feedback from producers, it was just, "Lowell, this character, he's a weasel, but maybe rather than tricking Woodhaven or seducing Woodhaven, why don't you have him publicly seduce Woodhaven?" So, he became a self-help guru at one point, then he was trying to show Woodhaven how to make money. Then we thought about what the simplest version of that was. "What does Woodhaven love? Beer! What does Saskatchewan and Canada love? Hockey! Okay, why don't we have a guy come in to town like the Pied Piper and offer you hockey and beer?"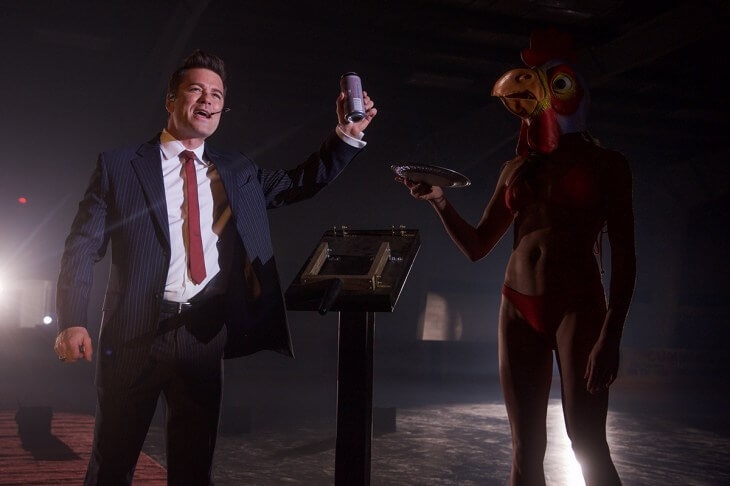 And while Canadians love hockey and beer, someone who is loud and proud of his love for Canada is Kevin Smith, who has a supporting role here as Mayor Bubba. How did he end up involved in the picture?
It was a great kind of fluke. He was scouting Moose Jaws in Saskatchewan, which is where the actual city of Moose Jaw is. I thought, "You've just gotta take the shot", right? He's someone who'd obviously be great in a movie like ours, he'd fit in so perfectly. One of our producers reached out, he luckily was in town, and he gave over and gave us six hours of his time. And we abused him for those six hours, and he was great. He was a gentleman. He comes from these smaller indie films, so he gave a lot of great advice and feedback, and he was fun.
What lessons do you think you learned from the first movie, and how do you feel you've progressed as a filmmaker since then?
I think technically I've progressed a lot. I think I've managed to get both more intense and more relaxed, which I know is a contradiction. I feel like I can see the forest from the trees and I know what I can take on. I know what not to short-change. It's an ever-growing process, and I'm still learning, but to me it's finding that balance of making something that's not boring, that's going to appeal to people, but that's still going to speak to what I have to say inside me. And just the life of being on set is so chaotic. I've been learning to not get freaked out by the little things, to say, "Okay, when I do a film these ten things are going to go wrong. And when they do, how do we calmly and gracefully find a solution?"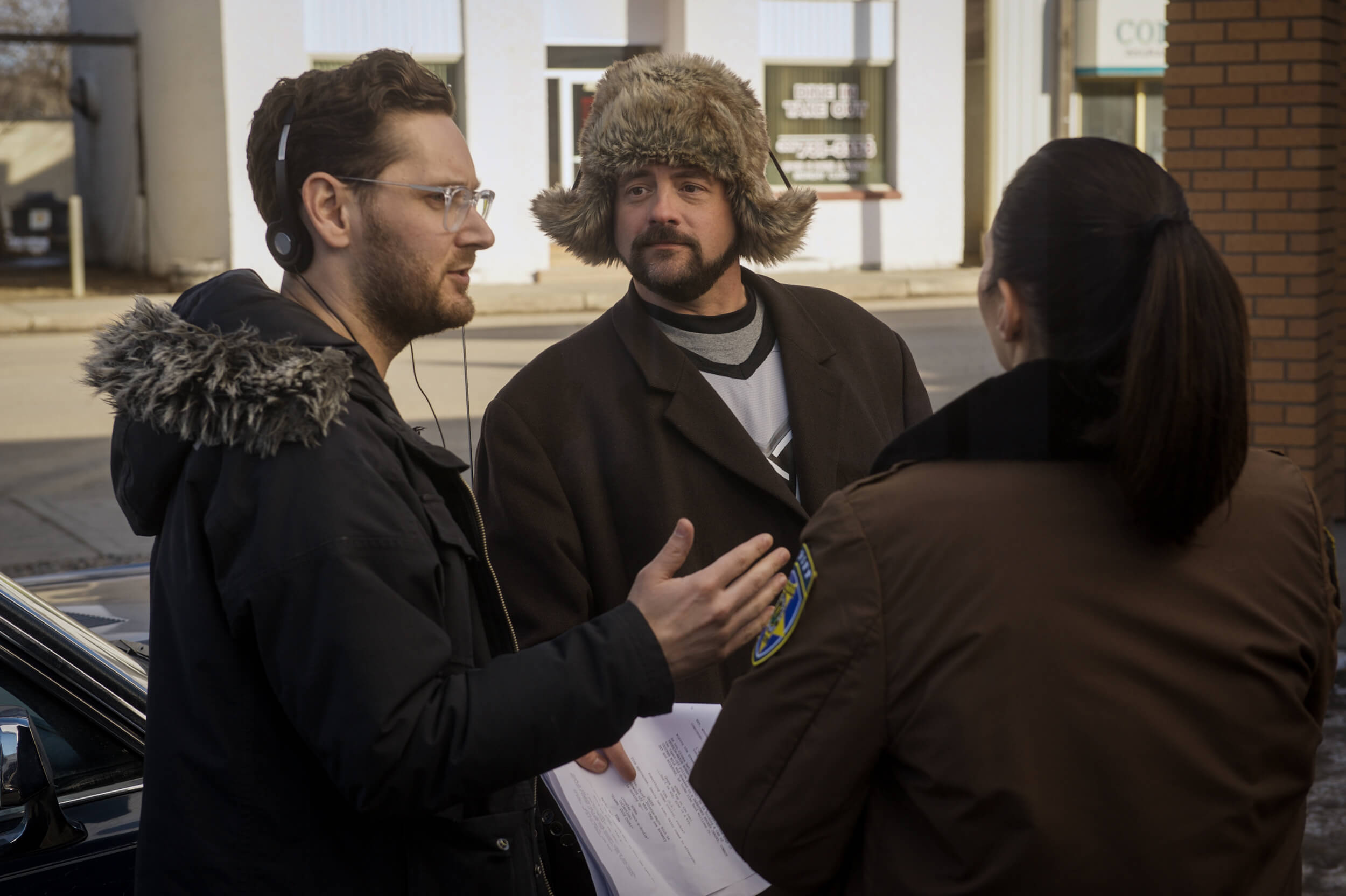 Like you said earlier, the end of the first WolfCop comes up with the promise of a sequel in 2015. Even though that was there at the end of that first movie, was there ever a point where you were uncertain over whether you wanted to make a follow-up?
Yeah, there was always that uncertainty. There's never a guarantee. There was a time where I thought that it might just be a joke – "WolfCop 2, coming 2015!" But I loved the character; he's my baby, I created him. So, I will always care about him and want to do more, but yeah, there were times where I was like, "Is this all I'm ever gonna do? Am I only ever going to make WolfCop films?" Luckily, I've been able to go off and make other things between the two, but he'll always have a place in my heart. If it's wrong then I won't wanna do it. If people can come together in the right circumstance and there's the right demand, I wouldn't even stop to breathe. I'd take five years off and see, like, Old Man WolfCop.
Already the franchise has had aliens, interspecies erotica, wolf dicks aplenty, and the very concept of an alcoholic werewolf cop is a crazy idea in itself. Looking at WolfCop 3, where can you take this in terms of scope and scale?
I can think of a few places, honestly. I actually already have a pretty firm idea for what I'd love to do with the next one. But if I tell you, you'll know [laughs]. I think there are some places to go, whether it's a side story or cleaning up the story that we started with these first two films. I think this character can go on in a lot of different ways.
Such as following on with the revitalising moondust which Lou discovers in Another WolfCop?
Yeah, what's going to happen to a guy like that? He's going to have to have some repercussions at some point.
And we're guessing moondust isn't exactly easy to come by, should he need another fix?
Exactly! And how addictive is this? These are the things I'm curious about. That's not going to be good for Lou.
Away from all things WolfCop, what other projects are you working on at the moment?
Since WolfCop 2, I've directed another film, another indie film, called SuperGrid – which is kind of like a post-apocalyptic, future Western. There's a trailer out now. I don't know when the movie is going to come out, but that was for producer Hugh Patterson, who was also the producer of WolfCop. He has been developing that and he brought me on to direct. It was really fun to do something with the same group of people but very tonally different.
The last time we spoke, you said that your dream project was to one day tackle a superhero film. In a way, you could possibly label WolfCop as an antihero of sorts. Is a full-on superhero picture still a big dream, though?
It's funny you bring that up, because since we talked all those years ago there's been nothing but superhero films. While I love superheroes – of course, it's on the bucket list – I don't think the world is lacking superhero movies right now, so I'd rather do some of the other weirder things that are happening. I of course want to make things with bigger budgets, more time to explore visually some things, but I've got a long list of films I need to do.
With there being so many returning cast and crew for Another WolfCop, do you guys almost have a sort of 'second family' feel by this point?
Yeah, for sure. There are always people who change, but so much of the people behind WolfCop are a family. It is a family. It gets easier, in a weird way. WolfCop, WolfCop 2, SuperGrid – it's like a homecoming. We have shorthand, we make fun of each other. It's like going to camp rather than going to a job.
Given how they're such strongly Canadian movies, what has the reaction been to the WolfCop movies over in Canada?
I think the first film was kind of mixed. I feel like we got a better response outside of Canada, which is hilarious. I guess we'll find out on the second film. It had a limited theatrical run, but it's only now coming out on Blu-ray and VOD everywhere. But I hope people respond to it. I hope they see it's more funnier, more playful. Wherever it's played, it's gotten pretty decent reactions so far. So, fingers crossed, right?
Another WolfCop is out now on Blu-ray, DVD, and VOD – and you can find our review here.