Features | Written by STARBURST 23/11/2022
Leprechauns: good for casinos, bad for horror
Many are familiar with Mark Jones' 1993 American comedy-horror film Leprechaun, starring Warwick Davis. In Leprechaun, he takes on the role of a little guy with a grudge and launched what many consider one of the worst movie franchises of all time. To be fair, there are many contenders for that title, with Police Academy, Underworld, Saw and Resident Evil providing all kinds of terrible, but the Leprechaun series is rotten. Yet, with news that Lionsgate is looking to resurrect the franchise with a new instalment, it should be obvious that leprechauns need to stick to the casino settings rather than horror.
Lucky leprechauns
Games such as Rainbow Riches Free Spins from developers Barcrest feature leprechauns and in general, if you want to see an abundance of leprechauns, you should visit an online casino rather than the movie theatre. The pot of gold motif is one of the leprechaun's most prominent features. Therefore, their primary symbolism is fortune. That explains why leprechaun imagery is frequently used in the online real-money gaming sector.
The leprechaun found at online casinos doesn't bear much resemblance to the supernatural creature in Irish folklore, but over the years popular culture has tweaked the character to become a small, human-like creature, with distinctive defining features usually being a pot of gold, four leaf clovers, rainbows, a green suit, and buckled shoes.
The popular Lucky Charms cereal might have played a large role in creating a modern image of leprechauns and many people still recall the catchphrase, "They're always after me Lucky Charms!" The leprechauns associated with gambling are generally not mischievous and are cheerful characters that try to aid you in finding a fortune, very different from the movie creation.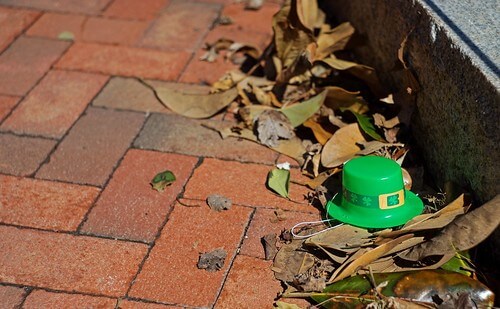 Bad to worse
Many forget that Jennifer Aniston made her acting debut in the original Leprechaun movie. The Friends star, along with an injection of humour from Davis and lots of gore made this a profitable venture and a cult hit for Trimark Pictures.
In 2018 we saw the Leprechaun series back to its original timeframe and this most recent movie is considered by many to be the worst of the lot. The beloved Warwick Davis originally played the title character in the first six films, some of which are considered the worst films he has been in based on IMDB ratings, but he did not reprise it for Leprechaun: Origins or the most recent Leprechaun Returns, as becoming a dad changed his outlook on the genre.
The failure of the two most recent films in which Davis was absent implies that he is essential to the franchise, and even if they make a legendary sequel like Scream or Halloween, it won't succeed without Davis.
Yet, even with Davis onboard, leprechauns are simply bad horror characters and we don't need them anymore. While there have been iconic so-bad-they're-good movies, with Plan 9 From Outer Space and The Room top picks in that genre, Leprechaun movies are not even enjoyably bad. Possibly due to the existence of Troll 2, Leprechaun can't really find a place in the so-bad-its-good genre. Whether in space, in the hood or literally anywhere, leprechauns are neither scary nor funny and no director can make this franchise anything but forgettable and pointless.
There might be a scenario in which a leprechaun becomes a memorable movie character, but after eight movies, leprechauns need to stay in the casino and not visit the big screen.