Features | Written by Nick Spacek 23/04/2018
Kid Koala | FLOOR KIDS
STARBURST catches up with the talented Canadian DJ and scratch artist who also dabbles in graphic novels to find out about his latest project - scoring a video game!
To his parents, he's known as Eric San, but to millions of fans, he's the astonishingly adept master of beats and turntables, Kid Koala. With six full-length albums, appearances on albums from Gorillaz and Deltron 3030, and more remixes than can be counted, where else could this talented man go?  Digitally, it appears. Working with animator JonJon, Kid Koala created the soundtrack to Floor Kids, one of the most well-regarded games for the Nintendo Switch. The breakdance battle game does for b-boys and b-girls what Tony Hawk Pro Skater did for shredders and thrashers, and while the gameplay and JonJon's hand-drawn art are a big draw, Kid's beats are just as much a part of Floor Kids.
STARBURST: How much did you and JonJon work on Floor Kids together; whose idea was it originally?
Kid Koala: I met him at the National Film Board, here [in Canada]. He was working on another film, and I was working on music for another animated film, and we just met and realised that we both had the same - well, he had the b-boy connection, and I had the scratch DJ connection - so, we hit it off right away.
He showed me, like, a pad of paper that he started flipping through, like an old-school flipbook, and it was Noogie, one of the characters doing a six-step or a swipe - something like that. I couldn't believe what I was seeing. These awesome drawings that literally had that rhythm: the way he timed it and flipped it, this kid was dancing, and he was on-beat in these drawing. I was amazed by that. That might've been ten years ago…
Floor Kids is absolutely his baby. He's the creator. But, when he showed me that first flipbook, I was like, 'You got to make this a video. I'll throw some beats behind it!' and we started making little animated videos that sometimes I would screen on tour, and people always dug it. So, over the last ten years, there was this idea, we like working with each other and it's a fun concept, but where do we take it? Do we make it a feature-length or a bunch of shorts?
So, we're thinking about all these things, and then Rhyna, my manager, actually said 'Maybe we should take it more into video games and the interactive sphere, somehow.' That's how that coalesced, and then I kind of cold-called the universe. We didn't know any game developers. I reached out and I just said, 'Are there any game devs out there who want to talk about maybe making something from some music and some art assets we think could turn into an interesting… thing?'
We didn't know exactly what that was at the time, but that's when we met the Hololabs kids. We all banded together and became MERJ, and then we produced Floor Kids, and that's what we've been doing for the last three years, pretty much.
You produced so many genres for this game. What was the process like, in terms of visuals inspiring sounds?
Recently - I guess, in the last four or five years - I've been doing more film score work. Just trying to harmonise with the visual and the tone and stuff like that. Jon's stuff, like I said, immediately already has this raw, sketchy drawing style and a lot of personality. When he showed me the concept drawings for some of the venues that he wanted to see in the game, like the corner or the arcade, or even the peace summit at the end of the game, it was for me this opportunity to get into the studio and just treat it like the video sandbox that it was.
I have this landfill of all these audio gadgets. Like, for instance, in the arcade, [Jon] really made it look like this '80s arcade with all the consoles and the neon lights and stuff, so I was like, 'I have to bring out the SID chip and 8-bit synthesisers.' I've actually got a cartridge that turns your old NES into a MIDI-playable keyboard. Using its voice chip. It was just fun, for each venue, to dive into that world and just live in it for a couple weeks and make tracks for each one, and just have it exist.
There's a lot of back-and-forth, too, where Jon would hear a track I was doing, and then that would inspire him, too, and he'd start adding things into the background, but it's very much a collaborative process - with the game developers, too. Jon and I always consider ourselves like Dumb and Dumber because we don't know anything about the process of making a game, but we were just excited to be a part of it.
When the game developers are telling us that you need main menu music here, and you need a sound when you scroll through the menu, a sound for this - they're kind of educating us on all the requirements for that. It was just a fun project.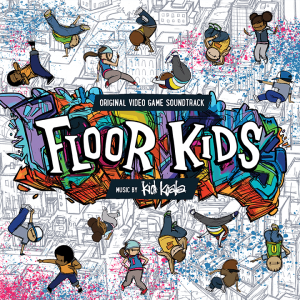 How do you sort all of this music out, in terms of gameplay?
It's interesting; the way the game is formatted, we decided to keep the rounds to just over two minutes. There are two 'A' sections, or verse sections, which are the freestyle sections, where it's kind of like when you play Tony Hawk, and you can sequence a bunch of moves together, but it's totally up to you, what you're going for, and there are certain combos you can make to go for bigger points and stuff like that.
Then, that's like a freestyle cypher throwdown, where I know from my DJing at break events that eventually someone's going to hop into the cypher and start with the top rock and spin into some down rock and power moves and combos, and then end on some crazy freak. There's a certain time for that, where it felt natural, like where you're at a break battle, and it felt like that was how long someone would jump in.
Then, maybe, it might jump to the hook in the song, where everyone starts Brooklyn rocking - stabs or hits in the music that everyone synchronises to - basically, you just needed to break up the tracks like that, and it turns out for this purpose, that to have these tracks at this duration, where you have two freestyle sections, and then another where you have like, a rhythm target, it was a nice sort of balance there. They built the game engine to work like that, and I just had to make sure that the tracks could fit the format.
FLOOR KIDS: ORIGINAL VIDEO GAME SOUNDTRACK is out on Arts & Crafts on April 27th. Read the full interview in Issue 448 of STARBURST.
Main image credit: Corinne Merrell.