Features | Written by Andrew Pollard 25/04/2018
Johannes Roberts | THE STRANGERS: PREY AT NIGHT
Over the past decade or so, Johannes Roberts has quietly been making quite the name for himself in the horror genre. With the likes of F and Storage 24 under his belt, the past two years has seen Roberts continue to impress with The Other Side of the Door and 47 Meters Down. And now, Roberts is the man tasked with directing The Strangers: Prey at Night – the hotly anticipated follow-up to Bryan Bertino's 2008 horror favourite, The Strangers. We sat down with this fascinating fella to discuss Prey at Night, putting his own stamp on the sequel, his love of John Carpenter and Stephen King, what to expect from his upcoming 48 Meters Down, and a whole, whole lot more.
STARBURST: Give that the original film has such a strong following, was there any trepidation of tackling a sequel that has been anticipated for a decade now?
Johannes Roberts: Yeah, for sure. There was already a pre-built weariness inside of me waiting for the "it's not as good as the first movie". As if I don't have enough to worry about with bad reviews, there's now an extra layer that I have to deal with [laughs]. I was particularly worried because nobody quite knew what we were doing. Ten years is a long time in the landscape of cinema, especially horror. Obviously The Purge had come, You're Next, a lot of these movies had come and taken what was fresh about The Strangers. There was a whole new audience who had never even seen the first movie, so I was like, "Are we rebooting it? Are we remaking it? What the hell are we actually doing with this project?" So there was this huge trepidation there. I think you can see with the movie it kind of evolved through the making of the film. I really sort of felt my way through that film. I loved the first movie, and this fit very well within that universe. It sort of works as a sequel, but then you can see that as the movie progresses it become its own beast that's kind of crazy, fun, and much more my sensibilities; burning cars, Jim Steinman music. So yes, I was very nervous is the very long answer to your question.
How did you go about trying to put your own stamp on the movie?
It was one of those movies where I got to do stuff that I'd never done before. That was also because I hadn't written it, I think. So you're slightly divorced, you have this slight distance to the material that I wouldn't have had with, say, The Other Side of the Door. I got to do stuff that I've wanted to do since I got in the industry. So the zoom lens is out of the box, and I got to direct the movie like I was doing a John Carpenter movie or a Brian De Palma one. It was great fun. Some of that stuff I was terrified of when we were doing it. These kind of shots, nobody's done in forty years and for good reason. It was kind of like, "Well fuck it, let's try it."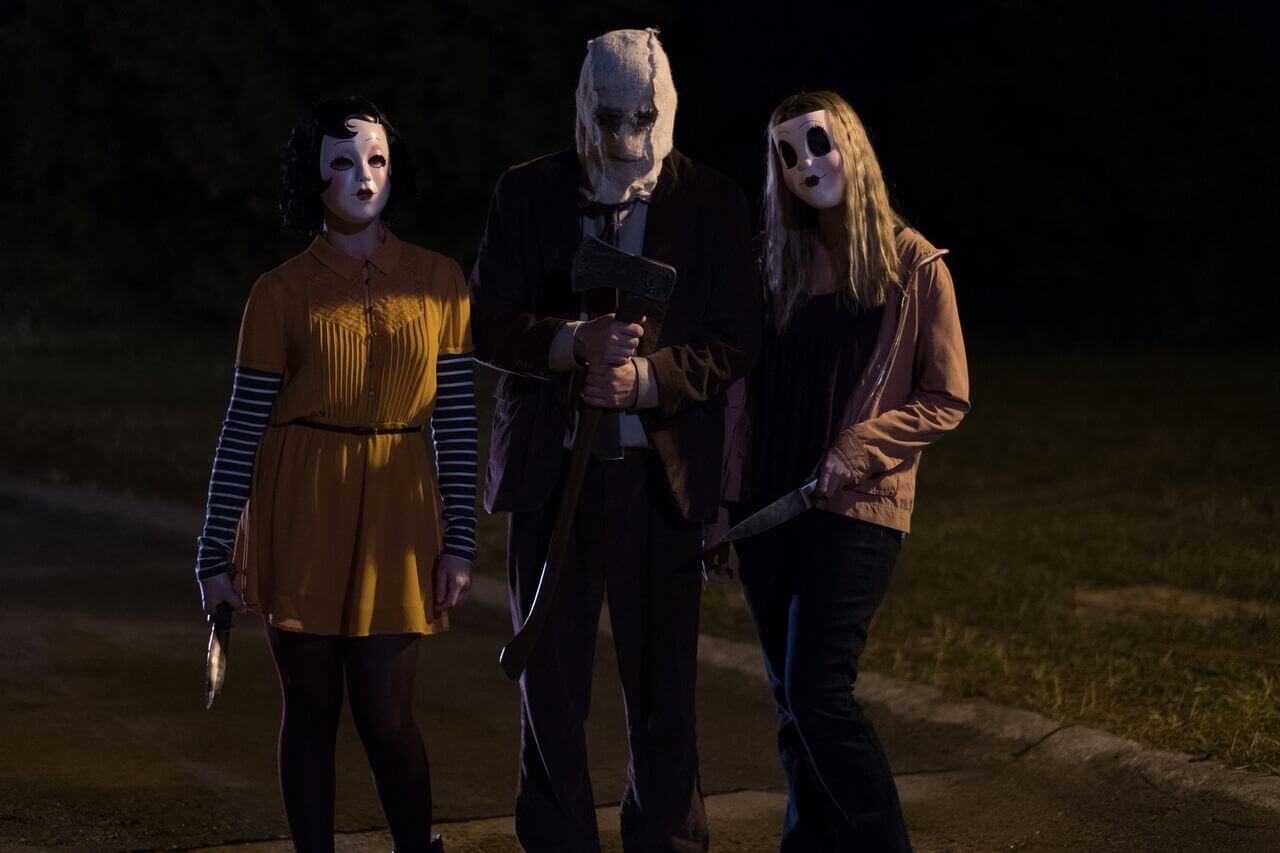 There's clearly a lot of influences on display here, particularly John Carpenter and Christine, but was there anything maybe a little less obvious that you went back and watched beforehand to inspire you?
You know what, when I took the movie on I was like, "I wanna make Christine!" To be honest, it was as simple as that. I keep going in to Sony to ask them to let me do Christine. Nobody's letting me do it. So I got the script and just thought it was perfect. I love that truck so much, and it just became a character throughout the movie. The more I filmed it, the more I just fell in love with it. The movies that I had on my desk in Kentucky during prep, I had Christine, I had Duel, I had The Car – which I'd never seen before and is a terrible movie – and then I had a lot of movies with crazy zooms in; so I had The Images, which was a Robert Altman movie I'd never seen before; I had Don't Look Now; I think I had The Graduate because that had some great camera work. I had plenty of movies that were not the references you would necessarily jump to. The slasher side of it was inbuilt in me, that was already there. Duel was a massive influence. That movie's great, I've not seen it in ages, and the fucking photography on that is insane! Those were the kind of things I looked at. So it was really retro, and I tried to really embrace it.
Like Liv Tyler and Scott Speedman's characters in the first film, here we have a core group who had their problems long before the killers turn up. As the film opens, the family at the centre of this have their own issues and chips on their shoulders. Was there ever a concern that these characters might come off as unlikeable rather than sympathetic?
Oh god, yes. The script trod a fine, fine balance, to say the least. Yeah, I was very worried because you could hate every single one of them. I think we worked it as much as we could to make sure that didn't happen, but really that's the magic of casting. It was just a great cast. You end up caring about them – Bailee [Madison], Lewis [Pullman], Christine [Hendricks], and Martin [Henderson]. But that was a big worry for me.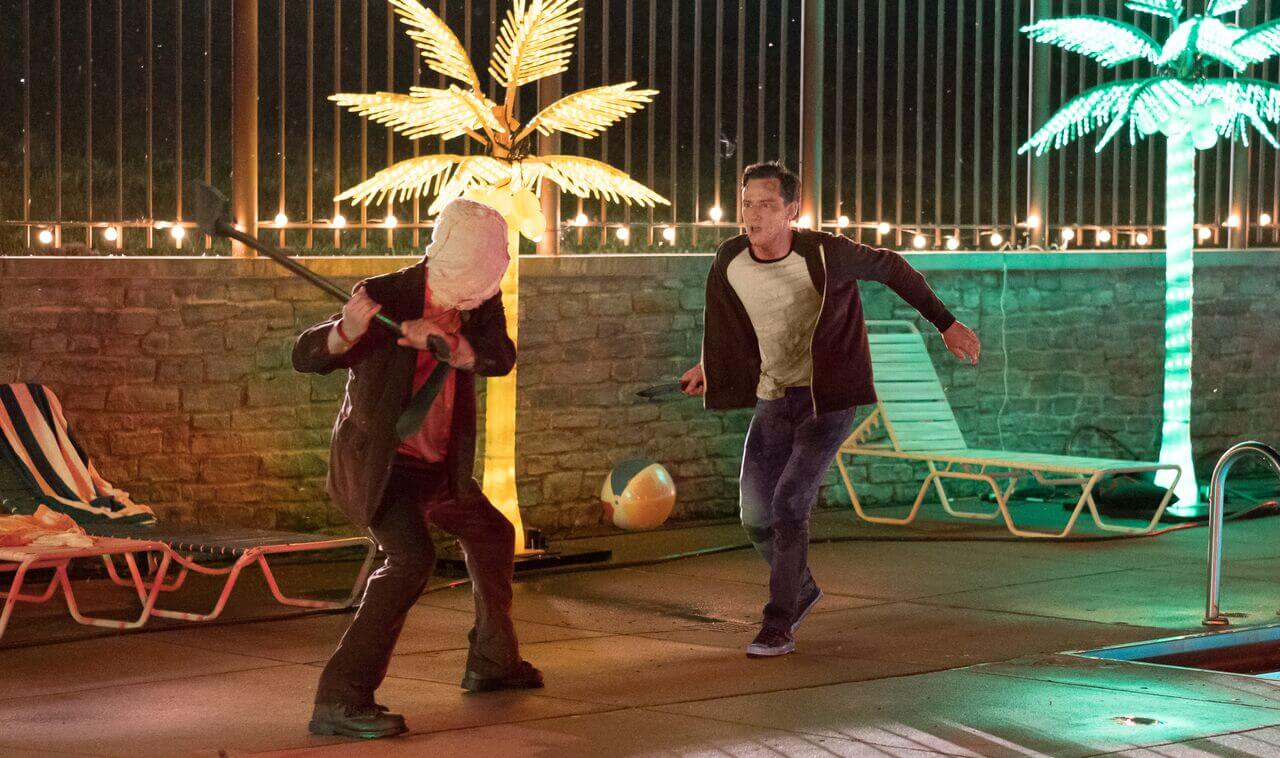 As the film plays out, there's one of the great horror set pieces we've seen in many a year as Total Eclipse of the Heart blasts out over a neon-lit swimming pool. Was that sequence a particular challenge to put together?
If I had to tell you the hardest thing to shoot in that movie, I would say it was that fucking scene where the four of them were in the car and they were chatting, driving along.
The opening scene?
Yeah. It's the first time I've ever down a low-loader, which is putting the car basically on a trailer and driving along. I'd never done one before, and people told me to do a green screen. And I thought that was terrible, I just wanted to do the low-loader thing. But fucking hell, man, I'm never doing that again! You've got police cars guiding you through traffic, technically you're not in the car, you're in a van in the front, there's no way to communicate. It was just a fucking nightmare. It was on our second day of filming, and I was thinking that the actors were going to just hate me throughout this film. That was a fucking nightmare, whereas the pool sequence was a weird one. It was shot nowhere near where the whole trailer park was. It was shot in a totally different place. There was a pool sequence written in the script, but it was like a kind of motel pool, like you'd see in some Americana show. I can't remember what the area was called, but it was in a higher tax break because it's a slightly depressed area. I was introduced to this place, which is where we shot the playground as well, and I saw this swimming pool which was three times bigger than an Olympic pool. I just thought, "What the fuck am I going to do with this?!" It was insane but it just kind of came together.
Dealing with water, I'd done a whole movie – 47 Meters Down – so I wasn't particularly freaked out by that. It took us ages to get all of the equipment there. We didn't have a lot of money on this movie at all – that's an understatement – so we didn't have many toys to play with. There's this beautiful shot in that sequence, where the camera goes up and over the Man in the Mask. We didn't have the technical equipment to do that, so the Grip was actually sort of bolting stuff together to make that. On The Other Side of the Door, I had all of these technical things. Here, we had nothing, we were just making stuff up. While all of this was happening, I just went around with the doubles and cut the scene together on an iPhone, and then we went out and filmed it for real. It just kind of worked. I mean, that zoom shot in it is my favourite shot that I've ever done – where Pin-Up Girl runs out. That was my tribute to Exorcist III, which is one of my favourite movies. That was another movie that was on my desk, and that's always a big influence on whatever I do. It's a beautiful, beautiful movie, and I'd argue it has one of the best shot sequences in horror cinema – down the corridor when the guy goes to the nurse. And I wanted that sort of thing for this, for the zoom lens to create this dreamy horror sequence. It's very subliminal. There's something about it that really gets you, that you don't quite know if it's dream-orientated. But it just kind of worked. It was a weird one.
We were shooting at the other side of the swimming pool, shooting down and across. If you look across at the other angle though, there's actually a river there. Literally, as soon as we turned the lights on we had the entire fucking insect life of Kentucky! It's one of those things that you could never have thought about ahead of time, so I had to have ten, twenty people in between takes rushing around. By and large you can't see them, but there are definitely some of the wider shots where water is absolutely bubbling because there's so many creatures there. They were huge and just sort of landed in the pool! But you know what, it was not a hard sequence to film. I think probably for the DP and those on the technical side it was tricky to put together, but the low-loader sequence was way tougher.
In recent years, it's been a refreshing change to see some quality, serious shark movies out there. One such film is your 47 Meters Down, which has already been confirmed for a sequel. What can you tell us about 48 Meters Down apart from there's an extra meter?
48 Meters Down is basically The Descent under water. So it's a group of girls in Mexico and they are exploring an underwater iron city. The tunnels collapse and they're trapped inside the city, and the sharks have come into the city. It's going to make you feel pretty queasy. I learnt to cage dive when I was doing 47 Meters Down, and it's the most terrifying thing in the world. I thought, "Yeah, if we ever go back to do a sequel then we're doing this." That kicks off reasonably soon.
You've mentioned Christine already, but are there any other dream properties you'd like to get your hands on?
I'd just love to do a Stephen King movie of some ilk. I keep circling around stuff, and I have the rights for Hearts in Atlantis, which we're going back and forth on. It's not horror, and I'm the horror guy, and he's the horror guy, so people are asking where's the clowns. And every month I seem to have dinner with Jeremy Bolt, who's the producer of the Resident Evil films and Event Horizon movies. I always ask how can we make Event Horizon again, because I'd love to do a movie like that. It's such a cool movie.
In your career to date, your films tend to have a lot more depth to them than simply being horror for the sake of horror, and it comes across that you really care about these pictures and the genre. Do you think that is something that's particularly helped endear you to horror fans out there?
Truthfully, I don't know. I definitely love the genre, and I wake up in the morning and either want to be John Carpenter or I want to be Stephen King, depending on which day it is. And that's the kind of thing that keeps you going when you get battered on a movie or a movie does badly or things aren't going your way. If you remember why you got in to this, you're a nerd, you love the movies you love. I would hope that that comes across. You always get people that just attack stuff for whatever reason. Like The Other Side of the Door just because it had the Fox logo at the beginning. Some of the reviews for that labelled it a soulless studio thing. With The Strangers: Prey at Night, this is a cash-grab. And that always gets me a little bit because you don't have to like the movie, that's fine, but it's never soulless. It's done with just real, real love, and that always annoys me when I see that. I just hope this movie connects with the fans in the way that I would've connected with it if I'd watched it. Chatting to you, I think we have the same film references.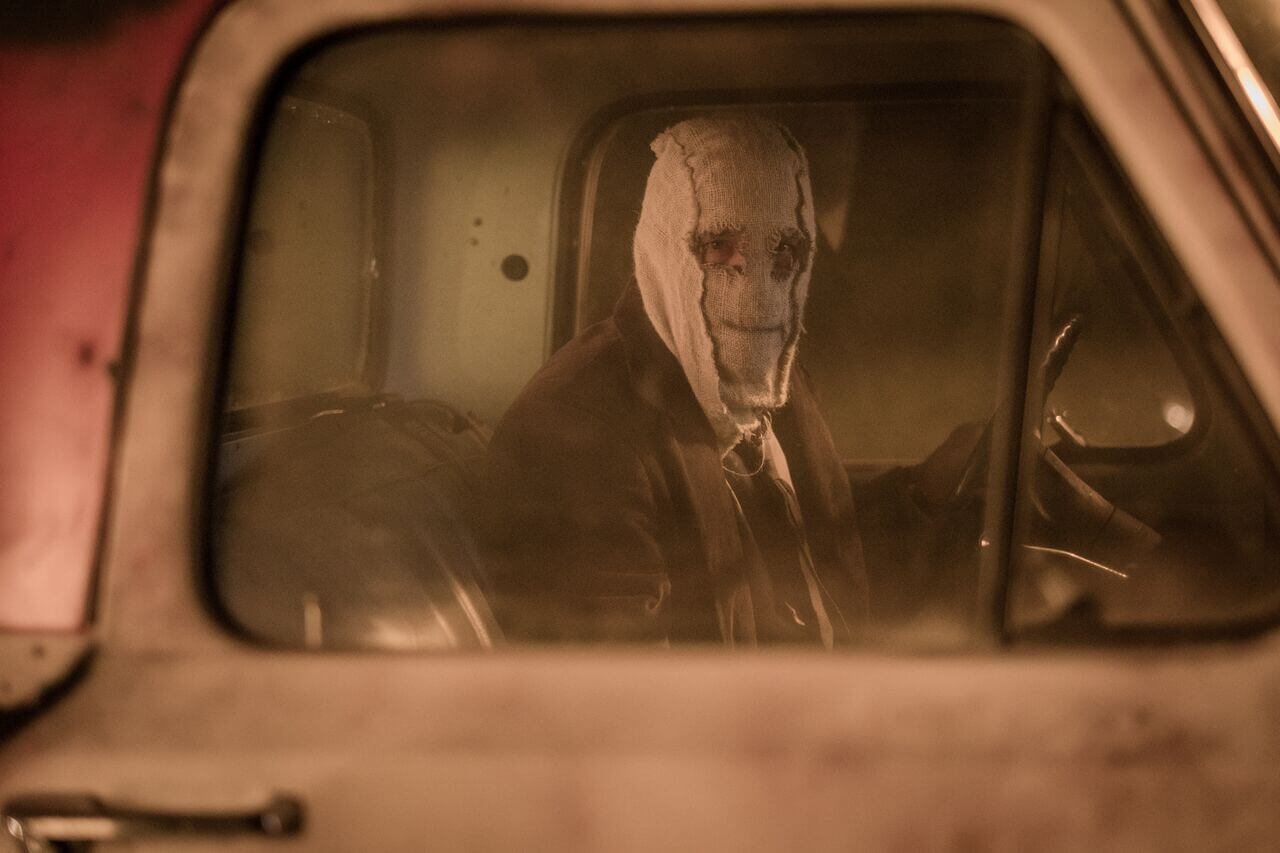 To close things out, would you be up for doing another Strangers movie if there happened to be a third entry in the series?
You know what, they're talking about it. I certainly would want to be involved. My sensibilities are that I'd love to guide the franchise. The first movie is very bleak, and my sensibilities aren't so bleak. The first movie takes Texas Chain Saw as its sort of god, whereas mine takes John Carpenter. And within Carpenter you have movies like Big Trouble in Little China, so there's a slightly lighter feel. I'd love the franchise to explore more those sorts of things. But we'll see what happens. It's done pretty well here in the States, so let's see how it does in England and see if it happens.
The Strangers: Prey at Night hits UK cinemas on May 4th.