Features | Written by Andrew Pollard 14/02/2019
Jay Reso | KNIGHT FIGHT
Often referred to as one of the best all-round professional wrestlers of his generation, Jay "Christian" Reso is now hosting a new TV show that's every bit as brutal as being RKO'd through a table by Randy Orton. Premiering on HISTORY in the UK later this month, Knight Fight is an unrelenting battle between armoured knights fighting for pride, honour, the title of Fight Knight Champion, and a possible $20,000. We caught up with Jay to discuss this brutal-but-brilliant show, the comparisons between pro wrestling and medieval MMA, his ever-expanding career away from the squared circle, and a whole lot more.
STARBURST: For those unfamiliar with Knight Fight, how would you summarise the show?
Jay Reso: It's a hard-hitting, action-packed, physical combat sport. At this point it's a relatively underground sport, and HISTORY has given these knights the platform to show the world what they can do. They go around and compete in festivals all over the United States, all over the world. In some circles it's known as medieval MMA or even Knight Fight Club. I'm not sure if they have Medieval Times over there in the UK, but over here there's this themed restaurant called Medieval Times. I did think, "Do people think it's going to be two people jousting, trying to knock each other off a horse?" No, these guys are going at it; they're swinging, they have full size blunted weapons. It's the weapons and armour you'd see from historical times, and they leave it all out there, man. It's really something to see.
Not being familiar with all of this before you signed on for the show, did you expect it to be so brutal?
No, I didn't. When I got the call that I was going to be involved with it, I was actually vacationing in London. I was over there for a month this past summer and they sent me a bunch of footage. I'd heard of it, kinda seen clips of it, but when I really watched the footage they sent me I was just blown away at what it was that these guys do. Of course, when I got on set and watched it all unfold in front of me, I grew a whole new appreciation for the physicality that the show brings. If you like action sports, if you like hard-hitting combat sports – not unlike you would see in MMA or in boxing or in a contact sport like American football – you're gonna love this show. For these guys, this being a relatively underground sport, to get on this stage is their WrestleMania; this is their big moment to show the world what they do. You know they're going to leave everything out there, and there's a cash prize at the end. They win $10,000, then there's the chance to come back in the finale and win another $10,000 if they win it all. So there's a lot on the line.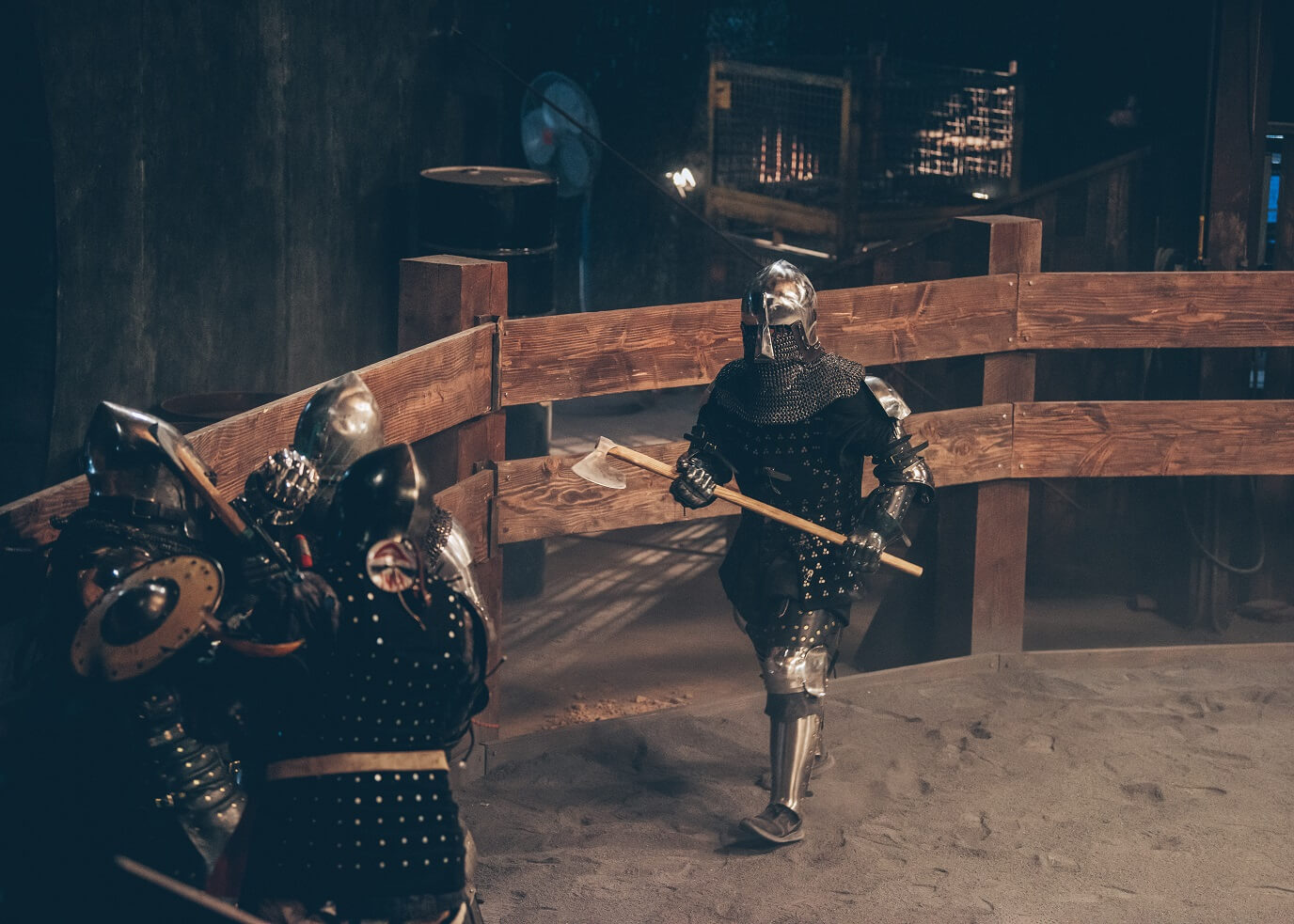 Have you had the urge or chance to suit up and try this out for yourself yet?
No. I'm 45, my getting beat up days are behind me. I've done enough falling off ladders through tables. I've done enough of that. I'll leave it to these guys to do it. I looked at some of the weapons they have and checked those out, and the armour, but I didn't want to disrespect anybody. The armour these competitors compete in is their own armour. It's very personal to them, it fits almost like a glove. They go into battle with their armour. We throw them a little bit of a curveball after the grand melee, we throw them into a team melee and take them back to the armoury to present them with new armour from an iconic period in history. That throws them off a little bit because they're used to their own armour, and that's another mental thing that they have to overcome as well as the physical; they get thrown this curveball that they have to suit up in this new armour. We provide each team with their own armour and they have to figure it out in 90 minutes. Sometimes they're using a weapon they're not used to, or the armour doesn't fit quite like they're used to, and they have to go out there and win it. Then the winning team gets split up and have to duel. We go back to the armoury again but then it's up to them; they can go back to their own armour or they can use pieces of the armour we've presented to them during the team situation. So it's a really cool concept.
It seems as if this world is a very close-knit community in the sense that so many of these guys have competed against each other before or are training partners. As a former wrestler, is that something that you could relate to? For instance, you came up in the business with people like Edge and Rhyno, where you were buddies and trained together but you were all ultimately competing to get noticed.
Very much so, and even relatable in the sense that, to me, when I was coming up in independent wrestling before I made it, I was wrestling for little or no money. I was just wrestling to get my name out there and I would've done it for free because I loved it that much. And these guys remind me of that. They're pretty much doing this for no money, they're going out to festivals, they're going out to different competitions. They're competing because they purely love what it is they do. Yeah, they're going out there and trying to do whatever it takes to win – it's like a switch flips in your mind and the competitor takes over – but after, the camaraderie these guys have for each other is unbelievable. They're out there trying to take each other's heads off, trying to hurt each other, then they pick each other up, dust each other off, give a hug. Win or lose, all the competitors are very, very gracious, and I was really impressed with that.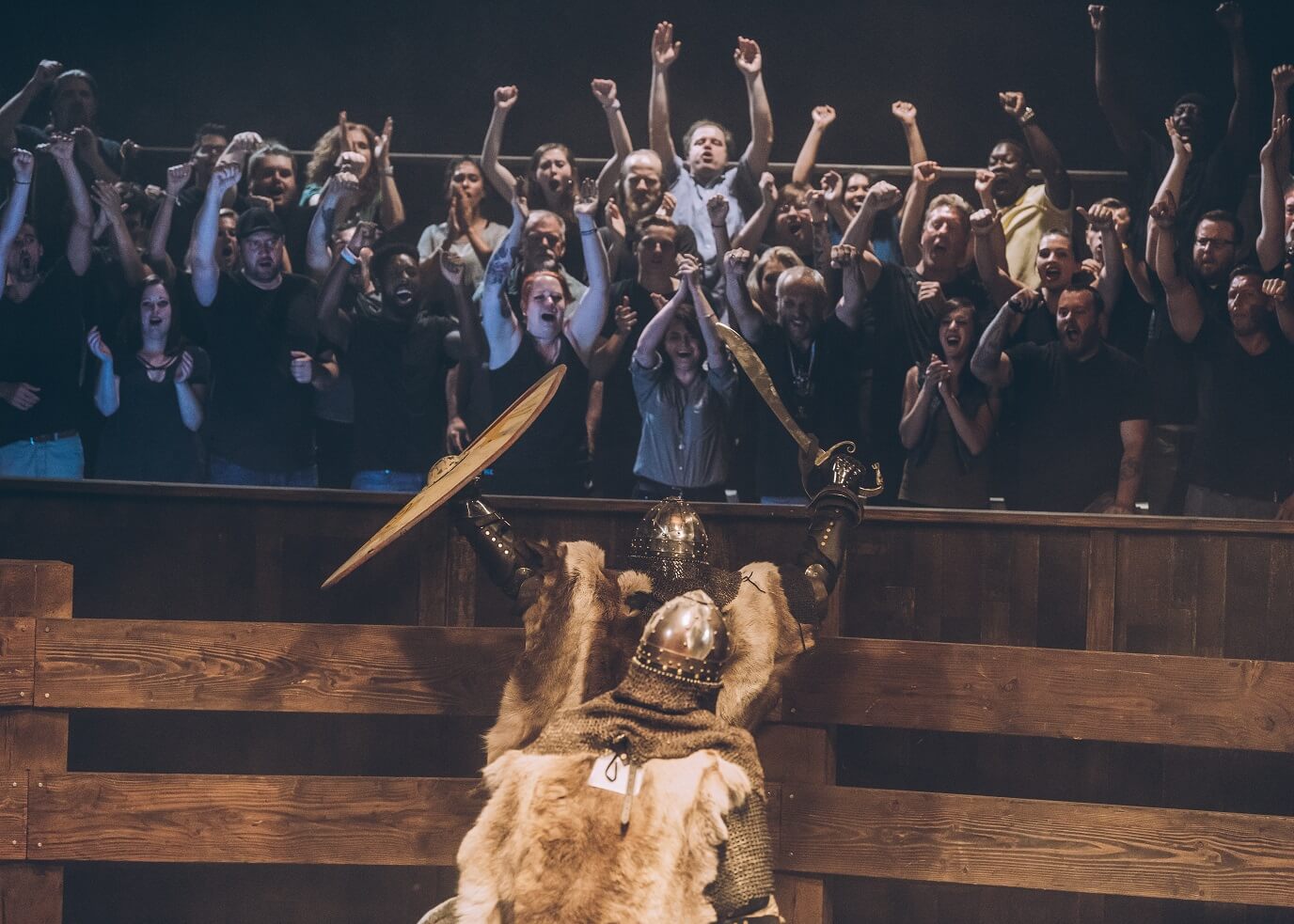 Having seen the first two episodes, an early personal favourite was Trash Panda. Without going too heavy on spoilers, is there anyone in the series that was your particular favourite or you had the most fun watching?
The guy that won the first show, Brian Juranty. He epitomised to me what a knight is. He even looked like a knight with his beard and his haircut, the way he carried himself, and he was so fluid out there when he was competing. His awareness was impeccable. You kind of have to learn when you're out there watching it, but there's a real technique to what these guys do out there; they're not just throwing bombs or trying to knock people out, you have to defend and be aware of where you are at all times. These guys are carrying an extra 80 lbs of weight on their body with the armour on. And the helmets, the peripheral vision of those isn't great. You have to have your head on a swivel, you have to have a real awareness and try not to turn your back. To me, he just tied everything together really, really well and I was really impressed with him.
Right now, you have E&C's Pod of Awesomeness, The Edge and Christian Show That Totally Reeks of Awesomeness on the WWE Network, you've previously done Haven, you recently did SuperGrid with Lowell Dean – who had nothing but praise for you. As a former wrestler, though, have you found that sometimes people may incorrectly typecast you or have a certain stereotype in mind when you've gone for new roles?
I think the stigma and the stereotype of that has been knocked down a little bit because of guys like The Rock and Dave Bautista doing so well with what they're doing. For me, I was never the biggest guy. I was never a guy who was 6'6" or 6'7" that could get roles as Bouncer #1 or Bouncer #2. For me, the thing I have going for me is that in street clothes I look relatively like a normal person. I just wanted to challenge myself when I retired from in-ring competition. It was almost like, "Okay, I'm still a relatively young guy. I don't want to sit around and do nothing, what's the next challenge?" It's almost like when I started to wrestle. The challenge then was to gain experience and knowledge, to work with people that were better than me so that I could to try and get better. I portrayed the character of Christian, and I still am to this day. With wrestling, the great thing is that everything is live. You're pretty much trained right away that there's no back-up. When you're doing different things and learning lines, that is already ingrained in you that there's no second take here, you've got to nail it. When I went in for SuperGrid, my first day on set I had four full pages of dialogue that was all me. I remember Lowell – who's amazing by the way, an amazing director, an amazing person who made me so comfortable from the moment I stepped on set – he said, "Well we'll get as much of this as we can." I turned around and said, "No, no, we'll get all of this." He said, "I like that attitude," and then we got it all. He came up to me afterwards, he was all, "When you said that, I was thinking 'we'll see…'" He appreciated that I was prepared. More than anything, I think what surprises people about wrestlers is that they're always prepared. That's what I try to be; I just try to be a professional. I want to learn as much as I can and to get better.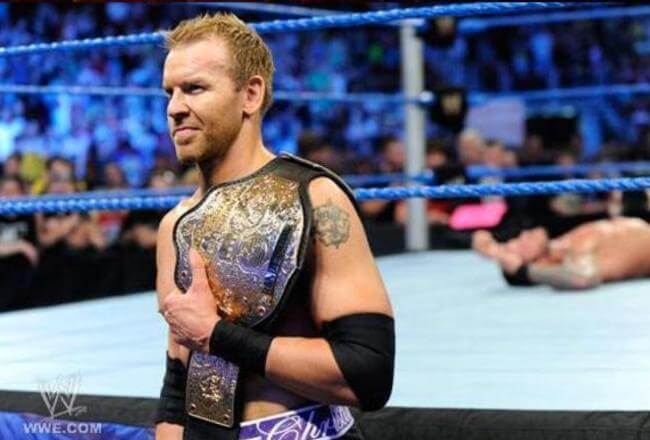 On the wrestling front, you've been officially retired for a few years now, although there was a rumour a few weeks ago that you were to be a surprise entrant in the Royal Rumble match. Is there any truth to that or is just online chatter?
You hear it every year, right? I'm not going to be back in the ring at all. I was in Phoenix, I was at the Royal Rumble, but I was shooting some content for the WWE Network. I don't know if somebody saw me there and it leaked out that I was there. I never heard the rumours so I'm not sure, but you know how it goes. Somebody sees you and automatically you're entering the Royal Rumble.
To just touch on The Edge and Christian Show, as someone who grew up watching wrestling in the '80s it's all kinds of fun to see Sean Mooney pop up or to try and guess the names of classic Survivor Series teams. For you and Edge, how cool is it to revisit so many of the things that you grew up with?
It's really, really cool. You realise there's this whole library of content on the WWE Network. Even if the people watching it might not have grown up in our era or not really know what it is they saw, they can always go back through the WWE Network and watch it. Even having some of the legends come on the show and do cameos and things like that, that was huge for me and Edge. A show like this had never been done before, a variety show with a wrestling theme, so we just had a ton of fun with it. We tried to have everybody that came on for cameos just have as much fun as we were having, and I think that came through in the final product.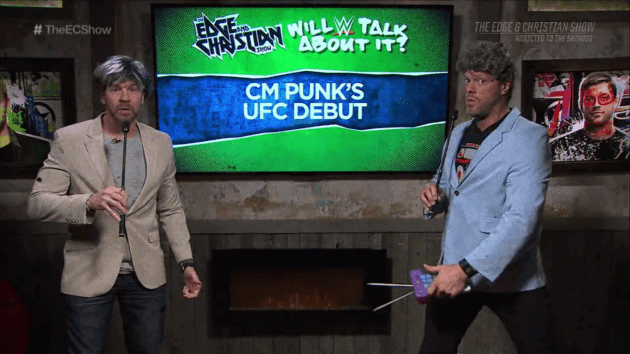 Is there any word on a possible third season for The Edge & Christian Show at this stage, and what other projects have you got in the pipeline that you can tell us about?
I had a really, really busy 2018, which I was really grateful for and really happy about. Right now we're about to wrap up the second season of The Edge and Christian Show, and then we'll see. I haven't heard anything about a third season yet, but I know it's been really well received; people seem to really enjoy it. That's what it's all about for us, about putting out something that people like. I had a really fun time writing and producing that. It was another new challenge and that was great. Right now, my focus is all on Knight Fight – premiering in the UK on February 19th. We talked before about different challenges, and hosting something outside of the wrestling walls was something I was really interested in. When this opportunity came up, I jumped at it. I couldn't be more proud of the competitors and I can't wait for everybody in the UK to see it.
You obviously have to cover certain bases, but how much freedom did you have on Knight Fight? For instance, the whole "Fight!" shout and fist action you do before each battle.
Everybody was really great. The other judges, John Clements and Andre Sinou, they were great and obviously helped me a lot. They're experts in weapons and this sort of combat. Getting to work with them, I was like a sponge just soaking it all in. All the banter you see between us, that was completely just us talking and trying to explain what it is that we just saw the competitors do. And the "Fight!" thing, it was written in there that we would start things. Instead of a bell ringing or something, there had to be something to signal the start of the fight. They didn't have it written in there as "Fight!", but the thing just happened. I was just trying to make it a little more emphatic, a little more like, "Hey, we're going to battle here. Let's go!"
UK audiences can check out Knight Fight on HISTORY from February 19th.