Features | Written by Martin Unsworth 01/04/2021
Golden Age Fiends – The Horror Classics
It's a sad fact that nowadays people don't tend to watch black and white films. They are rarely shown on terrestrial TV and some genuine cinematic classics are at risk of being forgotten forever. Fortunately, we think differently and are always more than happy to bang the drum for the good old days. It's also timely that Horror Channel is devoting a day to the granddaddies of fear when they play five superb Universal titles back to back.
In 1931, talkies were still in their infancy. Carl Laemmle, owner of Universal Pictures, had earlier hit it big at the box office with The Phantom of the Opera, starring Lon Chaney as the deformed composer living under the Paris Opera House. Laemmle didn't like horror, though. The grotesqueness appalled him. His son, however, saw the financial benefit such films brought. Carl Laemmle, Jr had taken over the studio in 1928 when his father gifted it to him as his 21st birthday present. That makes those socks you got look a little lame, doesn't it? Eschewing his pop's advice, Laemmle Jr set about producing a series of films that changed cinema. The first release would be an adaptation of Bram Stoker's Dracula. Or, to be completely factual, a version of the 1927 stage play written by Hamilton Deane and John L. Balderson. The person who would inhabit the Transylvanian castle would be the same man who starred in the Broadway production, Hungarian-born Bela Lugosi. He wasn't the first choice; that honour would have gone to Lon Chaney, but he passed away a month before production started in August 1930. Joining Lugosi on the big screen would be his stage co-star Edward Van Sloan, who reprised the role of Van Helsing. The director was Tod Browning, who had made several hit films with Chaney and would later helm the outsider masterpiece Freaks.
The story the play used took some liberties with Stoker's text, so instead of Johnathan Harker being sent to get the Count to sign some property papers, it's Renfield, played here in wonderfully maniacal fashion by Dwight Frye. He becomes the disciple of Dracula and is a highlight of the film. When the drama transplants to London, the Count takes a shine to Mina (Helen Chandler), fiancé to the now relegated in plot John Harker (David Manners).
While the film is full of amazing atmospheric moments - everything that takes place in Transylvania is beautifully shot and stunningly Gothic - it fails to thrill as much as it should because it sticks so closely to the stage script. Opening on Valentine's Day, 1931, it was indeed the 'strangest passion the world has ever known'. Modern audiences may find it lacking - most notably in music, save for the opening use of Tchaikovsky's Swan Lake and a moment at the opera, there's no incidental music or cues - but it's a landmark and important film that we think has stood the test of time. Just remember, although Christopher Lee may be regarded as the definitive Dracula, whenever we do an impression, it's always Lugosi's voice we mimic. Interestingly, a separate version was made for Spanish-speaking audiences. This was not just a dub, the whole film was re-shot during the night with a different crew and actors.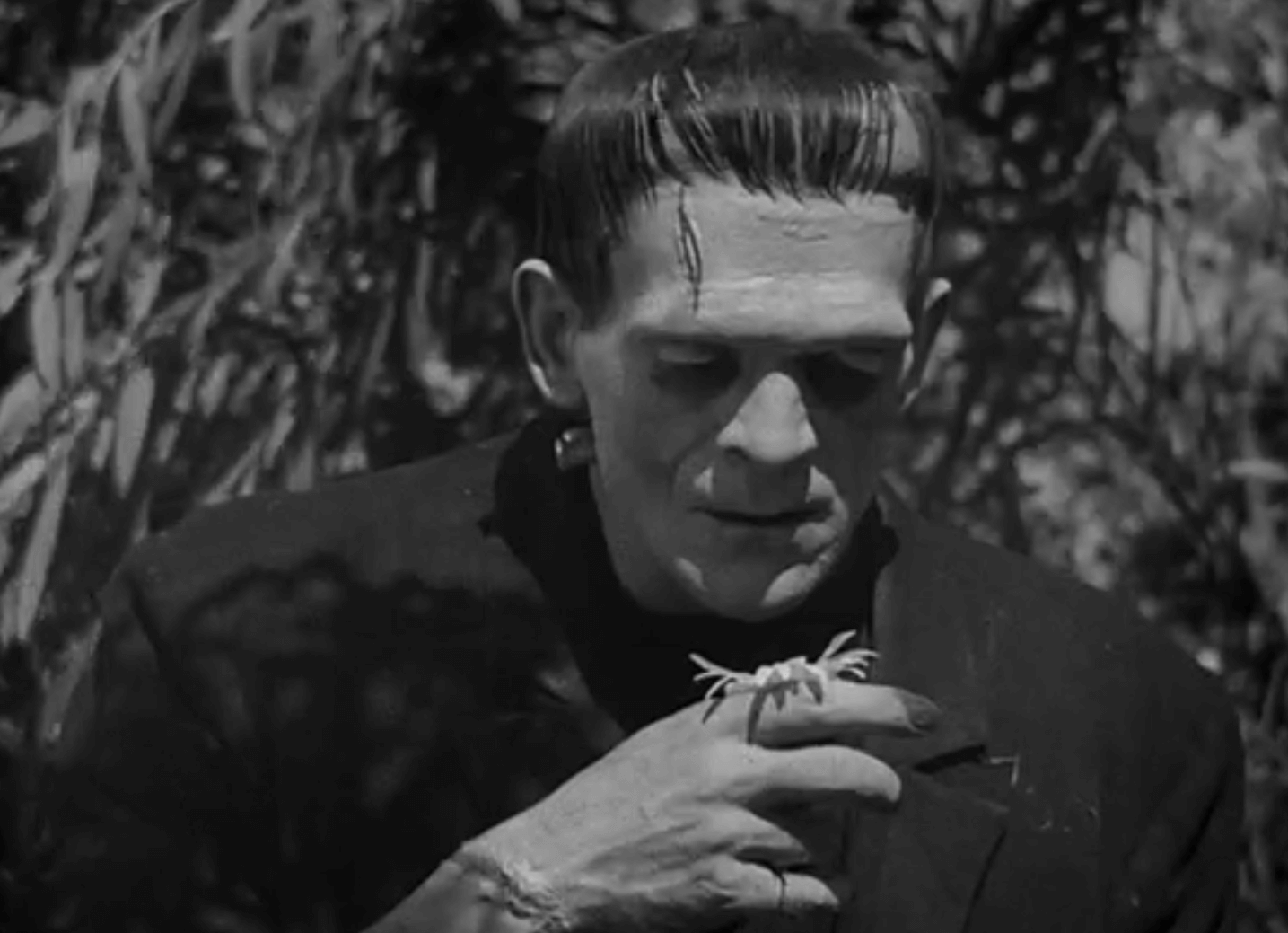 That didn't happen for Universal's next foray into literary horror. Mary Shelley's Frankenstein had been a monster hit since it was published in 1823. British-born James Whale was given the task of directing the movie. Taking the mammoth book down to its bare essentials, Robert Florey wrote a tight script that meant the film could be made in time and on budget. Fellow Brit Colin Clive grabbed the role of the doctor obsessed with playing God, while under the superb and unmatched makeup of Jack Pierce was Boris Karloff, who had become known for playing the role of the 'heavy' in films such as Howard Hawks' The Criminal Code (1931). The part of Fritz, the hunchbacked lab assistant who provides the brain of a psychopathic killer instead of that of a genius, went to Dwight Frye, solidifying his place in horror history.
Clive's portrayal of Frankenstein is nervy and edgy, but it's Karloff who dominates the movie. Conveying more emotion in a glance of his heavily-laden eyes than the entire cast put together, you can't help but feel pity for this creature that has been dragged into being. Remember, kids: the title refers to the doctor and he was the real monster.
Even the most shocking moment of the film - the drowning by the monster of little Maria - can be viewed as sympathetic. The creature just wants to play and doesn't understand that the little girl won't float like the flowers. His distraught expression reveals his own surprise. It's a scene that still has the power to disturb today. It was so shocking when it was first released, it was cut from the film. It was only reinstated decades later.
Frankenstein is full of iconic imagery; from the graveyard with its skeleton statue watching eerily over the doctor and Fritz as they are digging up the corpse to the doctor's laboratory, equipment from which was re-used numerous times in films for years after (including Mel Brooks' loving spoof Young Frankenstein in 1974).
The discovery of Tutankhamun's tomb and the alleged curse, 1932's The Mummy saw Karloff return as the titular monster. Although not the most dynamic of creatures, he's still an imposing visage under Pierce's makeup. It's a shame that the story has Karloff's resurrected High Priest Imhotep appear as a regular man for the majority of the story. The discovery of the mummy and its revival (via the sacred Scroll of Thoh) is a memorable and superb moment. The main plot has Imhotep (walking amongst the living under the guise of Ardath Bey) convinced that Zita Johann's character is the reincarnation of his lost love, Anck-es-en-Amon. Imhotep was put to death for attempting to resurrect her centuries earlier, something we see in a gruesome flashback. The plot is almost a carbon copy of Dracula, but with Karloff's gorgeous lisping voice reciting the dialogue, it's easy to overlook the similarities. The resurrection of the mummy - as well as providing sufficient chills - gives us a brilliantly demented Bramwell Fletcher, driven mad by seeing the dead come back to life, cackling "He went for a little walk".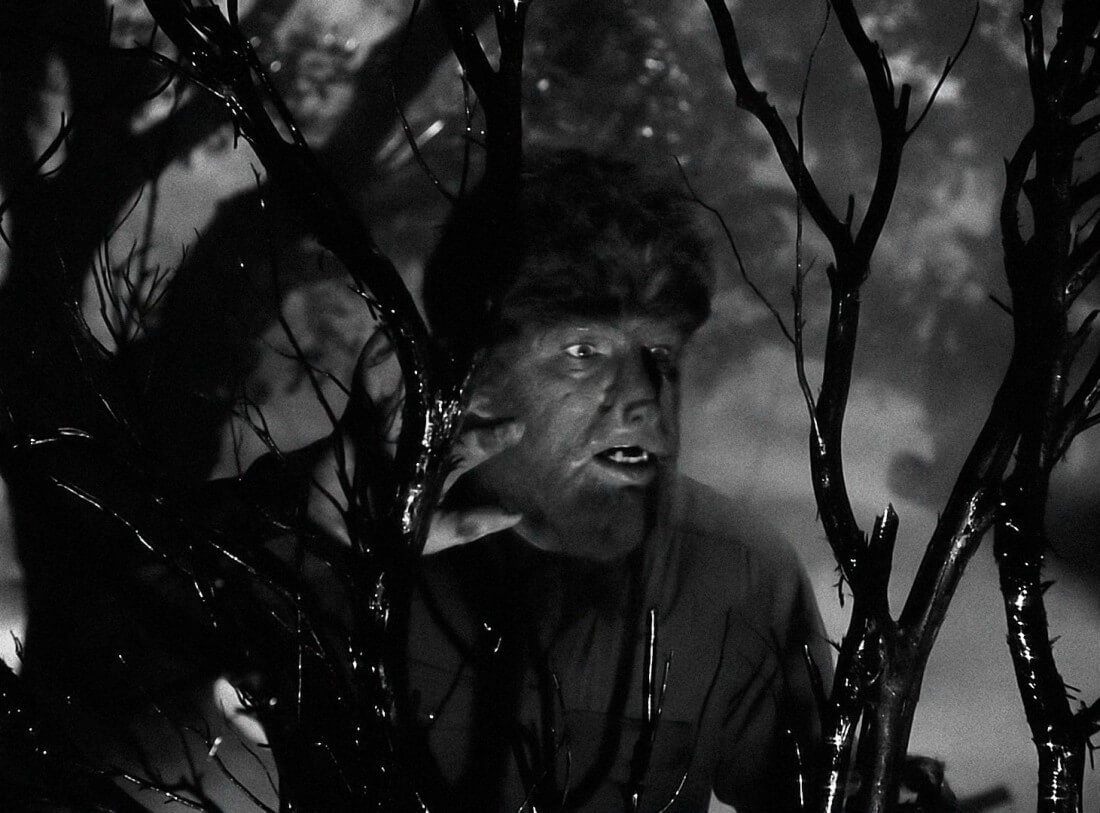 Another actor synonymous with Universal Monsters is Lon Chaney, Jr. Following in the footsteps of his legendary father, Lon had already established himself as a strong performer, particularly playing the slow-witted Lennie in the adaptation of John Steinbeck's Of Mice and Men (1939). In The Wolf Man (1941), he gets the chance to show a different range. As Lawrence Talbot, cursed from a bite to change into a werewolf at the full moon, he's a tragic and pitiful character. Once transformed, of course, he's a hairy and terrifying creature. The wolf that attacked him was - in human form - none other than Bela Lugosi, here playing a fortune-teller named Bela. His gypsy mother, Maleva (an amazing performance from Maria Ouspenskaya), warns Talbot that he has the werewolf's curse: "Even a man who is pure in heart. And says his prayers by night. May become a wolf when the wolfbane blooms. And the autumn moon is bright". A famous quote, and one that you'd expect to come from folklore, but no - this was from the imagination of Curt Siodmak, the screenwriter who created the mythology of the wolf man and made it as classical as Dracula and Frankenstein. Claude Rains plays Talbot Snr, returning to horror following his lead appearance in The Invisible Man (who is nowhere to be seen in this TV marathon). Way ahead of its time in tone and effects, The Wolf Man is just as influential as any of the other monster movies.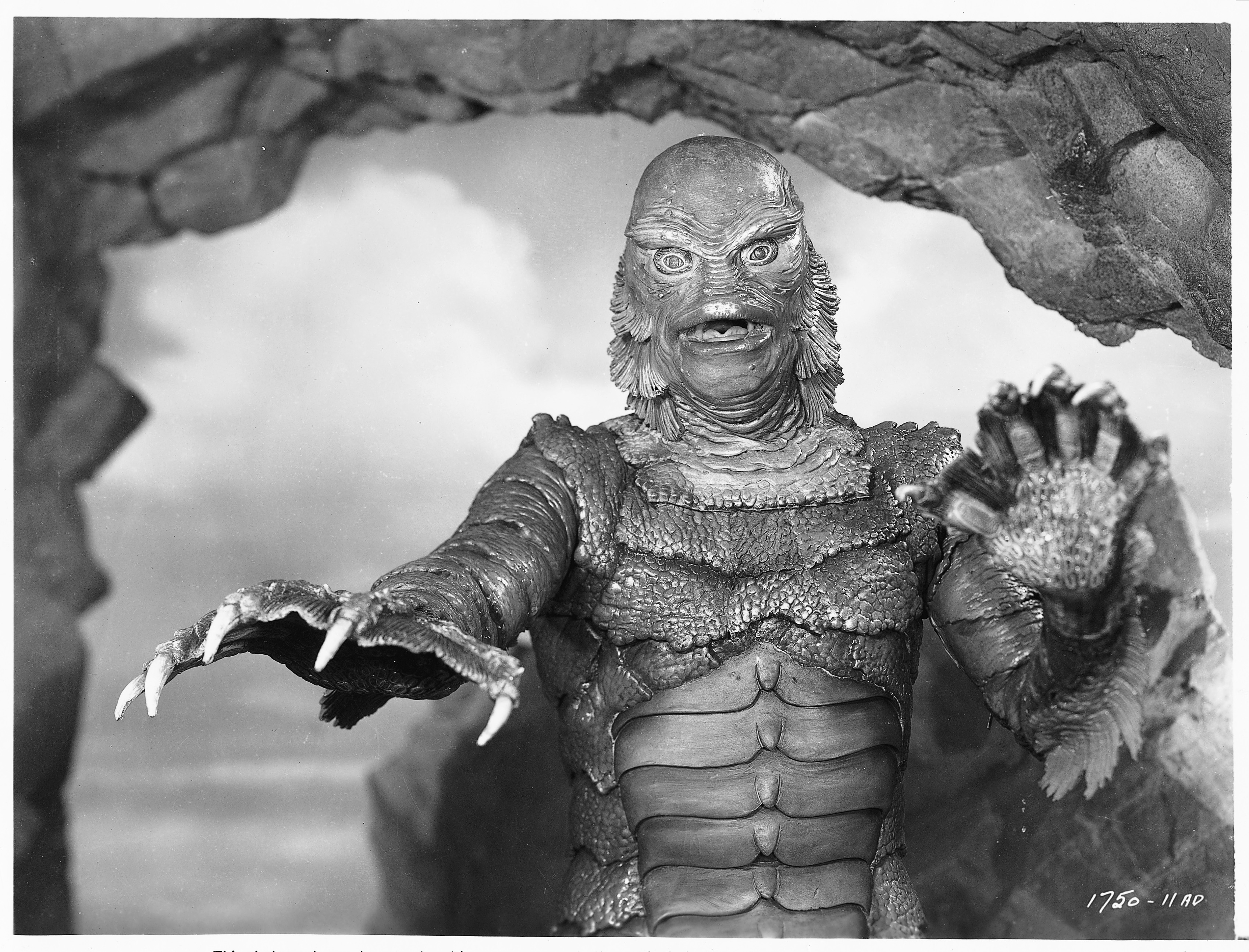 As America and the world came to terms with a new life following World War II, and cinema was looking to the stars for thrills, Universal embraced a different kind of monster in 1954, in Creature from the Black Lagoon. The Gill-man was a classic monster design. Played by two actors, Ben Chapman on land and Ricou Browning when underwater, he's another sympathetic creation. Like King Kong, he just finds forbidden love in a misunderstanding world. The object of his affection is Julie Adams, who is tagging along on an expedition with her boyfriend. We know it's not nice to steal someone's beloved, but we don't condone harpooning the offender! Creature was shot in 3D by Jack Arnold, who also made the sci-fi communist paranoia-influenced It Came from Outer Space and Tarantula, which preyed on the fears of atomic radiation. While it came after the Golden Age of Universal, Gill-man still gets his place in the line-up of their classic monsters. Instantly recognisable and often imitated (most recently in Guillermo del Toro's The Shape of Water), he's a character that has endured as much as the others.
You shouldn't be afraid of watching black and white horror flicks. They may not be as fast-paced or flashy as the modern terrors you're used to, but what they lack in song-filled soundtracks and gore-drenched jump scares, they make up in atmosphere and an otherworldly quality that you just don't get anymore.
The Classic Horror Marathon can be seen on Horror Channel on April 3rd. A Classic Sci-Fi Marathon is on April 4th. Tune in on Sky 317, Virgin 149, Freeview 68, Freesat 138.