Features | Written by Andrew Pollard 22/11/2020
David Arquette | YOU CANNOT KILL DAVID ARQUETTE
From Hollywood to Hulk Hogan, from movies to matches, from acting to ass-kicking, David Arquette has had a roller coaster few years. For those only familiar with Arquette for his acting career, back in 2000 he became the WCW World Heavyweight Champion. Effectively a marketing tool to promote the Ready to Rumble film, many wrestling fans have spent years lambasting a decision that some cite as one of the final nails in WCW's coffin (the company being bought out by Vince McMahon's then-WWF less than a year after Arquette's title win).
A lifelong wrestling fan, Arquette decided a couple of years ago that he was going to right these perceived wrongs, deciding to undertake formal wrestling training in order to show his respect for the industry and to seek an acceptance and approval from those who have spent over a decade throwing all kinds of abuse Arquette's way – and the details of this journey of have been documented in the stunning You Cannot Kill David Arquette. As the film now gets a worldwide release, we sat down with Arquette to talk all things wrestling and even a little bit of Scream 5…
STARBURST: By the time that You Cannot Kill David Arquette comes to a close, you actually get to have your literal 'Macho Man' Randy Savage moment. How was it to get to be the Macho Man, even if just for one day?
David Arquette: Oh, it was the coolest. I got to work with him, which was amazing, on Ready to Rumble. I was eight pages into my script, and I called my agent, "It says 'Macho Man' Randy Savage here! Is he gonna be in this movie? I'll do it!" I got to work with him and meet him, and it was just such a thrill. Even through the process of wrestling, I've been able to talk to people and hear fun stories. Roller carts started coming out, where the wrestlers could have rollers. Macho Man would never have one, he'd always carry his bag because he thought the roller carts didn't look tough enough. He was living the gimmick the whole time.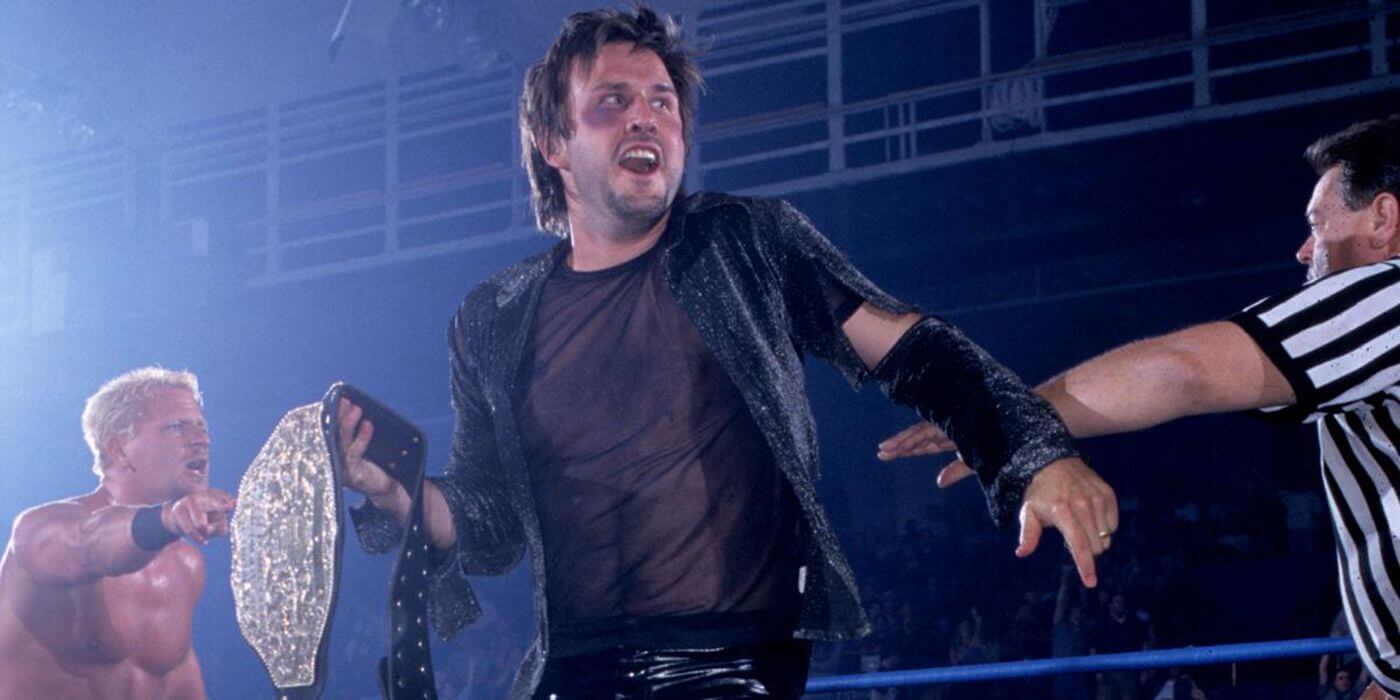 Throughout your WCW spell and the years since, Diamond Dallas Page always seems to have been so supportive of you. How was it to have him on your side throughout all of this?
Man, Diamond Dallas Page is such a mentor. He's like the Yoda of wrestling. He's this really wise man, this really spiritual guru. He'd been through a lot in his personal life until he got the success in wrestling. It just shows his understanding of the world, his compassion for others. He's just been tremendously supportive. Also, his workout program, DDPY, really helped me lose a bunch of weight at the beginning of this journey and also not get injured in the ring by stretching me out.
This is very much a warts 'n' all documentary where you lay yourself bare. Was there any trepidation to showing such vulnerability?
There wasn't. Maybe there should've been [laughs], because in retrospect I cringe a little watching it. I've always been an open book, I'm not big on people having facades of presenting what they want people to see. I just don't like that kind of stuff, so I've always been trying to be very honest with who I am. As ugly as it is, there's also beauty in it as well. Learning through the process and changing and evolving has been part of it for me. I love documentaries where the subject matter is really open and expressing their pain and their struggles so that people can relate to them. People going through similar stuff to what I'm going through, I like them to feel that they're not alone - whether that's health aspects or substance struggles.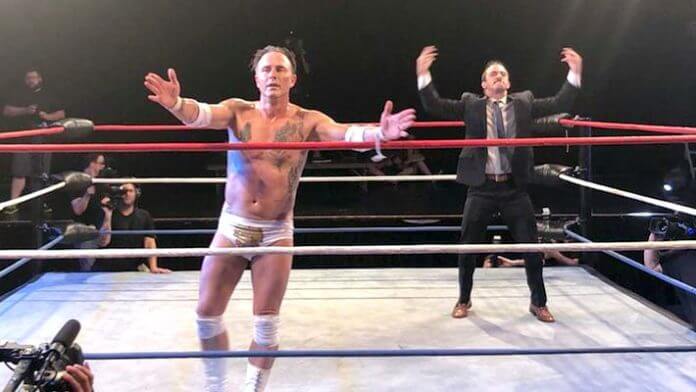 People don't realise that you donated your WCW pay to the widows of Owen Hart and Brian Pillman and to paralysed wrestler Darren Drozdov. You've had so much abuse in the 18 years since you won the WCW World Heavyweight Championship, but it says so much about you that you didn't go public with that information when it could've taken so much of that heat away from you.
I was never doing it for money, but Diamond Dallas Page helped me a lot with who to help and helping with the idea of it. I was always looking for a way to show the fans that I love the business and that I'm not here to syphon from it. One of the big fears in the wrestling business is that people outside the business will expose it. Even some people think that within this documentary I expose aspects of it. Specifically, there's a scene with me and RJ City where we're going over our match and intercutting. I asked the producer and referee that are also in that scene if they were alright with us showing this side of the business. They said they were fine with it, that it had been done before. A lot of the stuff was back from a time where people were saying that it wasn't sports entertainment. All of these things had changed since then, so I thought it was okay to be able to do that. Diamond Dallas Page had brought it up one time, because he was getting a lot of heat and I was getting a lot of heat, and he wanted to explain to people that I wasn't just this Hollywood guy who was just trying to steal from the business. At the end of the movie, we kinda mention it. But the main reason it's in the movie is that I wanted Brian Pillman Jr. to be in the movie. He mentioned it and said I was family, and that's sort of the point of the whole film – it's that I wanted to be accepted. Him saying that said it in the clearest way that when you become part of this group, you become part of this family.
RJ City is a total dick on social media and as a persona, but he plays such an important role here in how your match for David Marquez's Championship Wrestling From Hollywood resulted in fans chanting your name. After the years of negativity, how was it to finally get that fan acceptance?
Yeah, it was really nice. I'd just been kneed to the face by RJ, but it was really nice. After that, I didn't know if I wanted to go on. I'd accomplished going back and training and performing, and it really felt like I'd done it. I was in so much pain at that point that I didn't know if I could go on. I had two fractured ribs and I had to take all of these bumps to the mat. The pain that goes through your entire body, I'll never forget. RJ is a heel in the wrestling world and he lives that persona online. He's really hilarious, but in reality, and he'll hate for me to say this, he's one of the kindest people I've met in this business. He's super-talented, and a wonderful television writer and artist in general.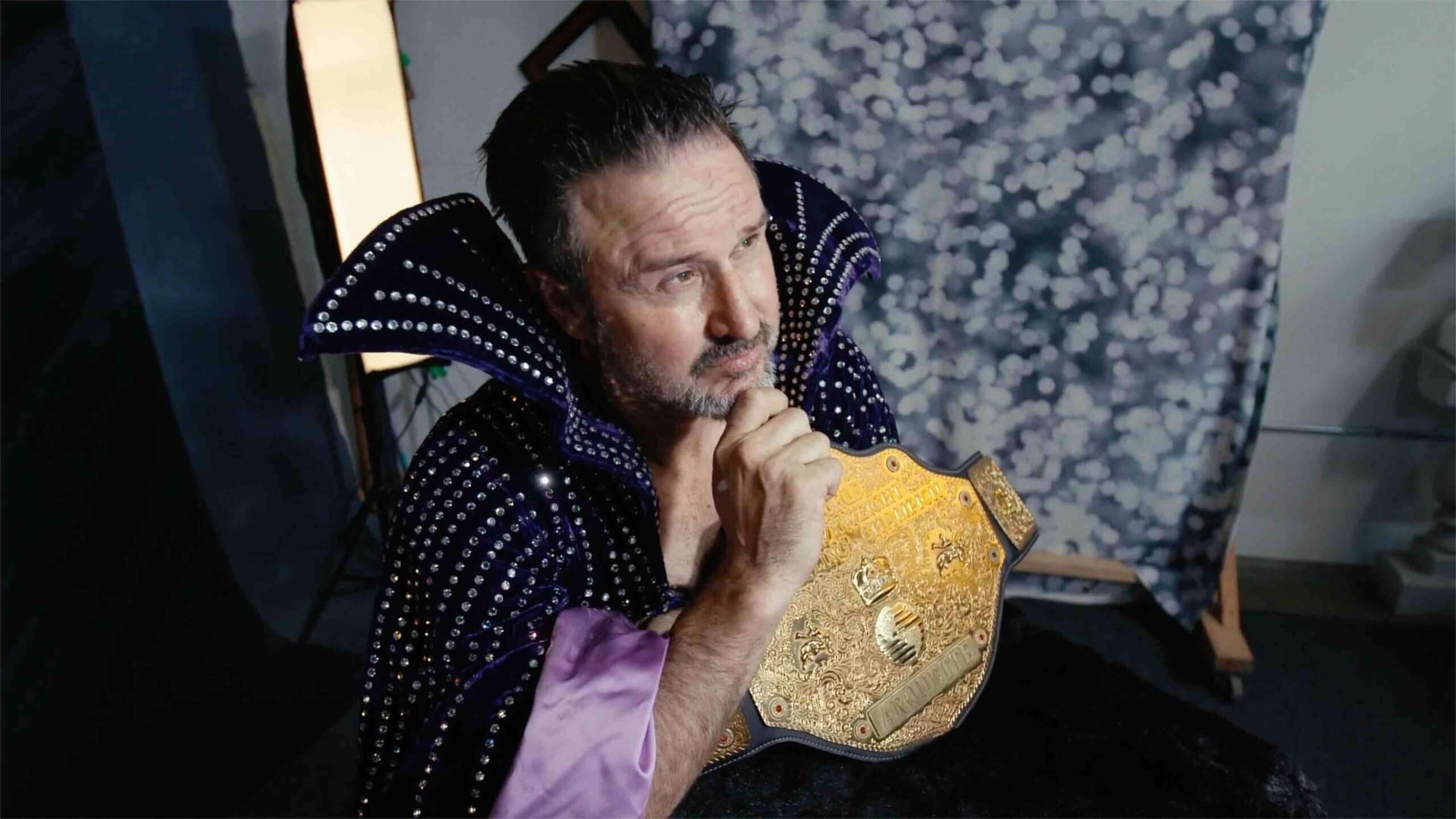 To earn the respect of the wrestling business, you busted your ass to get into phenomenal shape, you went to Mexico, you worked with Peter Avalon, and you put your body through so much. The obvious example would be the Death Match with Nick Gage, but do you personally think you ever went too far in your question for redemption?
Yeah, the Death Match was me definitely in over my head. I wasn't really aware of all the complexities of a Death Match and that a lot of mainstream wrestling people frowned upon it as not a legitimate form of wrestling. Backyard wrestling had been such a big thing. A lot of the new talent involved in wrestling nowadays had come up through that world, so I knew I wanted to honour that world and include it and be a part of it. This Death Match thing came up because someone had injured themselves, so it was presented to me. I thought, "Well, one of the main things is people didn't think I was tough or a badass in any way. If I take on the 'toughest people' in the 'toughest element' of wrestling, maybe I could change their minds?" So, it did accomplish that. I went into this building and these fans hated me, but by the time I walked out of the building they were cheering me. It really was what I set out to do, but it nearly cost me my life in the process. I learned a lot in that match. It was super dangerous, but I learned a lot, so it was worth it.
You had your neck split open with a lighting tube and were rushed to hospital – that's a tough lesson to learn! Have you spoken to Nick Gage after that or was it just left as it was?
No, I didn't really. I called him out a few times, that if we were to fight again in would be in an octagon or something, because it felt more like UFC. But no, he's actually a really incredible wrestler. I don't think people give him the credit he deserves. I think they write him off as just this Death Match wrestler, but he's a good performer. There were a lot of factors that were involved in that match that went off the rails, and I did a lot of things that weren't scripted – and one of them caused me to get my neck sliced. So yeah, I dunno. He text me after saying, "You're a cool dude!" That was our only real interaction, so that was pretty funny [laughs]. He's a good guy, I don't have any hard feelings.
In You Cannot Kill David Arquette, we see that it was your close friend Luke Perry who took you to hospital. Since Luke sadly passed away, you've had the chance to wrestle his son Jack, aka Jungle Boy. How special was it to share the ring with Jack?
It was really special, it was incredibly special. One of the things that I'm so grateful about this experience is that it reconnected me with Luke before his passing. If I hadn't seen him during this time period, I don't know if I would've got to see him before he passed. I got to spend a couple of days with him, one of them being him rushing me to hospital with Jack. But yeah, it's been amazing to watch Jack. I got to ask Luke, "Isn't it exciting to get to see Jack wrestler?" He said, "Are you kidding? I'm filled with fear every time I watch!" I'd never really thought of it that way. Luke was a really special person. We hadn't been in touch a ton before he passed, so I really was grateful that wrestling reconnected us.
When you decided to embark on this journey, what prompted you to document it?
I just thought it would be interesting for people to see. For one, I was overweight and had to lose a ton of weight. As an actor, you kinda learn how to do that. No carbs, exercise every day. When you start training your body as if you were an athlete, it starts reacting the way an athlete's body does. If you eat the right way, burn a ton of calories, you'll lose weight in a healthy way. So I knew how to turn my body into like a superhero kinda look. I knew that alone would be interesting for people to see, and I knew that the journey would be something that I always desired that I wanted out of wrestling when I first got involved - to hit the road, to learn how to wrestle properly. I thought that would be interesting. Ultimately, when I said yes to winning the WCW World Championship, the reason was because I'd always dreamt of it. I'd always seen these guys holding up those belts and I always thought it would be so cool to be a champion. When I had the opportunity, Dallas said, "Either you do this now or the whole Ready to Rumble thing's dead, your wrestling thing's dead. That's it, go home after this." I said, "Well, what happens if I DO do it?" "Well, you stay on for the next PPV, you travel with us for the next two weeks." "Are you kidding? I get to travel and be a part of this world that I love?"
Be one of the boys?
Yeah! But I never was one of the boys until I properly trained, until I paid my dues, until I did this version and this experience. I knew that if I could accomplish that it would be really interesting, especially for wrestling fans to get a glimpse of this world. I wanted to make a love letter to wrestling. I've always loved wrestling and I didn't want to disrespect it.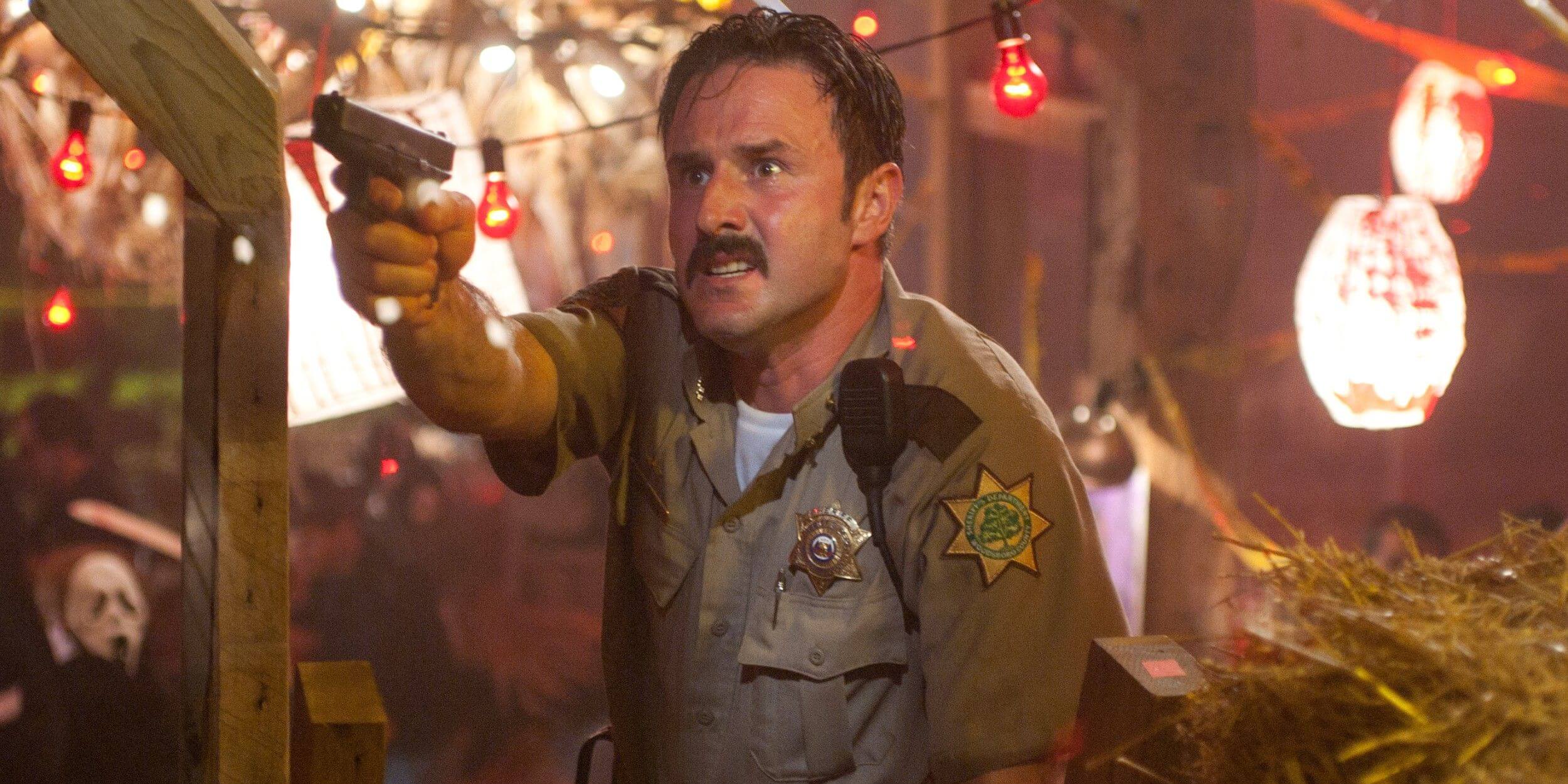 While You Cannot Kill David Arquette is phenomenal and we could happily talk wrestling all day, we do have to ask about Scream 5 – or just 'Scream' as it's now titled. Obviously you can't say too much, but did you ever think this movie would happen without Wes Craven?
Yeah, it's been really sad without Wes. Matt [Bettinelli-Olpin] and Tyler [Gillett] want to honour Wes, they were inspired by Wes, they grew up watching these films, and so they're approaching it from a really sweet, honourable place. But it was hard. It's been sad. There's a lot of looking back and memories. It feels very similar to the first one. We have this incredible group of actors that are just incredibly talented and really have their heads on their shoulders in the right way. They're professional, they're skilled and they're really sweet people. I was really thrilled to be a part of it. All I can really say is that I'm ten years older and a lot sexier than I've ever been in any of the others [laughs]. I think people will enjoy reconnecting with all of our characters, and then also to meet this new group.
Where is David Arquette at now? Is wrestling done with or does the Magic Man want to crack the famed PWI #500 once again? You were ranked as the 453rd best wrestler in the world two years ago…
That was unreal, that was awesome. Honestly, that was one of the most heart-warming aspects. Once you're in the wrestling business, you're always part of it. There's no getting back from that. I do love it. To be involved somehow, even if that's just working with wrestlers in films, however that manifests itself. I love wrestling. It's hard on the body, and I'm nearly 50 years old, so I have to consider that, but I do love the business and I love meeting the fans. I love traveling and having that experience too, so I'm not sure it's all over. AEW and WWE have never really expressed and real interest in me, but there's some great promotions out there. I love the indy circuit, I love meeting the fans on that level. There's something so personal about it.
As someone personally who often finds themselves revisiting certain wrestling matches as a go-to happy place of sorts – Bret Hart vs. Roddy Piper, Randy Savage vs. Ultimate Warrior, King of the Ring '93, etc – do you yourself have a wrestling match or moment that you like to watch in that regard?
There's something fun about the Saturday Night Main Events, but I always love seeing something that I'd forgotten about. I watch a lot of Junkyard Dog. Now you can Google things like Gorgeous George, and George 'the Animal' Steele is always fun to watch.
Blue Finch Film Releasing presents You Cannot Kill David Arquette on Digital Download 23 November.