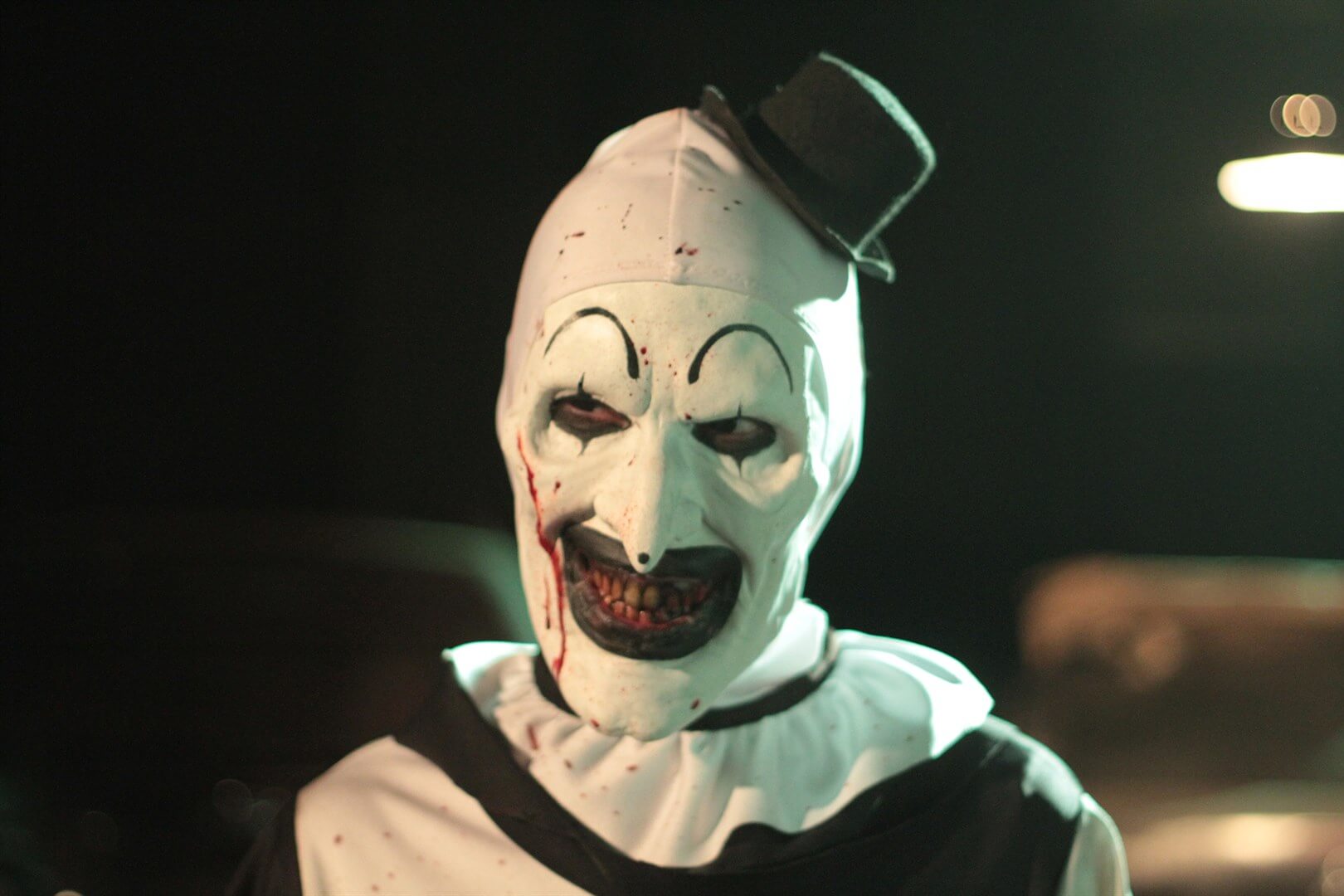 The 2016 film Terrifier wasn't our first introduction to Art the psychotic clown. Writer and director Damien Leone had already made a pair of shorts, The 9th Circle (2008) and Terrifier in 2011 that featured Art. These both formed the backbone of his first feature All Hallow's Eve in 2013. Focusing on a babysitter whose wards find a VHS tape in their trick or treat stash, it cleverly weaved the shorts into the narrative before the antagonists break from the small screen to attack the hapless child minder. The sinister yet silent Art the Clown was a hit with horror fans, and Leone soon decided to bring the evil prankster back for his own feature. Leone said at the time of the film's release, "Up until that point, I never felt like I fully showcased Art's potential. I believe between the short films and All Hallows' Eve, there was only about 20 minutes of Art the Clown screen time." It seemed only natural to have this new horror icon come back, and his return would be as bloody and grisly as anything we've seen before.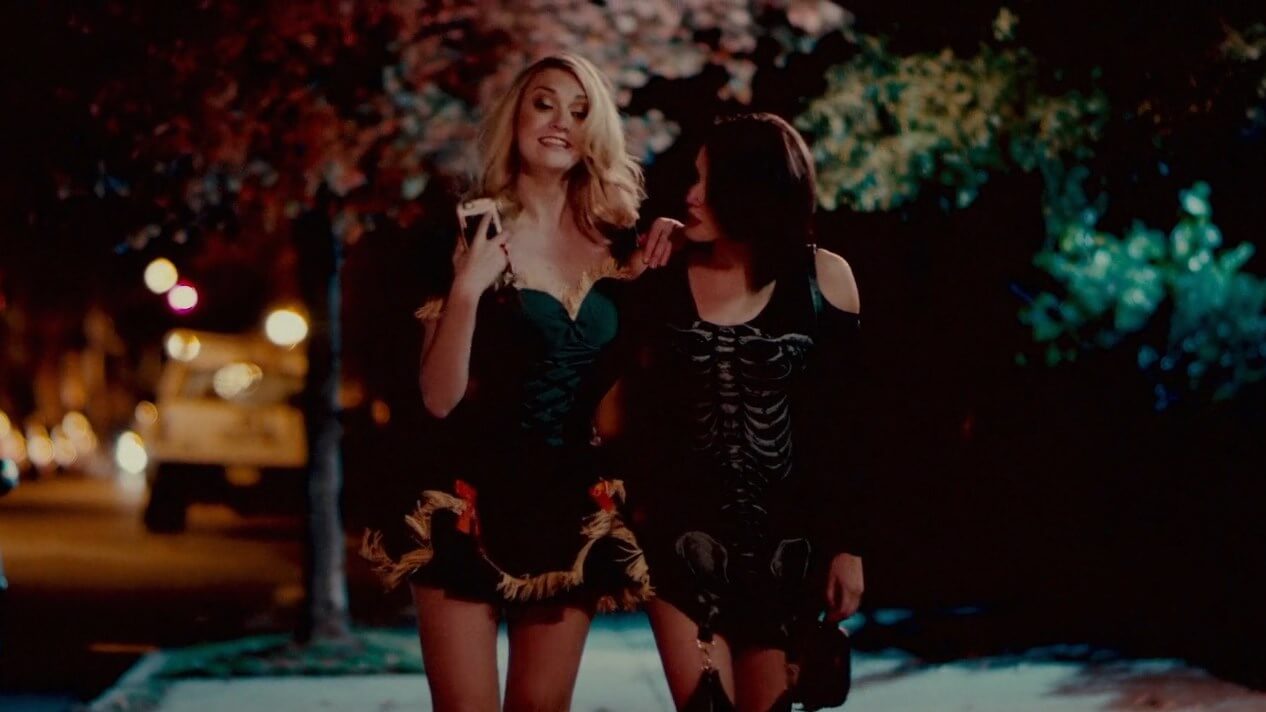 Terrifier begins with a talk show host being horrifically mutilated by her guest, the survivor of a massacre that culminated in the death or Art the Clown and said survivor being left horrendously disfigured. However, watching the show on a portable set is an agitated Art who's getting ready for a Halloween night on the town. He takes a shine to Tara (Jenna Kanell), out on the razz with her pal Dawn (Catherine Corcoran), creeping them out while they have a bite to eat to help them sober up. Things will go from bad to worse for the pair as their car's tyre has been slashed and they have to wait for Tara's sister Victoria (Samantha Scaffidi) to pick them up. Desperate to use the toilet, Tara talks her way into an abandoned building being tended to by rat exterminators. Unfortunately, Art has begun his evening's entertainment by butchering the fast food staff and now has his sights set on the girls.
The film is eighty minutes of gore and mayhem. Among the more disturbing things we see are heads being used as pumpkin lanterns, bodies hung and split into two as if like slaughtered cattle, and various eye gouging and knife lacerations. There is no real build-up – particularly in respect to Art – and the plot is nothing more than a string of highly disturbing attacks and slaughter. It shouldn't work, but it does. This is mainly because the character of Art the Clown is terrifyingly enigmatic. Moving like a mime, his long-nosed face bringing comparisons to a more homicidal version of Chitty Chitty Bang Bang's Child Catcher. It's this lean approach to the narrative that director Leone had in mind all along for the feature. "The main objective was to keep it as close to the 20 minute short film as possible," he said. "The short film was a no holds barred, relentless, seventies-style grindhouse flick that was made to feel like an intense rollercoaster ride." Even the name of the film (and short) was intentional. The Terrifier isn't a tag to be placed on Art, it's the name it would have if it were a rollercoaster. "People responded so positively to the short film, so I figured the best plan of attack would be to just make an 80-minute version of the 20-minute short," he explained. "This would mean taking the best parts of a slasher film and eliminating as much of the filler as possible."
It's no coincidence that all his films so far have been set at the horror fan's favourite holiday, Samhain. It makes perfect sense when you have a villain as sinister-looking as Art. "It's acceptable for a man to be walking the streets while dressed as a clown," he explains. "This enables his victims to lower their guard around him when they first cross his path."
The gore effects are practical, too, which adds greatly to the stomach-churning reaction one will certainly feel throughout the film. Damien Leone is a special effects artist as well as a writer and director and his talent certainly shows in the many gruesome images we're presented with in the film. "I can do a lot on a very limited budget," he clarified.  "There is so much content out there right now and I believe that if you want to stand out, it doesn't hurt to show things that will really grab the audience's attention and get them talking." He continues to muse, "How many times can you show a knife cutting through the air followed by a shot of blood hitting the wall? Almost everything has been done to death so I feel I have a duty to the audience to present them with stuff that hasn't quite been seen before or if it has, to do it in a way that feels fresh." Leone got into special effects at an early age, after watching the Tom Savini documentary Scream Greats. He began experimenting with makeup at age 12 when his mother took him to a horror convention and he picked up some materials. "I tried out all of my new goodies on my friends and myself," he said "Savini introduced me to blood tubes, mortician's wax, things that were more accessible to someone starting out. Soon I started filming the effects with a camcorder." He isn't shy about giving credit for people that have spurred him on to create his twisted world: "Even though as a filmmaker I'm influenced by countless artists from all genres, I really have to thank Savini for being the first person to show me the magic of filmmaking."
Clowns are big box office at the moment, and there's no shortage of mileage to be had from Art, it seems. "We've only just scratched the surface," Leone says. "Now we have to dig a little deeper into his backstory. He has a ton of potential and I can see needing at least a couple of films to tell his full story." From the reaction to the film, it's clear the audience has taken to him as a modern horror icon. And as the director himself has said, "It would be downright disrespectful to the character and to the fans to not produce more," before adding, "just as long as we maintain some integrity and never jump the shark." A further movie starring the silent Art the Clown is currently in production and is expected to be released in 2020.
You can let TERRIFIER haunt your dreams by watching on Horror Channel. Sky 317, Virgin 149, Freeview 149, Freesat 138.