Features | Written by Andrew Pollard 12/05/2019
Daniel Brodie | MORGAN'S ORGANS #3
Having already impressed with the first two issues of the utterly unique Morgan's Organs, creator Daniel Brodie has now launched a Kickstarter campaign for the third outing for Morgan and his, err, organs . We were lucky enough to grab some time with Daniel to discuss issue 3, how he came up with the bizarre but brilliant concept of Morgan's Organs, his experience of using crowdfunding, what perks backers can expect, and a whole lot more.
STARBURST: Where did the initial concept for Morgan's Organs originate from?
Daniel Brodie: Funny enough, the idea sprung up in the summer of 2013 while strolling along the streets of Amsterdam [cough, cough]. I don't remember much of what went through my head, but I distinctly remember coming up with the name Morgan's Organs and a vague thought of what if the organs inside our body each had their own voice?
I obsessed over the idea that summer and thought that it could make a great television show. Later that year, I decided I would make it happen myself.
How have you found the process of translating those initial ideas down into an actual physical comic book?
When I first began working on Morgan's Organs as a comic book, it was definitely a challenge. For one, I had ZERO experience in producing comic books. I didn't know proper comic book writing structure or how to layout a page.
Secondly, I have zero artistic talent, so it was difficult for me to perfectly visualize what I wanted for the look and feel of the series. Thank god I stumbled upon our lead artist, Robert Jennex, as he really is the person I need to give credit to for creating the visual foundation. Before him, it was just a story on paper.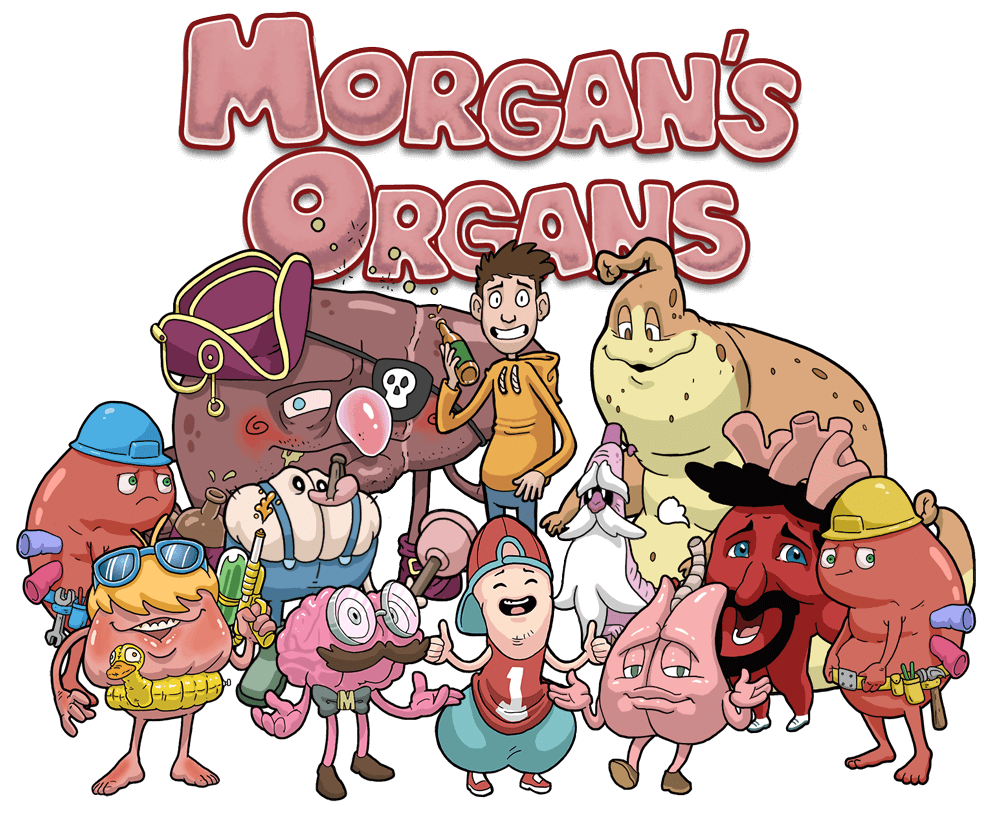 With two issues having already been successfully backed, how have you found using crowdfunding?
Crowdfunding, specifically Kickstarter, has been absolutely fantastic and also pivotal to the success of this series. When I started on Book 1, I really had zero audience. And I also didn't have much for funds. Kickstarter allowed me to balance my risks – I only produced 5 pages + cover for Book 1 before our Kickstarter launched, in case my hopes were wrong and people did not like my vision. Fortunately, the Kickstarter was a quick success and we were funded in about a week, which was all the motivation that I needed to keep working on the book and to continue the series.
Since then, we have seen a growing audience of supporters on Kickstarter for Book 2, which continues to tell me I am on the right path with the series.
What has been the biggest challenge of going the crowdfunding route?
The biggest challenge is really just patience. Since we are an indie series, all of us have day jobs that we need in order to allow us to work on our passion projects. That means it can take a long time for the books to be complete.
For me, once a Kickstarter is over, I really feel the pressure to deliver rewards by the time I've promised them. When we are talking 3-4 months after the campaign, it can be a struggle to keep patient while the artwork is still being complete.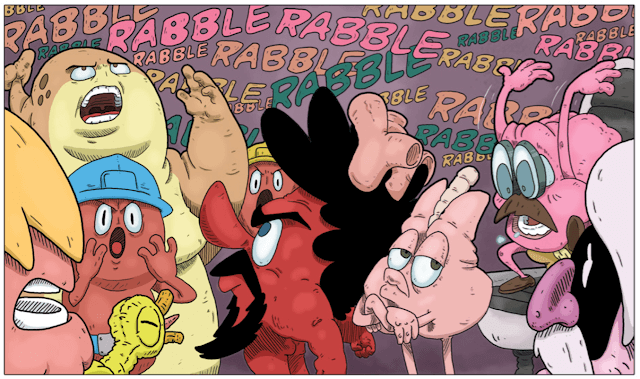 How has the reader response been to the two issues so far?
The reader response has been incredible. From the sounds of it, people really enjoyed Book 1, but they loved Book 2 even more. I am really happy to hear that, as it means we are growing with each story. I hope what fans say next is they loved Book 3 the most!
How about the look of Morgan himself? Was there anybody you based him on?
Not really. The character description that I gave to Rob was probably, "make him look as average as possible". He does kind of look like a grown-up Morty from Ricky & Morty though.
The characters in general, how much direction did you give Robert with the look of them or did you give him creative freedom?
I like to think I gave Rob a lot of creative freedom with their look. It was a lot of fun watching these characters come together. I basically just gave him a general description of each character, their personality, and any thoughts that I did have on visuals. Rob then just did a whole bunch of sketches of different character shapes and details within each option and we discussed which we both liked best. It was very collaborative!
Probably the character that we had the most debate on was Vee the Vagina, who is interested at the end of Book 1.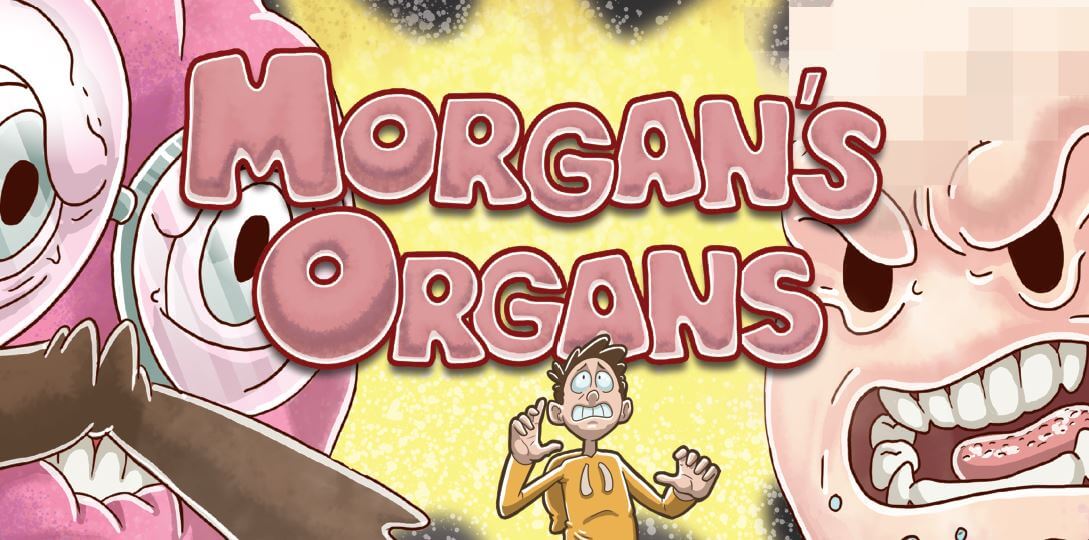 You've previously referred to the title as "Inside Out for adults", but is there anything else that you've particularly drawn inspiration from for Morgan's Organs?
To clear up the air, I wouldn't say I've taken inspiration from Inside Out, mostly because I've never seen it! I just reference Inside Out because it is an easy reference point for connecting with new fans and explaining the series premise. I actually started development on Morgan's Organs well before this movie was a thing.
I would say my biggest inspiration is Rick & Morty. I love the depth and breadth of comedy and stories in this show. They know how to perfectly balance dirty humour, smart humour and dark humour, all while telling a great story. I try to do the same for Morgan's Organs.
Each of Morgan's organs are a key part of the overall narrative, but is there a character that stands out as your favourite?
Tough to say if I have a favourite character! I honestly love all of them – each one is so unique in my mind and I really can distinguish personalities as I write for them, making it fun to write for them all. I know that Pepe the Penis, Andy the Appendix and Meats the Stomach are some fan favourites.
If all goes well with issue 3, do you already have further Morgan's Organs stories envisioned and ready to move forward with?
Absolutely! I have so many stores planned, and spin-offs, and even a theme park (okay, maybe that's stretching it). The main point is that the world of Morgan's Organs has so much opportunity for new stories, inside and outside of the body, and I would love to continue to tell more of these stores.
I already know what I want the story to be for Book 4 and am at the initial stages of mapping out the story structure. If all goes well with the Kickstarter, I'll be boosting up my work on developing Book 4!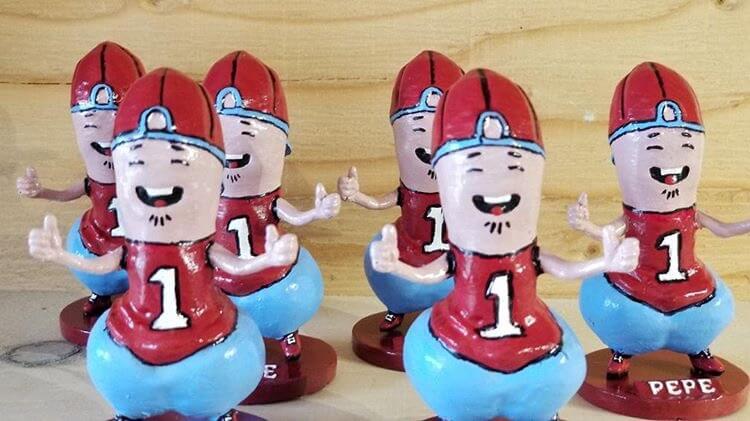 As an independent comic book writer, how do you find the fact that now anyone can make a comic – funding permitting. Is it more beneficial because the internet means you're able to put yourself out there, or is it more a case of oversaturation making it harder to get noticed?
Good question. I feel like it is a bit of a double-edged sword. For one, I am thankful that we live in a world today that it is possible to make indie comic books and easily connect with a potential audience through crowdfunding. Without a platform like Kickstarter, I am really not sure how I could be where I am at today. On second hand, having something like Kickstarter so openly available makes it difficult to have your voice heard.
For me, I try to slice through that to find a peaceful middle ground. The audience will decide what the audience wants, so as long as I still have fans of the series, I know that I am doing the right thing and I should keep making more books. I try not to focus on what's going on around me, and instead try to focus on the people that already love what I am doing as a starting point.
What can you tell us about the campaign and perks for issue 3?
In the past, I've focused more on the paper side of rewards, but I am excited to have some fun new collector's items in this campaign. That includes an enamel pin of our series star, Bran the Brain. It also includes two really fun creations that were done by a couple of Canadian artists. There will be a Pepe the Penis 3D printed figurine and Angus the Anus Wall ornament. It's so cool to see my characters in 3D format!
Anything else you would like to add?
Just that we launch our Kickstarter on Saturday May 11th – and anyone that backs in the first 48 hours will have a surprise extra goodie included in their package!
For full details on the latest Morgan's Organs Kickstarter campaign, be sure to head here.