Features | Written by Andrew Dex 06/12/2019
CAL DODD [Wales Comic Con 2019]
There's no denying that the cultural impact of X-MEN: THE ANIMATED SERIES, a show which has gone on to become something truly special since its debut in 1992. With that in mind, it was a pleasure to speak with voice actor CAL DODD, who tells us what it was like to be a part of this cult classic cartoon with his influential take on Wolverine, and how that experience changed his life...
STARBURST: How and when did you first get into voice acting?
Cal Dodd: I was a singer for years in Toronto, doing commercials. I was a session singer, doing jingles etc, that's what I did — about 2-3 a day for around twenty years. I was quite busy. I did a commercial for Chrysler, we were the background singers, and I was the voice of the sergeant. A year after I did that commercial, a woman called Karen Goora, who was a casting director asked me if I'd be interested in using my voice for a future cartoon called 'Project X'. I said, "I don't know. I've never done one!" This was 1992, and I had been in Toronto for about twenty years at that point. She said that she'd heard what I'd done before, and thought that I might be interested. I went to the audition, they showed me pictures of this guy, and I said: "Who's this guy?" They explained it to me, and I loved the way that he looked. They explained what his character was, how they figured that he should sound. I said OK. To be honest, before going into this, I had studied a little bit for it. My girlfriend at the time got me some Wolverine comics. I knew what I wanted him to sound like. I grew up in a small town, and there were guys like Logan around, it was a tough little town. I read the script, and the first line was "You like picking on people smaller than you? Well, I'm smaller than you so pick on me!" The guys behind the studio glass just freaked out, and got me some more lines. I finished, and said "Thank you!" then, they called me the next day...they said, "You are our Wolverine." That's literally how it started. After this I got major cartoon roles, all my life I had been doing impersonations of people and animals, etc. So it was just a natural thing for me. I had five years of unbelievable joy with Wolverine, he's just a great dude. 
What actors influenced you the most growing up, and why? 
I was mainly into music. I toured with Joe Cocker, we went to New York and recorded our first album there. Being a singer, I just loved going to Elvis Presley movies and watching him sing. I love Steve McQueen, who I sort of brought into Wolverine's character. He is very into himself; he is strong but quiet. Of course, John Wayne, everyone loves him. Growing up, I liked Chuck Connors from The Rifleman series back in the early 60s. 
How much freedom did you get when you got to play Wolverine in X-Men: The Animated Series? 
They worked for about two hours with each one of us before we did the first episode. To nitpick, like "What's Wolverine going to sound like when he's not screaming, yelling, arguing etc" So, we had to come up with that voice. There wasn't a lot of that, but we arrived at a solution. I had total freedom, because he was the only Canadian. I would add little things here and there, and they'd ask me for feedback. They'd say, "Perfect, do it!". It was a riot to do him, and he became like my right arm. He became another part of myself. Very much like me - according to my wife!
Cal Dodd
Can you tell us a little bit about what the cast was like to work with?
I was brand new. I would see them every once in a while, but not that often. Although I had been doing voice work for about twenty years, I was actually still the new kid on the block. They were wonderful to work with, we had a great rapport, almost immediately. For the first 4-5 episodes, we worked in a circle in the studio, but the engineer wouldn't let us carry on doing it. He said that there was spillage (leakage into the microphone) from my microphone to the one across from me, into Gambit' s/Rogue's mic for example. As a result of that, they stopped that altogether, and we would just go in one at a time. I would get a call, and they'd say from 2 pm we are doing Wolverine's voice, until 3:30 pm. Then I'd be done; I wouldn't see anyone else. The director, Dan Hennessey (who is very good) would explain everything that was going on, so it was still wonderful. It was great to create this character, and have them really like what I was doing. The writing was so superb; it was hard not to succeed with this. It was also very funny. Wolverine had all of the funny and stupid lines! They were all very professional. I was welcomed aboard. 
The reason this cartoon went on to be so huge is that it had serious themes within it. So, when did you first realise just how good the writing was for the show?
When I first saw him, in the first episode on Halloween night 1992, I freaked out because I finally got to see the guy that I had been doing the voice of. To see what he was like, how he moved, and what he looked like. The animated drawings, etc. I said, "Oh dear, this is going to be good!" We all thought that. For the first nine months, we didn't know if we were going to go another year, there was no feedback. Then all of a sudden when the FOX network took off, someone within the company said to the president of the company that they can't do the series with the way that they're writing it. She put her job on the line and said: "We are doing it this way" she went out on a limb, and then FOX was the top Network after six months, because of the Saturday morning X-Men series. After that, we all knew that this was unbelievably a lot of fun. It was just great to watch it. 
The show was obviously highly praised, and adored by fans, but for you, personally when you look back on it why else do you think that the show went on to have such a huge cultural impact?
It's made a huge impact. I started doing comic cons about a year ago. They finally talked me into doing it. I just wish that I had done it earlier. It was the 25th anniversary of the X-Men series, so I said "OK"! I went by myself, and I couldn't believe it. I couldn't believe the knowledge and the love that these fans have. It astounds me every time I go out. Half of them are in tears when they come up, it breaks my heart. They tell me that I'm an iconic character, I'm the same with Wolverine as Kevin Conroy is to Batman. I say "Thank you so much!" I just can't believe it, and I don't know what to say to them, they come up to me and say that I've made their childhood. Then, of course, some of them have their own children with them, who they're just starting to show this series to, and they just love Wolverine. One little boy, who was about 4 or 5, had a picture with his family and me, and the kid's name was Logan! So many people come up telling me that they'd named their child after Wolverine. So yeah, the cultural impact is amazing, and it blows me away. 
You got to play Wolverine in numerous video games over the years including Marvel Vs. Capcom, what was that like for you, compared to what you did on the TV show?
No comparison. They were just very strange. There was no real dialogue for Wolverine or any of us. It was just these ridiculous sounds or noises. Yelling weird things! Fans do come up to me at comic cons and ask me to do those parts! It was just different. You'd be done in 2-3 hours, something like that. I wasn't that into it.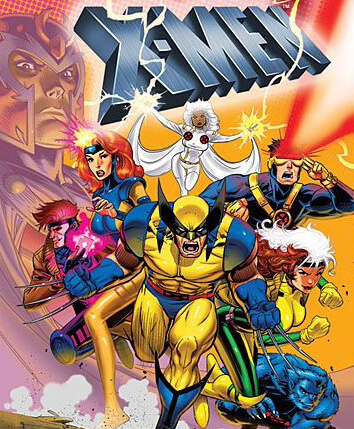 How did you end up meeting Hugh Jackman, and also, have you seen any of the X-Men movies? 
In 2000 he was in Toronto to shoot X-Men. I was invited to this function where we were to meet. The only reference for Wolverine's voice for five years was my voice from the series. So Hugh had to study my voice, to get it as close as he could to the way that I did it, because when people read comic books they hear my voice in their head (they tell me this at comic cons). When we met, I said "It's a pleasure to meet you Hugh", and he said, "G' day Cal, it's good to meet you, but I'm sick and tired of listening to your voice mate!" I said "Oh, OK then!" he said that he meant it in a good way! It was just that he was tired of listening to it. He had to listen to it months. I said "You be good to him!" and he said "OK, I'll do my best", "I'm sure you will". I watched about ten minutes of the first movie after he first came on, I just couldn't do it, because the character was still so close to my heart. It wasn't me. So, I haven't seen any of the movies. As it went on, no one else could do it any more after what he'd done with it. He has just been superb. Myself, I couldn't watch it. 
How excited are you for your upcoming appearance at Wales Comic Con, and what can attending fans expect?
I can hardly wait to get there. Donna, my wife, goes with me (the agent/manager). Hopefully, a lot of my friends will be coming to Telford to see it. We are so excited for getting there because it's the first time that we've (cast members) ever gone across the ocean together. George Buza (Beast) is beside himself, he just loves the idea, and he can hardly wait. I had to talk him into doing this about six months ago. Beast had never even seen the show; he hadn't seen one episode of the five years that the show was on the TV. He was busy doing other work. I lent him some of my X-Men DVDs and said: "George, watch this!" For Beast it was just his natural speaking voice. Very rhetorical, and sharp-minded. He said "Oh, this is wonderful!" and I said, "Yes, it is!" He loves every second of it, and it's great to see the excitement from the fans. Of course, at comic cons I like to talk about Slappy as well! It actually confuses people, because they see the picture of the dummy, and they say, "Wait, what? You did that voice as well!" they go "Oh My God!" 
What else can we expect to see from you in 2020? 
I'm working on 2-3 animated series. I just finished a Paw Patrol movie, then other cartoons, like Corn & Peg. Then the other voice over work that is here and there.   
For more information on CAL DODD and his work, visit his official website www.caldodd.com. To meet him in person, head to the next WALES COMIC CON on December 7th - 8th.