Features | Written by Ed Fortune 14/11/2017
Andy Weir | ARTEMIS
Andy Weir is an American novelist whose debut novel, The Martian, was later adapted into a film of the same name directed by Ridley Scott in 2015. His eagerly anticipated novel, Artemis, is out now.
STARBURST: What is the elevator pitch for Artemis?
Andy Weir: Artemis takes place in a city on the Moon in the early 2090s. The main character is a woman who is a small-time criminal who gets in way over her head.
Does the world have enough space heist novels?
No! I love heist stories and I love sci-fi. So naturally, I'd love to see more sci-fi heist novels. I remember liking The Stainless Steel Rat series back when I was a kid.
How realistic is the moon base of Artemis?
It's very realistic. At least, as realistic as I could make it. I worked out how they built it, how their air and water closed systems work, and most importantly, how its economy works.
Your stories tend to put your characters in constant peril. How tempted are you to kill off scores of heroes?
Nah. I write light-hearted stories for the most part.
What is about the character of Jazz that made you make her the protagonist?
Jazz was originally going to be a minor character in a completely different story idea I had (one that also takes place in Artemis). I didn't like that story, but I did like Jazz. As I went through revisions of story ideas, her role kept growing and growing. I eventually realized she was the most interesting character, so I centred the story on her and things fell into place.
Will we see more from the world of Artemis? Will we see other characters from this book in other stories? Will we see more of Jazz?
That's my hope. I want Artemis to be the setting for many books revolving around many characters. I have lots of ideas for the little city on the Moon. But first I'm going to see how well received Artemis is and what feedback I get from readers. If they don't like certain things I'll try to change them (or not focus on them). What they do like, I'll emphasise more in future books. That sort of thing. And, of course, if they don't like the book at all, I won't make a sequel.
Are we likely to see Artemis on the silver screen? Hard to say. Fox bought the film rights, so they certainly have an interest. But everything has to line up just right for a film to be greenlighted. There's no way to know. My guess is Fox will wait to see how well the book sells before thinking about it further.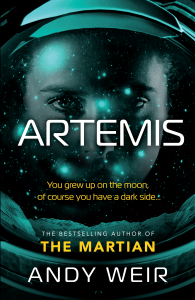 What's next?
I'd love to write another book taking place in Artemis. I have the bones of the story worked out, and it centres on a different main character.
ARTEMIS by Andy Weir is published in hardback by Ebury.