Features | Written by Ed Fortune 23/06/2018
Alfie Dennen | EVIL CORP
Alfie Dennen is the co-founder of mobile blogging platform Moblog, and is responsible for various projects that fuse art and technology. His latest project is Evil Corp, a board game that allows you to imagine a world where billionaires plot to take over the world. We caught up with him to find out more.
STARBURST: Where did the idea for Evil Corp come from?
Alfie Dennen: My co-designer Allix and I were playing character sheet RPG with our table-top group. We were all really shit superheroes in 1908's NY - the conceit was that our fatal flaws were so bad that none of the major superhero teams of the time would accept us. We were only two sessions into the campaign when in some moment or another we were chatting and the trope of Evil Corp came up (yes, we're both film and TV nerds) and Allix said something to the effect of "Evil Corp... now that would make a good game."
The next session the four of us thought about that game would look like instead of continuing the campaign. 2 sessions later it looked like this: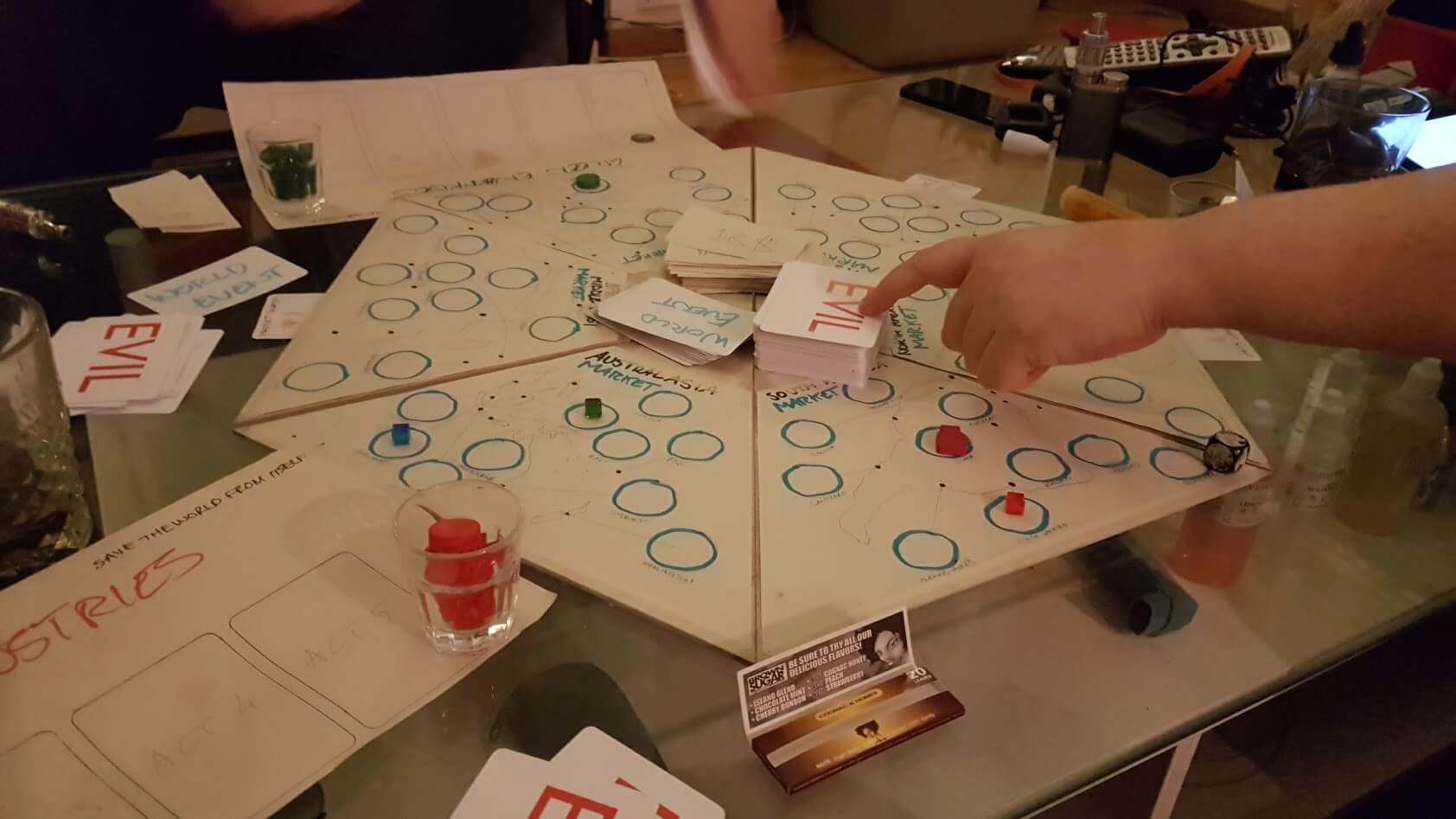 It doesn't look that different today to be honest.
Why a board game?
Because we're talking about the actual world here, just a less nuanced Black Mirror type of version of it. We knew we had to have world events which would be out of a player's control. We knew players would have characters that had to have agency in that world in-line with being Billionaires. Allix and I spent about 6 months making a video game about ten years ago. Its nature was defined by our idea for it (it was a mobile game). It's the same thing with Evil Corp - it had to be a representation of the world.
Are we living in an age where Bond villains are plausible?
If only it was so romantic an age. Of course not. Our world has been made clearly visible to anyone who wants to understand it and it is chilling in its pedestrian murder and our own quiet complicity in the fact of it. I'm still not sure about Elon though.
What inspired Evil Corp?
I can't speak for Allix but for me - my life. I don't know if you Googled me but I've been doing mad shit for years: https://en.wikipedia.org/wiki/Alfie_Dennen; from start-ups in the early noughties to global activism against terrorism and art projects about how to make people feel connected to cities it's always felt to me at least as though sure, the world is fucked, but it's fucked in a way that's sort of understandable and manageable. A couple of years ago neither of tat stopped being true. Post-capitalism isn't a book it's a street I cycle down on my way to work.
How would you pitch Evil Corp to non-gaming friends?
"Did you see Elon Musk sent a car into space?"
"yeah that was rad!"
"I know right!" I've got the game of it."
Why do you think board gaming suddenly become so big?
I'm not qualified to answer that, I now f'all about board games. The only thing I know is something someone said to me recently: "There's no such thing as the mainstream anymore". And when you think about it that sort of explains everything. It explains why fake news is true to some people and it explains why clickbait about a 4k video of the moon unreservedly disproves the Fake Moon Landing conspiracy for others. Maybe the mainstream we're in where board games are super fun and interesting has just met one or two others where caring about the environment and wondering how the world got so fucked up collide.
What's your favourite mechanic in the game?
This is going to be controversial - in our endgame you have to use Agent cards to 1) infiltrate the startup 2) undermine the prototype and 3) destroy the 'Killer App'. It is predicated on d6 rolls which are tactically offset by having spent assets in the preceding round on re-rolls and the chance to get as many agents as possible. As a group of players against the player who has just launched their Secret Plan suddenly you are thrown together in a romp where because of the chance aspect and your hope for your assets to work for you everyone's excitement just dials up to 11. Because we are complete dickheads though, the chance of winning against someone who has managed to get to end game is about 1 in 12. It's not the movies yo, the dashing super-agent doesn't win, she dies.
Our game is low-medium strategic so min/max players often feel taken aback at this point in the game since it feels as though everything you've worked so hard for and literally spent Billions on is for nothing. Or at least very little. We're also not *complete* dickheads though, we're currently playtesting 2 ways to make the endgame what we want it to be while making it satisfying for players who want to use their work to its nth.
The game is very pretty. Where does the idea for the stark design come from?
It feels stark because it's the world in front of us as we went through design. It basically couldn't have been anything else. When I was first looking at design approaches I came across the work of Liam Brazier.
What I was looking for was a way to represent these Masters of the Universe type characters without giving them the dignity of humanity. I didn't want people playing the game to genuinely connect with them. Liam's low polygonal treatment of his subjects just jumped out at me the minute I saw this image as how to do that. Luckily a friend was his friend and after Liam saw an early prototype (and at least 5 beers later) he was signed up.
When it comes to the map that started with Allix and was refined by Michal like crazy. I would say the thing we are most proud of as a design team though are the cards. There are beasts, they contain so much information. Not in a game way but in an information architecture way.
If you were a billionaire, what would your world domination plan be?
To replace Government with something that works. Pretty Evil sounding right?
Why Kickstarter?
We invested probably about £25k of our money to make it good enough to put in front of people. Super happy to do that because it was fun and we learned loads and we're not here to amuse people for one game.
The Kickstarter is currently running till the July 14th, 2018 and can be found here.